Sick and tired of spam and scam calls that you are unable to identify and block? CallApp, a nifty free android app that is trusted by more than 100 million users and supports over 200 countries is here to save the day.
'DBS bank' claims there is an issue with your bank account…
'MOH' tells you they need your SingPass login and other password details for contact tracing…
A random Ah Beng asks if you need a loan for your business or have interest in online betting…
In 2019 alone, Singaporeans lost over S$6 million to phone scammers and this number has continued to grow, as scammers become more sophisticated in their game. 
One solution is to ignore all calls from unknown numbers, but if your mobile number is also your work contact number, this is not feasible as one of these calls may be a business contact. Additionally, scammers are also using caller ID spoofing to spoof +65 calls when they are actually calling from another country.
With CallApp, you can solve all such caller ID spoofing problems and more. Say bye to your spam and scam calls problem.
Featured on Google Play, CallApp is safe to use and has been chosen by Google as one of the top Android apps. It has also won several awards and is highly recommended by many top-rated tech magazines worldwide. 
I was skeptical of all their product claims initially, but after downloading and trying it out, the experience was seamless and pretty good, even with just the free version.
Caller ID and Spoofing Identification
CallApp can instantly identify any number that is calling you, even those that are not saved as a contact in your mobile phone.
This includes any individual or business, hence helping to identify potential telemarketers, harassment or fraud calls.
Here is an example of CallApp identifying a previously unknown caller to be from Courts Toa Payoh. This is correct as I do remember receiving a call from them with regards to one of my purchases.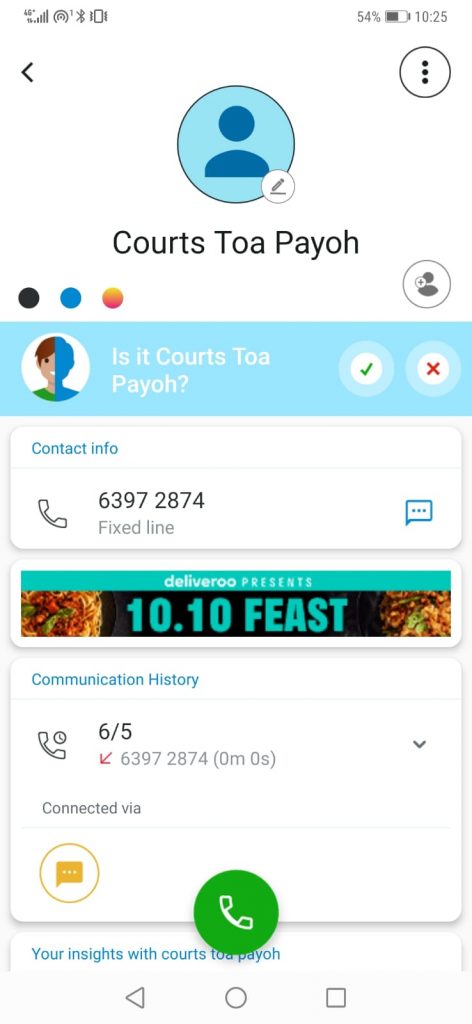 CallApp also has the unique ability and technology to verify numbers against Caller ID spoofing, a feature that is not available in most Caller ID apps. Here is an example of a spam call from another country getting exposed.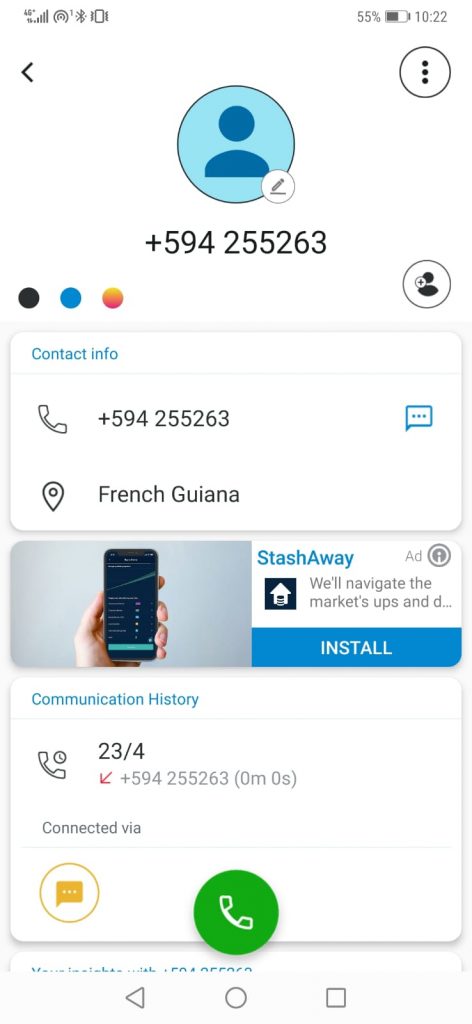 Block Scam and Spam Calls
CallApp not only help you recognise a scammer or spammer when they call you, it also allows you to prevent these calls from coming in from the get-go.
Any number can be blocked with just a click, and they will never know. With CallApp, you will never receive a spam or scam call again.
Together with the rest of the CallApp users globally, you will be able to police these scammers together and block them collectively.
Besides blocking spammers, CallApp also allows you to block phone calls from private and hidden numbers instantly.
Phone Call Recorder
CallApp allows users to easily record your mobile phone calls – be it for an over-the-phone interview, a call with a client or your boss, planning an event, recording a scammer's call, or getting proof of verbal abuse.
One of CallApp's most unique features is its ability to record both incoming and outgoing phone calls, with the option of sharing your phone call recordings on various social media platforms.
The Full Experience
There are many other features that are seamlessly integrated into CallApp, including an advanced contact book, backing up your contact lists, phone number search, personalised video ringtones, incognito mode, who viewed your profile, call reminders, analytics and insights and car mode. You can find out more here.
You will be amazed by how much sleuthing work and information you can get from CallApp. Here is an example of my own mobile usage pattern. You can also pull out information on your call logs with individuals whom you call frequently.
Premium Packages
The basic version of CallApp is free to download, but premium packages can also be purchased either on a monthly basis or a lifetime subscription from not more than USD1 per month, both of which offers an ad-free experience, unlimited call recordings, and access to CallApp plus (the ability to identify messages from unsaved contacts), unlocks all your profile views and data insights, store items for free and even provides you with premium support with a faster response rate.