Red Bull is bringing Red Bull R1v1r Runes to Singapore for the first time ever! National Qualifiers of the 1v1 Dota 2 battle and Finals will take place throughout November, with the winner receiving an EPIC Gaming Setup and the chance to face-off against two-time The International (TI) World Champions: Team OG.
The tournament is FREE to enter for players keen to put their adaptability and mechanical skill to the test. What makes participation even easier is the Red Bull R1v1r Runes' 1v1 format, instead of the five-a-side team system of traditional Dota 2 matches.
This 1v1 format eliminates the need for players to form teams and reduces time spent trying to coordinate practice sessions across conflicting schedules.
Dreamcore and Steelseries will contribute an attractive prize pool comprising products focused on quality, innovation and improving performance.
Players of Red Bull R1v1r Runes stand to win premium gaming items such as:
Dreamcore Ghost Gaming PC worth S$2,975
Steelseries Arctis 5 headset
Steelseries Apex 5 keyboard
Steelseries Rival 5 mouse
Steelseries QcK mousepad
Red Bull R1v1r Runes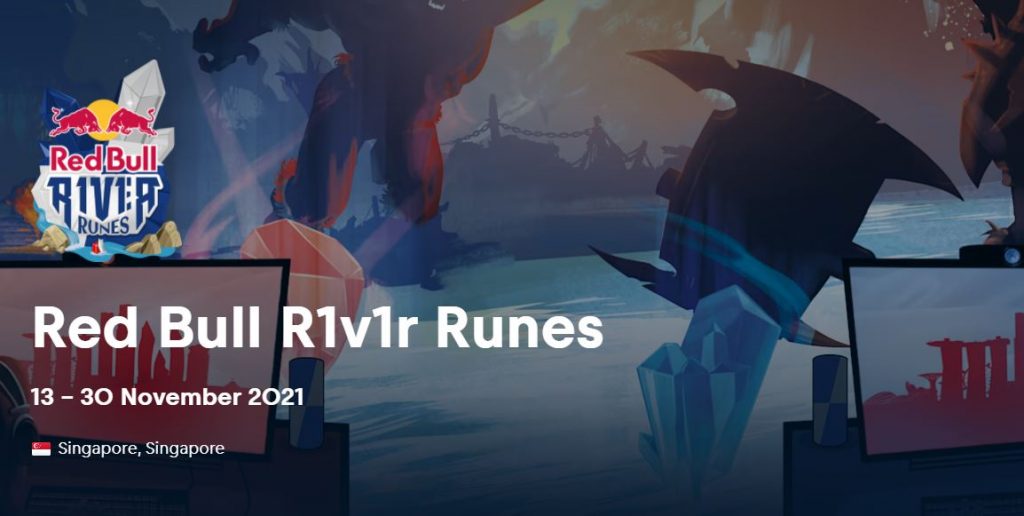 Red Bull R1v1r Runes is a custom map built in the Dota 2 environment. The tournament offers players a fast-paced 1v1 mirror matchup that rewards intuition and the ability to make quick decisions. Each player receives the same items at the start and throughout the game.
In order for a player to progress through the tournament, they must first achieve three kills or score the first kill on an enemy T1 Tower.
Red Bull R1v1r Runes is open to all residents of Singapore aged 18 and above who have their own Steam accounts. Qualifying rounds and the Singapore Finals will commence online on the following dates:
13 November: National Online Qualifier 1
14 November: National Online Qualifier 2
20 November: National Finals
Finalists can also look forward to an intimate Q&A session with the legendary Team OG – the only Dota 2 team to win successive titles at TI, the crown jewel of Dota 2 competitions.
Online registrations are open from now till 5 November.
Claim your spot and rule the river for an EPIC Gaming Setup and for the chance to challenge OG by registering here.