Starbucks introduces the all-new Almondmilk or Oatmilk Honey Latte and treats galore in an Autumn unlike any other before. To spice up the season, Starbucks is also bringing back the Pumpkin Spice Latte and Pumpkin Spice Cream Cold Brew.
From 24 September, you can now personalize your beverages to be fully plant-based, even when you pick a Frappuccino blended beverage with whipped cream. Introducing for the first time, a new fully Plant-Based Whipped Cream will now be available at all stores. Go on, try it with your favorite drink today.
Almondmilk Honey Latte and Oatmilk Honey Latte – $7.60 (Tall, Hot/Iced); $8.20 (Tall, Frappuccino)
Pumpkin Spice Latte – $7.60 (Tall, Hot/Iced); $8.20 (Tall, Frappuccino)
Pumpkin Spice Cream Cold Brew
Also available as a Nitro Cold Brew in selected Starbucks Nitro stores:
Pumpkin Spice Cream Cold Brew: $7,20 (Tall, Iced)
Pumpkin Spice Cream Nitro Cold Brew: $8.30 (Tall, Iced)
Oatmilk Cocoa Macchiato – $7.50 (Tall, Hot/Iced); $7.70 (Tall, Frappuccino)
Cake Box
The Cake Box consists of five delicious cakes that will make you go YUMMM: Apple Crumble Cheesecake, Honey Osmanthus Cake, Chocolate Peanut Butter & Banana Cake, Lemon Meringue Cheesecake, and Strawberry Shortcake.
Cookie Box
The Cookie Box, consisting of six indulgent cookies of three flavors, is the perfect teatime snack for you – featuring a selection of Double Chocolate & Peanut Butter Monster Cookie, Strawberries & Cream Monster Cookie, and Chocolate Chunk Monster Cookie.
Starbucks Anniversary Blend 2021
Available across formats – wholebean, VIA Ready Brew and Origami Personal Drip Coffee.
Rwanda Sholi
Zambia Ngoli Estate
Hawaii Ka'u
Enjoy these treats and beverages in-store, or order ahead on our revamped Mobile Order & Pay (MO&P) on our app at your convenience. Selected items are also available via delivery through Deliveroo, Foodpanda, and GrabFood.
Starbucks X alice + olivia
This collaboration showcases two whimsical designs, including the iconic "Stace Face", and a modern interpretation of the "Stace Face" with a colorful twist. Featuring a vibrant assortment of drinkware and lifestyle accessories, the collection is a celebration of femininity, designed to inspire women to feel empowered by their personal style.
The collection will be available from 30 September, with an exclusive preview for Starbucks Rewards Gold members on 29 September.
Starbucks X Moleskine Planner 2022 – $38.90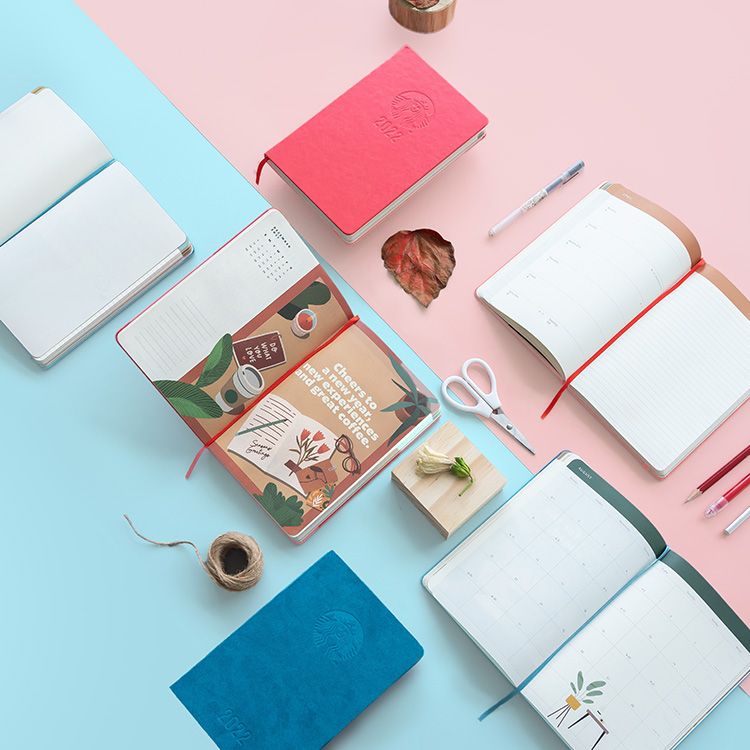 Purchase or reload your Starbucks Card with $30 and enjoy a planner at just $28.90.
In-line with Starbucks sustainability efforts, the cover of the Teal Green planner is made from a recycled RPET material, made from discarded PET bottles and plastics.