Pizza Hut Singapore just launched their new Nasi Lemak Pizza yesterday and we tried it out to have a taste of their interpretation of a local favourite.
Just like the favourite local delight served in hawker centres across the island, the Nasi Lemak Pizza features the iconic combination of spicy chicken chunks, egg, cucumber and ikan bilis, all topped with Pizza Hut's house brand sambal sauce.
Just as we do at our favourite stall, customers can opt for extra toppings of sambal sauce and ikan bilis when we order online through the Pizza Hut website or App, so we can customise the toppings the way we like it.
How did it taste?
We like the crisp of the ikan bilis which complement the soft pizza dough well when eaten together with the sweet sambal sauce that would be palatable even for those who don't take spicy food. It does taste like eating Nasi Lemak, with the rice substituted with pizza dough. The only thing I felt could have been better would be for the chicken to feature actual chicken parts versus the fried nuggets used. Nonetheless, it still comes well together as a construct and is an sedap pizza to try for the novelty.
Verdict: worth a try!
To complement the Nasi Lemak Pizza, Pizza Hut Singapore also unveiled a range of related brand-new menu items to choose from, such as the Sambal Chicken or Prawn Pasta (from S$13.50 for takeaway and delivery), and Spicy Chicken Pop (S$5.90).
Promotions
To celebrate the launch, Nasi Lemak lovers wishing to try the new pizza can enjoy 50% off all pizza flavours when you order two pizzas for delivery or one pizza for takeaway.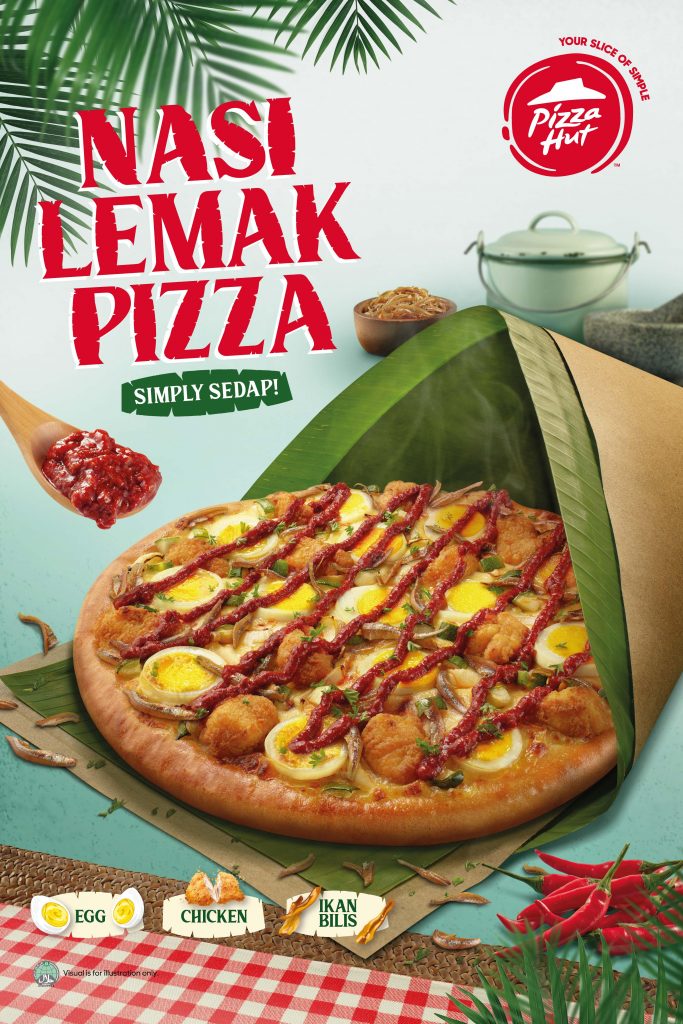 "The Nasi Lemak Pizza launch is our way of celebrating and showcasing one of Singapore's favourite local dishes. A slice of pizza is one of life's greatest simple pleasures, so what could be better than combining the Nasi Lemak flavour we all know and love with a tasty slice of Pizza Hut pizza? This latest pizza is customisable to your taste, with the option to add more sambal sauce and ikan bilis toppings to suit your palette! It's a fun creation, and one that's great value to enjoy with friends and family time and time again." Shared Jayss Rajoo, Head of Marketing and Food Innovation at Pizza Hut Singapore.
Availability
The Nasi Lemak Pizza is available now at all 77 Pizza Hut Singapore outlets for takeaway and delivery. Customers can order online on PizzaHut.com.sg and via the Pizza Hut app available for download on iOS and Android with new customers who download the app receiving S$10 off your first order.
Customers can enjoy the Nasi Lemak Pizza in a meal deal which includes a side and a drink available for delivery or takeaway with the option to enjoy an exclusive Nasi Lemak box with deals starting from $25.50 available for families and groups of diners from the same household.
In celebration of this new flavour, next month Pizza Hut will launch a limited-edition Nasi Lemak-themed carrier inspired by the traditionally wrapped dish. Diners purchasing selected bundle meals will also receive special embroidered pins to customise your carrier. Customers looking to bag one of the exclusive carriers should check Pizza Hut's Facebook page for more details of its launch.