Italian specialty restaurant, Grissini at Grand Copthorne Watefront Hotel has recently appointed a new head chef and revamped their menu, dialling up a notch on fine dining, compared to the previously more casual dining presentation.
At just 33 years of age, Chef Kenny Huang is young, suave and passionate about his craft. Having honed his skills in Italy, he seeks to present a fresh new menu featuring authentic Italian cooking techniques and fresh produce, with a Japanese touch.
Chef Kenny started his culinary journey by helping out in the kitchen of his father's restaurant. In 2013, he moved to Turin, the capital of Piedmont in northern Italy and spent two years there immersing in the culture and cuisine. After having honed his skills in various F&B establishments, including a Michelin-starred restaurant, he returned to South East Asia to work in a five-star hotel in Singapore before joining Grand Copthorne Waterfront Hotel. He is the first non-Italian chef to head Grissini since the Italian restaurant opened its doors in 2016.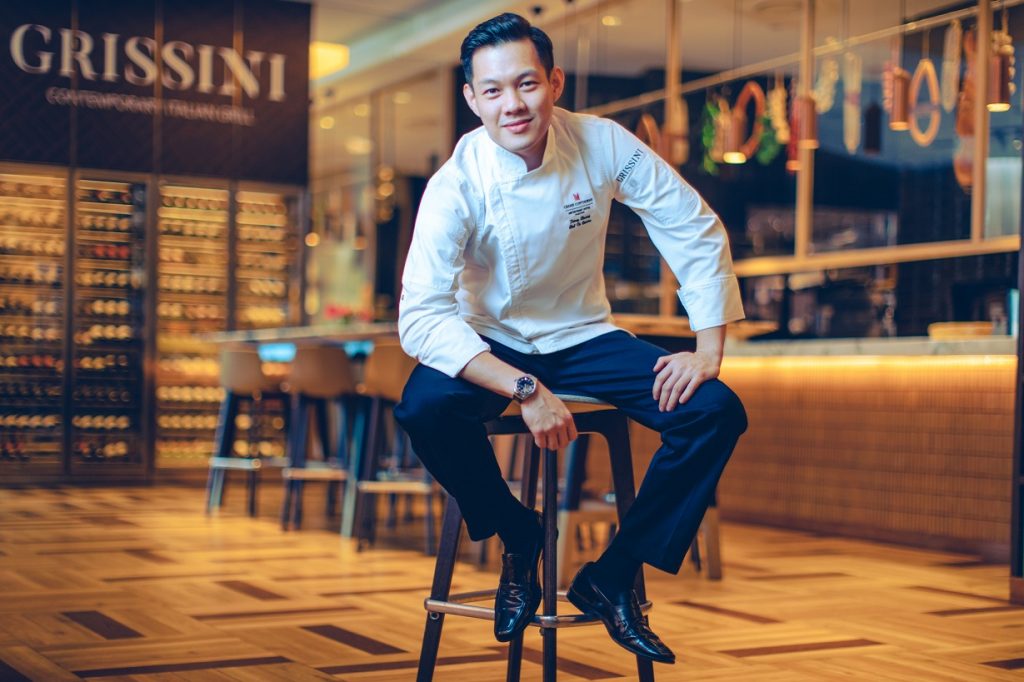 We were invited for a tasting of Chef Kenny's degustation menu with wine pairing and below were the items we sampled. The degustation menu is priced at S$128 per pax and consists of 9 courses, with a choice of side between sea bass or beef.
To complement the revamped menu, the restaurant sommelier, Uzair Yaacob, who is certified by the Court of Master Sommelier Worldwide, European Chapter, came up with a list of fine wines to pair with Chef Kenny's exquisite dishes for the best dining experience.
Compared to the traditional Italian fares previously served at Grissini, Chef Kenny's take on Italian cuisine has a more modern feel and also features Japanese ingredient like wagyu beef.
The degustation menu is a good sampler of what to expect from the revamped menu and it is certainly contemporary and refined. I particularly enjoyed the two appertisers, the red prawn and the octopus dishes which featured an assortment of flavours through meticulous details on each of the composite ingredient that goes in. The octopus is prepared with low temperature cooking for two hours and charcoal grilled to a crisp texture while maintaining the tenderness of the flesh.
Instead of a hearty pasta portion, the bite-size handmade tortellini was just enough to whet your appetite, leaving you wanting for more, as part of the degustation menu.
For something fit for royalty, you have to try the foie gras risotto. Chef Kenny mastered the art of cooking risotto while working in a Michelin-starred restaurant and this dish is his interpretation of a dish he would be proud to serve to royal guests. with the warm golden colour of the dish, topped with a 24k gold leaf.
For the main, I love the wagu beef, and would highly recommend it if you take beef.
As a sweet gesture to wrap up a satisfying meal, the Petit Four comes in a little box so you can take them home to enjoy if you are too full for the night.
All in all, the dining experience was very enjoyable. The sommelier was warm and chatty, enhancing the flavours of the dishes with his wine recommendations. Chef Kenny came out to say hi and he exudes a friendly, earnest charm when he shared on the inspirations behind his creations.
If you are looking for a contemporary Italian fine dining establishment to pamper yourself or your love ones, do try the new degustation menu by Chef Kenny at Grissini.
Opening Hours:
Lunch: 12pm to 2.30pm (last order at 2pm)
Dinner: 6pm to 10pm (last order at 9.30pm)
Location: Lobby Level, Grand Copthorne Waterfront Hotel
Prices are subject to 10% service charge and 7% GST.
For reservations, call +65 8168 1539 or email [email protected]