Looking for an indoor activity park to enjoy some sporting fun?
Good news, SuperPark Singapore at Suntec City has reopened its door with a new operator, DreamUs, after closing in October last year.
SuperPark Singapore is the local outpost of a popular Finnish indoor activity park and the parent company have now selected DreamUs group to operate its 40,000 sq ft branded Singapore activity park under a new license agreement.
The DreamUs group, established in Singapore in 2014, currently operates Pororo Park Singapore in Marina Square, Tayo Station in Downtown East and distributes toy merchandise under both popular Korean IP.
"We are excited to have secured a strong partner in DreamUs. With an extensive customer base, DreamUs has maintained their impeccable track record in delivering joyful play and fun learning experience to all. I have full confidence in the team's ability to invigorate and grow SuperPark's fan base in Singapore on our behalf." Shared Juha Tankansen, CEO of SuperPark OY.
"We are pleased to have the opportunity to partner SuperPark. This all-inclusive indoor sports activity park brand is a strategic fit for our growing portfolio of family edutainment spaces in Asia. As a company with a goal to strengthen joyful bonding through activities, we are constantly looking for opportunities to enhance our offerings." Added Carolyn Chia, General Manager, DreamUs Group.
Be spoilt for choice with more than 20 sports-centric activities spread out over two levels to cater to guests of all ages, fitness, and skill levels.
New additions include Archery; various popular ball games like Street Basketball, SuperBall, Street Soccer and BaseBall; interactive games like SuperHoop, SuperPinBall, Valo Jump, Hot Stepper and adrenaline rushed games like Trampoline, Skate & Scoot, Flying Fox, SuperClimb and Tube Slide, amongst others.
Asher and I were invited to a media preview and had a lot of fun navigating the various stations at the indoor park. So much to do, so little time (play time is now limited to two hours per session due to safe management measures)! Nonetheless, we managed to try out quite a fair bit of the new additions: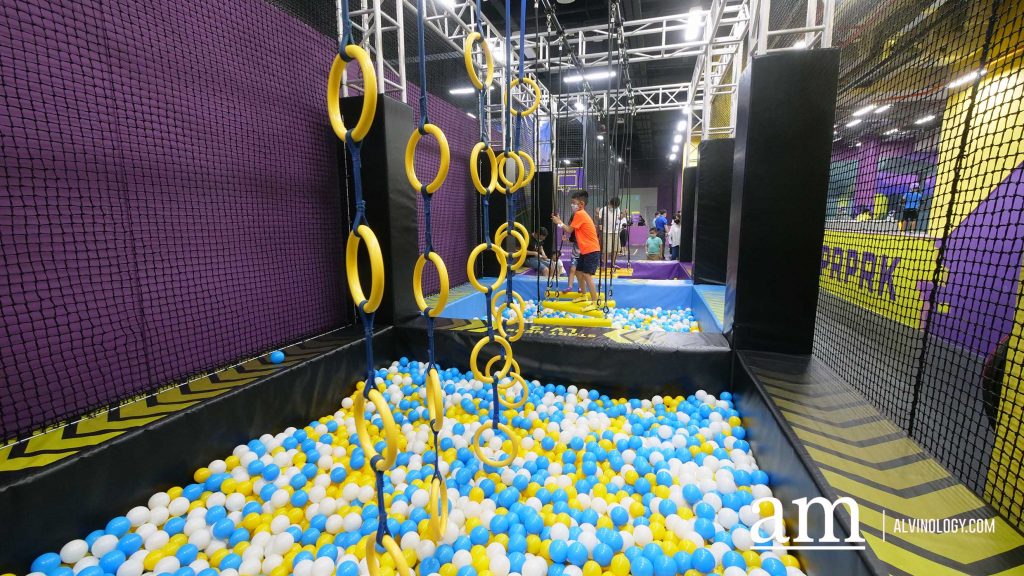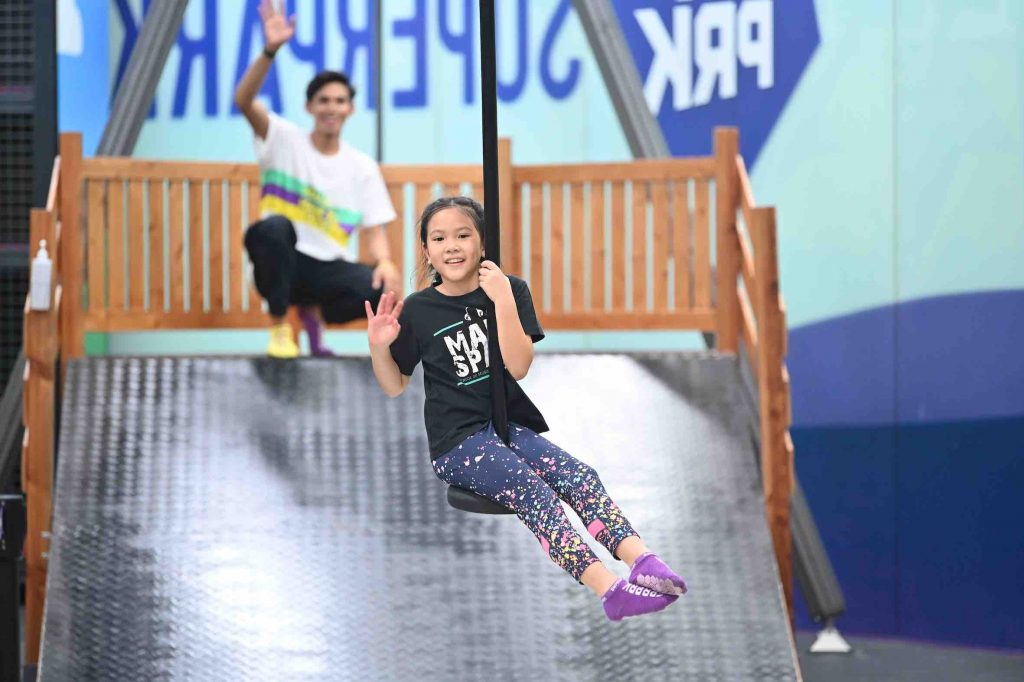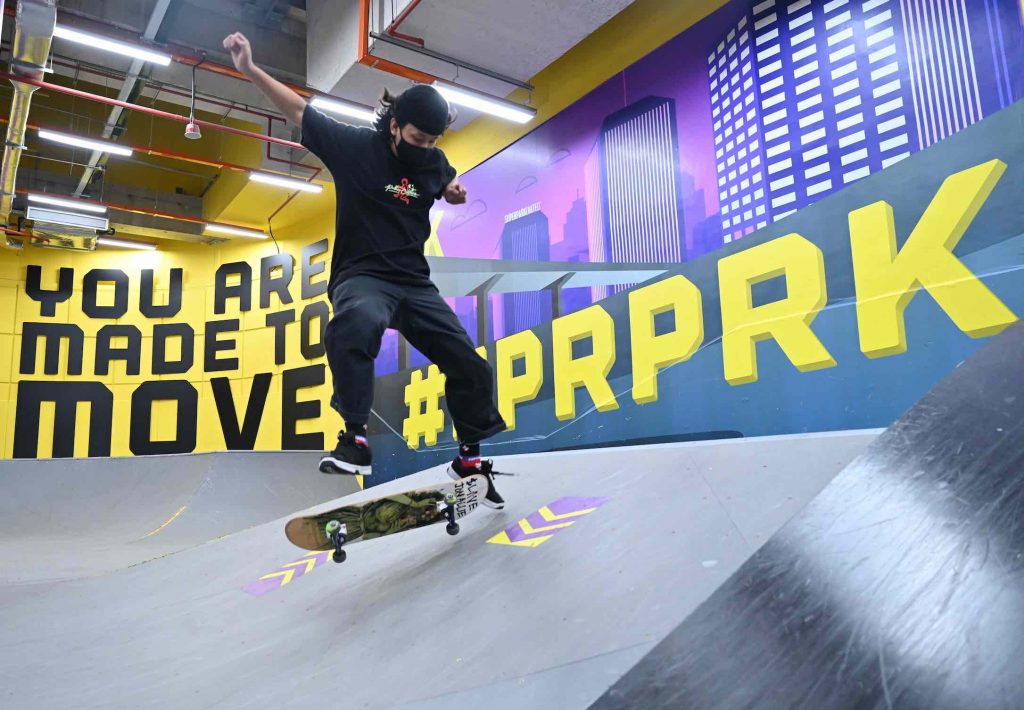 I like it that many of the activities can be enjoyed across all ages, so parents can bond with their kids.
Parents with toddlers or preschoolers can also enjoy bonding time together at the newly expanded Kids' Gym that is filled with soft play obstacle course, a small climbing wall and the signature Sliding Mountain.
Young wheels- lovers will also be pleased to know that tricycles are now an option at the popular Pedal Car Track.
For those who need retail therapy, there is also a brand new SuperShop which features sports-related gears, stationery and lifestyle accessories.
In view of safe management measures, play sessions are now limited to two-hour per session with controlled capacity intake. As a safety precaution, all equipment used will be wiped down and sanitised after every use, and the entire premise will be extensively sanitised after every session. Guests are encouraged to plan and book their play sessions via the website.
Visiting tip: don't be too fixated in queuing first at popular stations, given the two hours time limit. Instead, move around and only join stations where the queue is short and circle back to the popular station again later as the queue will thin out over time as everyone completes their turns and move to other stations. There are more than enough stations for you to enjoy without bunching together at one or two popular ones at the start of your session.
Ticket Prices for SuperPark Singapore
Tickets (per 2-hour play session):
Juniors (<100cm): $23.90 (Public), $19.90 (*Partners price)
Students (weekdays, excluding school and public holidays): $28.90 (Public), $24.90 (*Partners price)
All others: $33.90 (Public), $29.90 (*Partners price)
Babies under 1 enter free
*Partners include OCBC, DBS, PAssion Card, SAFRA cardholders and more
Visiting SuperPark Singapore
Opening Hours: Weekdays, 11:30 am to 9 pm; Weekends, Public & School Holidays: 10 am to 10 pm
SuperPark full-grip socks (priced at $3.50) are required for safety reasons
Covered shoes required for Clip 'n' Climb and Skate & Scoot World (no flip-flops)
Clip 'n' Climb and Skate & Scoot World only operates one hour per session on weekdays
Children aged eight or below must ALWAYS be accompanied by an adult with paid and valid admission
Face mask must be worn by all age six and above. Mask exemption applies for selected activities but must be worn promptly after. (Activities include SuperClimb, Trampoline and Augmented Climbing Wall)
For your safety and great experience, all activities are designed with height limits; details
SuperPark Singapore
SuperPark Singapore is located at 3 Temasek Boulevard, Suntec City Mall, #02-477 (North Wing), Singapore 038983.
Tel: 6239 5360
Email: [email protected]
Website: www.superpark.com.sg