Running out of ideas of what to do in Singapore after being unable to travel for over a year?
While Singapore perseveres in the fight against COVID-19, the reality for the global experiences that were once at our feet seems far out of reach – at least for now. The local tourism and leisure sector took a great hit, with an 85.7% decrease in visitor arrivals in 2020.
This has taken its toll on local small businesses, especially those focused on providing recreation and leisure activities catered at tourists. Getyr is here to help Singapore residents find, discover and book fun, unique experiences in our own shores that can also #SupportLocal small businesses at the same time.
Launched by the same folks behind local start-up GetSpaces, an online venues booking platform, Getyr replicates the former's success by extending from physical space bookings to physical activities bookings.
From crafting for the art junkie to yoga for the fitness lovers, Getyr features a wide range of activities that also help local businesses get the exposure that they need. We did a scan on their platform for stuff to do over the Easter long weekend and found several interesting workshops:

In the end, Asher and I decided to go for a terrarium workshop hosted by a Singaporean couple, Jason and Joy who runs J2 Terrarium.
The booking process was pretty seamless. Upon payment, a confirmation email was sent to us almost immediately. There was a change in the workshop date and time, but we were alerted early and an alternative booking was arranged without much hassle, through email.
The two hours workshop was fun and informative. Jason was a great host, clearly very passionate about horticulture and rearing fishes and insects. We went home satisfied with the two terrariums we constructed which will fit in nicely into our new home once we can move in next month.
For those who are unfamiliar, terrariums broadly describe indoor gardens in a sealed container. This ecosystem is possible because the plants and the soil in the terrarium release water vapour – essentially recycling water. The vapour is then collected onto the walls of the vessel and trickles down to the soil. Terrariums are self-nourishing, which is why they require little maintenance, if sealed.
Various items to choose from to construct your own terrarium during the workshop:
The making process:
The end products:
Other than terrarium workshops, Getyr also features other fun activities like Watercolour Floral Jam Workshop and Resin Making Workshop, which anyone can book and try out too.
As Singaporeans are turning inwards to explore opportunities for recreation and leisure especially due to the constraints of the global pandemic, Getyr seeks to be the quintessential platform for discovering new communities and alternative experiences, with a touch of homegrown and local.
Getyr Launch Promo Code
To celebrate their launch, Getyr is offering 15% off for bookings from now till 18 Apr with the promo code "LAUNCH15". You can also get an additional 5% rebate upon leaving a review on either the Getspaces or Getyr platform. Details: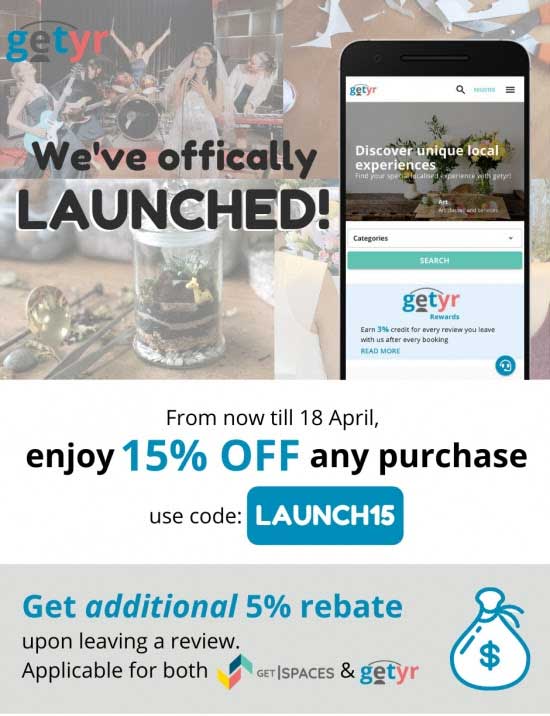 Have fun and thank you for #SupportLocal. 🙂