Cosy, unpretentious Omakase experience that delivers on taste and value-for-money. Step into Shinzo and be prepared for an exciting gastronomic ride to Springtime Japan.
Tucked in a first-floor unit at Carpenter Street in the CBD restaurants and pubs area in Singapore, Shinzo is a Japanese restaurant specialising in Omakase (お任せ), whereby guests leave it to the chef to decide what they will be eating.
To honour the trust that their customers place in them by going for Omakase, Shinzo professes to use only the season's best ingredients sourced directly from Japan's markets; all ingredients are air-flown from Japan twice a week. The word 'Shinzo' translates to heart, and the restaurant is named as such to reflect the love and passion that the culinary team imbues in their dishes.
Shinzo has been around for over eight years and has built a steady pool of regulars who are like old friends to the chefs and service staff. When we were there for the media tasting, we counted several of such regulars who were having friendly banter with the chefs like old friends while waiting for their food to be served.
The Chefs at the Helm at Shinzo
Shinzo is helmed by Chef Patrick Tan and Chef Kevin Ho, both of who trained under the revered Chef Yoshio Nogawa at Sushi Kaiseki Nogawa at Orchard road.
Chef Patrick Tan is a perfectionist who is known for shaping the culture at many renowned fine-dining Japanese restaurants in Singapore, including the Sushi Jin by Les Amis Group, Nogawa, and Sushi Chiharu. Chef Kevin Ho joins Shinzo from Nogawa where he spent the last two decades of his career there and was their head chef.
Both men are deeply passionate about Japanese cuisine, elevating it to the next level and cultivating the next generation of Singapore's sushi shokunin (sushi artisan). They take great pride in their sushi craft and maintaining an intimate setting in Shinzo's 18-seater counter.
This was our first time dining at Shinzo and we were just in time for their new seasonal springtime Omakase menu. Both lunch and dinner menus are available. We'll be reviewing dinner here. Please note that items can change depending on what's the freshest catch available and the chef's mood. That's the beauty of Omakase after all!
Shinzo's New Seasonal Springtime Omakase Menu
For Dinner Omakase, there are three menus to choose from: Jyo-sen- $188, Tokusen- $208, and Kasen- $228. (prices are before GST and service charge)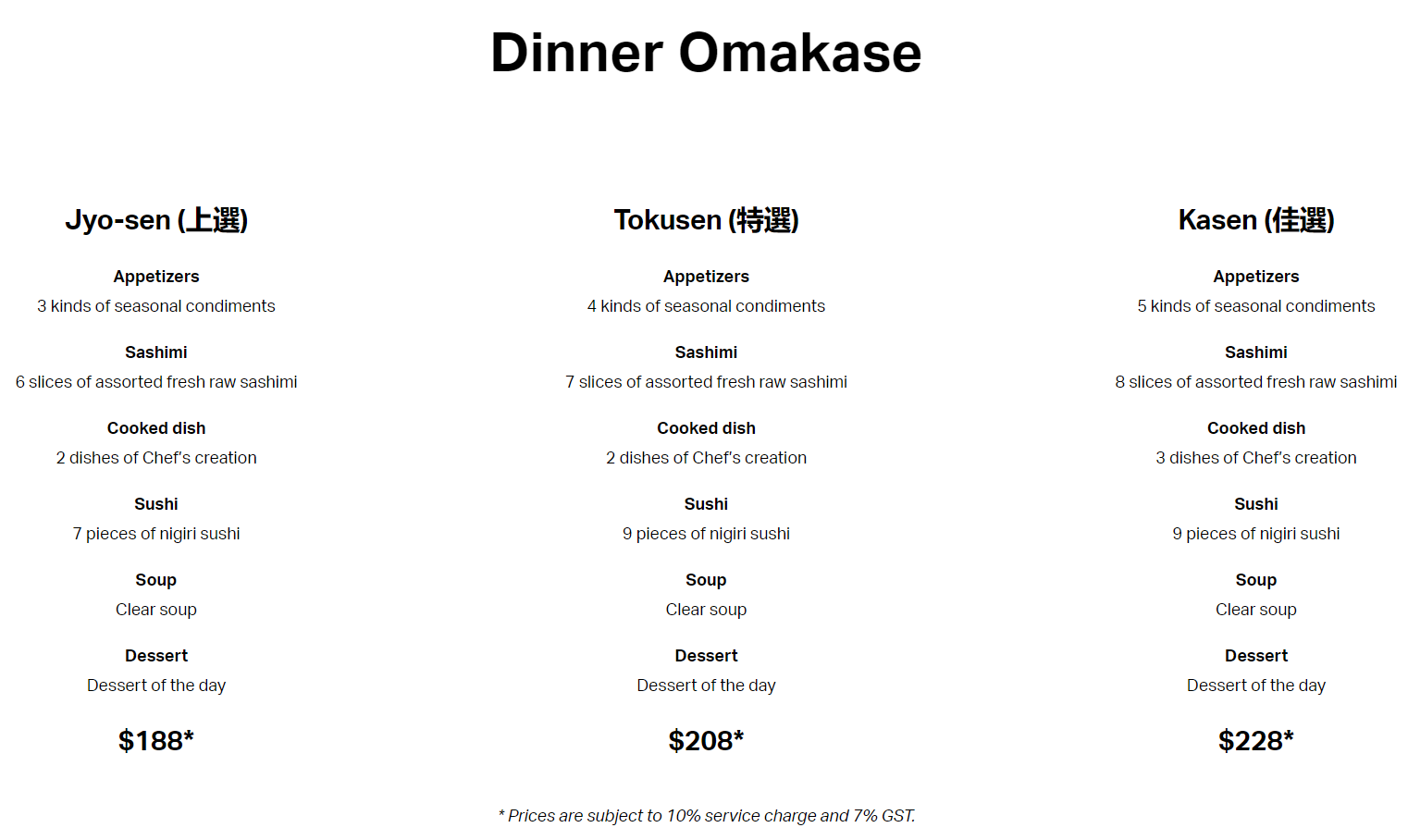 We tried both ends of the spectrum, the entry menu Jyo-sen, and the premium menu Kasen. You get a few more items to savour in the premium menu, and also more "wow" items like codfish sperm, fugu, and wagyu beef. That said, the quality of both menus is equally good. All looks so tempting, how to choose? One way is to use your appetite as a guide. The quantity of food given in the basic menu is already amply sufficient for one to feel filled, so go for the higher-tiered menus if you are feeling especially ravenous. Here's how our experience went:
We were there on a Tuesday, so we got to enjoy the complimentary Sake Pairing on Tuesdays for dinner. Diners get to enjoy three different types of sake picked by the chefs to complement the night's different dishes, elevating the dining experience.
Jyo-Sen $188
Appetizers– 3 kinds
Enjoy the appetizers from left to right; from milder in taste to stronger in taste.
The standout item here was the Ankimo (steamed Monkfish liver), which certainly lived up to its reputation as
the foie gras of the sea- creamy, buttery, melt-in-the-mouth good. The two other appetizers featured are the Uni Yosen (uni encased in agar jelly) and oyster.
Sashimi– 6 slices of assorted fresh sashimi
For sashimi, chu toro, botan ebi and kanpachi (amber jack) were artfully plated together. Their freshness was beyond question. Their different textures from fluffy soft to firm and chewy would have you giving thanks to the potpourri of bounty provided by the sea. By the way, did you know you can eat the Shiso leaf and flower too? They tasted minty and can function as a palate cleanser.
Singapore Staycations: Just $2.12 for a fishing experience staycation for two at RM hotel!
Next up was the Hirame carpaccio (flounder fish) topped with two different types of roe. The Hirame carpaccio's chewiness was perfectly counterbalanced by the soft roe literally bursting with flavours in your mouth.
Cooked dish– 2 dishes of Chef's creation
First up was tuna cheek paired with prawn cracker, green pepper and flavoured radish. A delectable dish that would make any fish lover happy.
Kamo foie gras – Chef Patrick's innovation of duck breast with foie gras was both unique and tasty. This dish reminds us of Peking duck, but instead of wrapping the duck meat with pancake like how one would eat Peking duck, you roll up the slice of duck meat around the foie gras. Sinful(lly good)? You bet.
Sushi– 7 pieces of nigiri sushi
Next, comes an assortment of 7 different Nigiri masterfully crafted by nimble hands. It was a pleasure watching each nigiri take shape right in front of our eyes, put together with understated aplomb by culinary craftsmen with years of experience under their belts.
The pièce de résistance? The Aburi otoro (flame-seared fatty tuna), which melts like butter in your mouth.
Soup
Miso soup with generous servings of clams and spring onion.
Dessert
Sweet melon and strawberry.
Kasen $228
Appetizers– 5 kinds
At five appetizers, the Kazen menu offers two more appetizers than the entry-level Jyo-Sen menu.
The standout item here is definitely the Shirako Ponzu. Shirako, which means "white children" in Japanese, is the sperm of the codfish while Ponzo is a Japanese citrus vinaigrette, zesty and appetizing. Very slurp-worthy.
Sashimi– 8 slices of assorted fresh raw sashimi
Featured here are Chu toro (medium fatty tuna), botan ebi (sweet shrimp), kanpachi (amberjack), Hokkaido scallop, and the famed fugu (puffer fish)!
The fugu sashimi is pre-prepared in Japan by specially licensed chefs trained to process the deeply poisonous fish. The fugu slices are carefully arranged into the form of a fan. The fugu is chewy and gummy in texture, served on chilled plates for maximum freshness.
Cooked dish– 3 dishes of Chef's creation
First up was the A5 Japanese Wagyu. Deftly seared, a thin caramelized crust added texture to soft melt-in-your-mouth marbled meat.
Next up was grilled oysters in cheesy sauce and king crab. The cheesy sauce might feel overpowering to those looking to taste the umami of the oysters, nonetheless, the craving for umami will be satisfied by the fluffy sweetness of the king crab.
To round up the cooked dish segment, we have the steamed abalone. Think plump, thick cuts of abalone, steamed gently to allow its natural flavour to shine through.
Sushi– 9 pieces of nigiri sushi
Deftly and delicately prepared by the chef to deliver on its essence, each nigiri still retained the warmth of the human hand in its rice. This segment had us literally and figuratively eating out of the chef's hands.
Soup
The plump and succulent Hamaguri clam in clear dashi soup brings us a taste of the seaside.
Dessert
Chilled Yubari melon and beautifully sweet strawberries to round off a more than satisfying meal.
Promotion
Shinzo is offering a complimentary Sake Pairing on Tuesdays for dinner. Diners can also come in on Mondays to enjoy 20% off your regular dinner omakase meal. Alternatively, enjoy their Earlybird omakase 8 courses dining experience (6-7pm) special price for diners who reserve early and finish their meal by 7pm.
Location: 17 Carpenter St, Singapore 059906 (nearest MRT: Clarke Quay- 5 mins walk)
Opening hours: Monday – Saturday, Lunch: 12pm – 3pm, Dinner: 6:00pm – 10:30pm
T: +65 6438 2921/ +65 9815 7186 (WhatsApp)