French restaurant Ginett is offering a Lunar New Year-inspired menu featuring 5 dishes, served à la carte, each with an auspicious twist to pay homage to the festivities.
"Spring into the New Year", menu urges. It's an apt tagline indeed as the dishes lived up to the refreshingness of Spring. Refreshing in terms of taste, and also in the concept of French dishes with an Asian twist. The mains all came paired with greens, so each dish felt really well-balanced.
Quality over quantity- Ginett's CNY menu certainly lived up to this adage. We sampled all five dishes, and not one disappointed.
Hamachi Carpaccio "Yu Sheng" Style ($26++)
We enjoyed this dish. This dish was refreshingly zesty and light. What arrived on our table (left) looked different from the publicity image (right), but it tasted good all the same.
The Japanese Yellowtail slices, fresh and generously portioned, were a welcomed change from run-of-the mill smoked salmon. The other ingredients included fresh winter radish, pear, cucumber, all of which were nicely brought together by the sour plum dressing. Priced at $26, portion is good for sharing for 2 to 3 people.
Grilled Lobster Tagliolini ($38++)
For pasta lovers, indulge in a homemade tagliolini cooked with garlic and chilli, XO sauce and topped with a charcoal-grilled lobster, freshly flown in from Maine, USA.
Burgaud Callans Duck ($30++)
Burgaud Challans duck breast marinated in pu-erh tea and Chinese five spice, served with aged soy. This novel and harmonious blend of flavors raised eyebrows and elicited smiles at our table.
Notice the ridged duck skin, which added texture, and also showed the chef's attention to details.
Crispy Suckling Pig ($32++)
Prepared over the course of 2 days, the suckling pig belly is marinated overnight followed by a slow confit of 6 hours to render some of the fat and tenderise the meat.
The meat then rests for 12 more hours before being roasted, crisping up the edges. Served on a bed of pumpkin purée with sautéed broccolini and tart kumquats – symbolic of gold and fortune.
Pineapple Tarte Tatin ($15++)
Pineapple and cranberry jam stuffed in a puff pastry, topped with caramelised pineapples and a scoop of vanilla ice cream- this dessert is an interesting spin of the traditional Chinese New Year pineapple tarts. Taste-wise, this reminded me of Swensen's Apple Crumble, which is to say, comforting.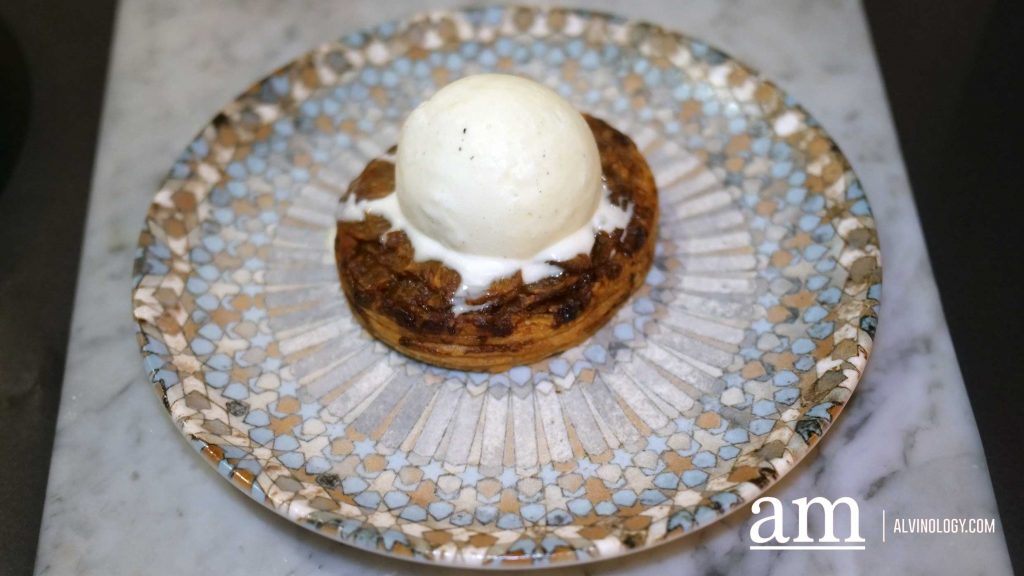 We also tried La Saint Jacques ($36++) from their regular menu which is to be recommended if you are a scallop lover. The scallops were big, very sweet and filled with Unami. They are served on top of truffle mashed potato, and charred cauliflowers lightly crisped, which provided a nice textural contrast to the tenderness of the scallops.
This Chinese New Year, if you want a break from traditional Chinese dishes and the traditional style of serving in large sharing portions, then Ginett's Lunar New Year menu of Asian-inspired French dishes, individually-plated, might just be what you are looking for.
Spring menu specials are available from 18th January – 28th February, dinner only.
You can make reservations at Ginett here.
? Ginett Restaurant & Wine Bar
Hotel G Singapore, 200 Middle Road, Singapore