Together, the three exhibitions spotlight the community of people behind ACM, revealing the lesser-known human side of the museum through stories and perspectives of staff, tenants, partners, artists, and collectors.
Faith Beauty Love Hope – Our Stories, Your ACM presents more than 60 treasures from ACM's extensive collection, with some masterpieces presented for the first time, or first in many years. Displayed at the Special Exhibitions Gallery on Level 2, the exhibition offers visitors the opportunity to experience these objects up-close, both physically and emotionally, as they read anecdotes and musings from the ACM community.
These include contributions from a conservator, a security supervisor, student volunteers, and museum director Kennie Ting, among many others.
A digital presentation will accompany the exhibition, featuring other spectacular pieces handpicked by ACM's staff and stakeholders.
Visitors are invited to submit their own stories via a digital repository at the end of the exhibition, and online from January 2021.
Experience an ephemeral friendship with a stranger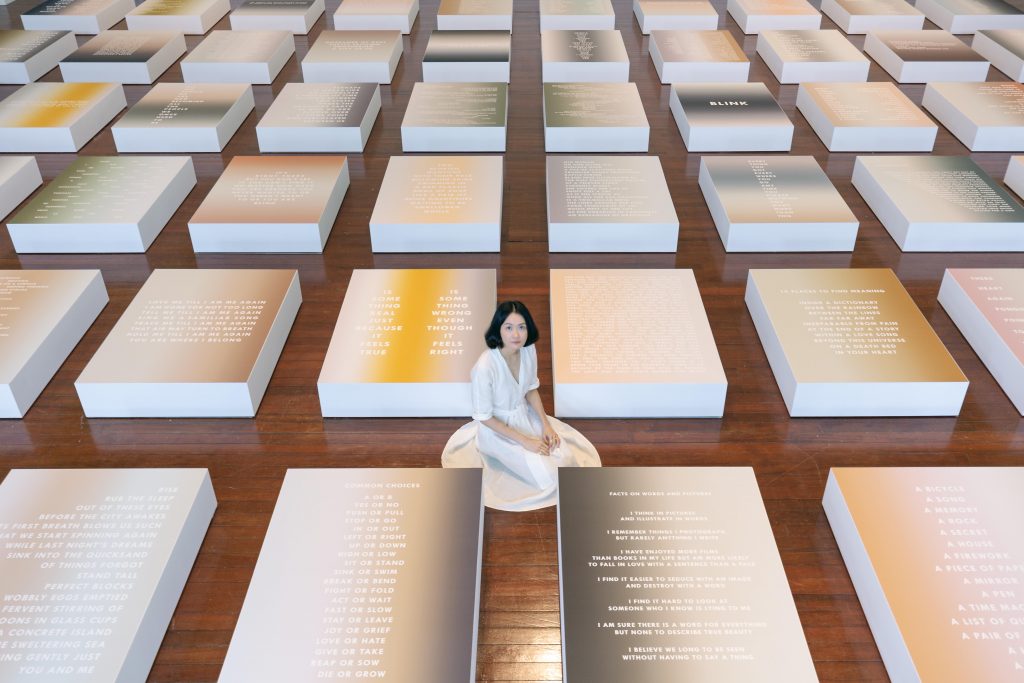 Located at the Level 2 Foyer, local artist Dawn Ng's Perfect Stranger contemporary installation greets visitors with a vast sea of paper washed in a gradient of words and colour. Acting as a narrative time capsule, the installation stems from Dawn's daily Q&A project in 2016, where she exchanged thoughts with a stranger – Israeli psychologist, Zehavit Efrati (who was based in Singapore at the time) – every day over the course of a year.
First shown in 2018, this iteration at ACM presents the work in its entirety for the first time, staged in the artist's originally conceived format. Visitors are invited to choose their own adventure in this meditative experience, where they are free to weave between the artworks into Dawn's world and reflect on their own sense of time, sense, and self this 2020.
In thINK: Chinese Calligraphy, Connoisseurship, and Collecting, ACM marries history with the contemporary through the collection of long-time lender to ACM Dr Yuan Shao Liang, who has supported the museum since it first opened in 1997 at the old Tao Nan School. 23 objects were selected from Dr Yuan's extensive collection of literati objects as well as books and letters from important personalities from the Ming and Qing dynasties.
The exhibition aims to evoke personal responses towards the act of remembering and collecting, as visitors are introduced to human-to-human relationships, political sentiments, military affairs, and antiquity trading via the Chinese ink and literati pieces.
Immerse yourself in a pair of interactive art murals and watch objects from the exhibition spring to life on your smartphone! Located at the Level 2 Foyer (next to Perfect Stranger), the art murals were created through a collaboration between artist Alison M. Low and creative agency Untitled Project.
Come 26 December, the public can look forward to a drop-in craft activity at ACM inspired by the themes of faith, beauty, love, and hope as they recollect memories of the past year.
In January and February 2021, adults can anticipate Social (Distance) Fridays, where they will be delighted by after-dark activities; families can also participate in hands-on craft workshops inspired by the exhibition themes at Super Saturdays.
Faith Beauty Love Hope – Our Stories, Your ACM and Perfect Stranger will be open on 23 December 2020 and run through 28 February 2021.
thINK: Chinese Calligraphy, Connoisseurship, and Collecting will run from 23 December 2020 to 25 April 2021. Admission charges may apply. For more information, please visit here.