While the past few weeks may be considered a win for 23-year-old Natalie Siow Yu Zhen, her battles in the Orchard Tower murder case are far from over. She was slapped with two new charges on October 25, her first trial after her remand and dropping of her initial murder charge.
Natalie Siow's Dayre account has a lot of interesting details about this girl involved in a murder case.
According to a report by The Straits Times, Natalie Siow or Nutella, as her unofficial fans club have called her, was slapped with two charges on top of her assault charge. These charges are:
• consorting with co-accused Tan Sen Yang, who allegedly possessed an offensive weapon on July 2, the day of the murder, and
• behaving in a disorderly manner
A short clip from the security footage at Orchard Towers at the time of the murders show a woman rearing back to join the gang of people beating up 31-year-old Noel Satheesh Gobidass.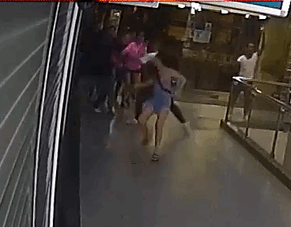 According to an earlier report, Tan Seng Yang, 28, allegedly had in his possession a deadly weapon a karambit knife. The knife was with him when he was in an earlier altercation in a different establishment
Tan Seng Yang is still up for murder, along with two other men in the original lineup of accused in the case.
Natalie Siow is represented by lawyers Amarick Gill and Cheryl Ng.
A previous report said that Natalie burst into tears when the murder charges were dropped, and said that her lawyers noted her elation when she was no longer in danger of getting the death penalty if she were convicted for the murder.
Natalie thanks her supporters for their support after she has been remanded and is back on social media.
The same report from The Straits Times said that if she were to be proven guilty of the new charges, she could face fines, a longer prison sentence, but no caning, since she was a woman.
If Natalie would be proven to knowingly consorting with a person possessing a dangerous weapon, she could be jailed up to three years and given at least six strokes of the cane.
She could also be jailed for up to six months, fined a maximum S$2,000 or both, if this was the first time she was convicted for behaving in a disorderly manner.
Singaporean netizens have expressed different views with how the Orchard Towers murder case is going for the only woman accused.
Natalie Siow Yu Zhen's fan club is going strong and even more interested in her now.
Some continue to support her, saying that she is innocent of murdering the victim, and that she should be set free. These comments are mostly from her unofficial "fan club" online, where she is mostly admired for her looks.
Other comments show that people consider the events such a waste of her youth, and that she must pay the price for being part of the group that contributed to the injuries that killed the victim.
Some netizens also mentioned that they wanted her sentences to run consecutively instead of concurrently, in light of the violent death of the victim.
Noel Satheesh Gobidass died from his wounds an hour or so after the violent encounter with Natalie and her cohorts, perishing in Tan Tock Seng Hospital on the same day, July 2.
Natalie will return to court a month later on November 25.