Powered by Holland & Barrett, The Conscious Festival by Green Is The New Black is returning to The Lion City on 2 – 3 November 2019. The fifth edition will take place at South Beach, a sprawling eco-lifestyle destination in the heart of Singapore.
The festival's famous marketplace is growing and will feature more than 100 mindful brands, transformative talks, delicious and healthy eats, organic alcohol, interactive art, and games with a purpose. Every year, the biggest takeaway for guests is walking away armed with #LittleGreenSteps that will carry them forward in their journey towards a more sustainable life.
Inspired by an expedition to the Arctic Circle earlier this year where Green Is The New Black co-founders Stephanie Dickson and Paula Miquelis witnessed the effects of global warming firsthand, the 2019 edition of The Conscious Festival is themed Climate Change is Real.
The TALKS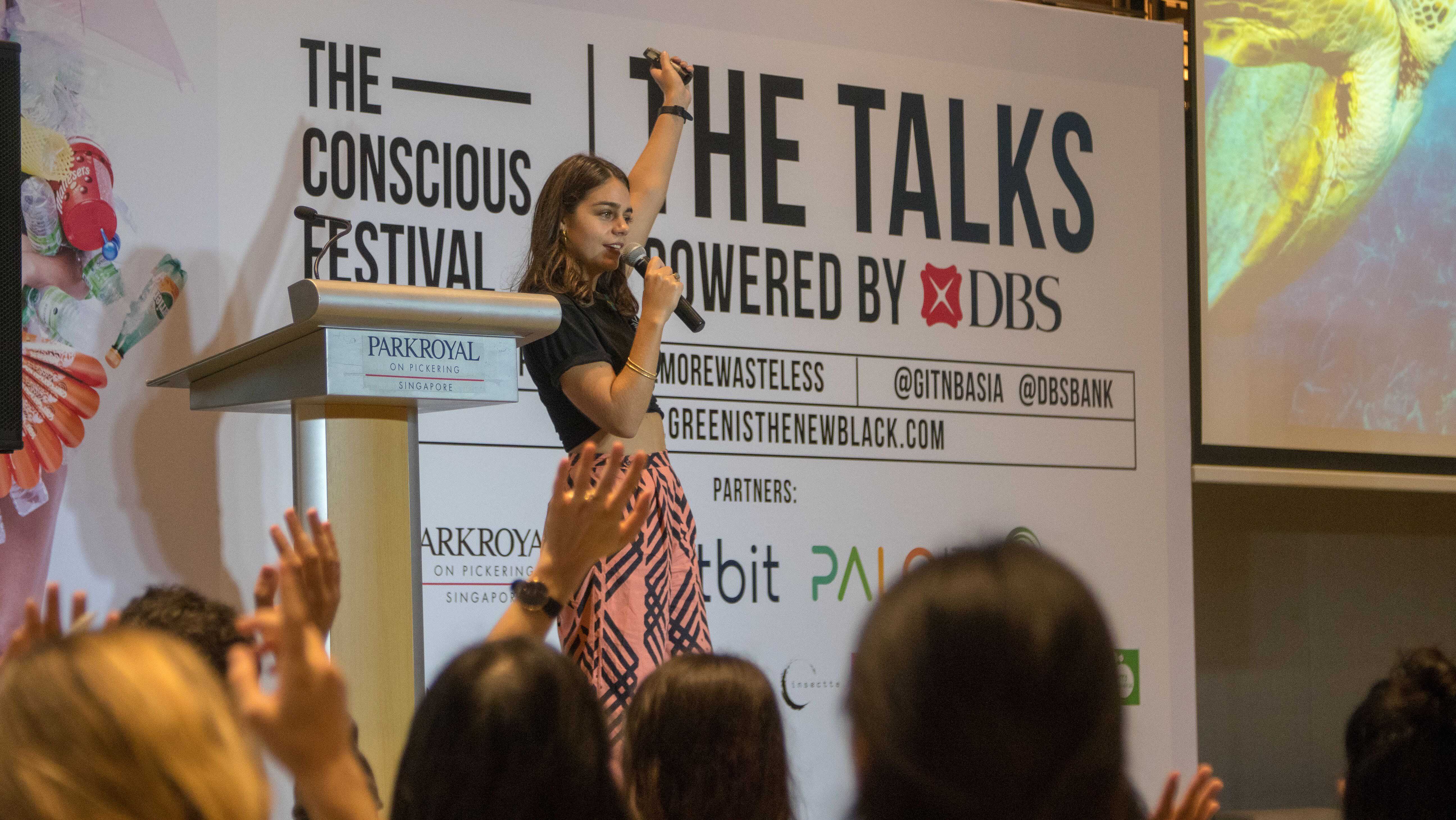 Four transformative sessions packed full of juicy actionable insights that will empower you to change your life, including inspiring keynotes, engaging workshops, wellness breaks, and action kits.
LIVE – Collaboration Not Conflict (2 November, 10:50 AM – 1:30 PM)
BUSINESS – Ethical Opportunities in the Climate Crisis (2 November, 2:20 PM – 5:00 PM)
CONSUME – Rising Seas, Rising Youths (3 November, 10:50 AM – 1:30 PM)
FASHION – Dressing with Sense & Sustainability (3 November, 2:20 PM – 5:00 PM)
These sessions look to motivate visitors to empower themselves to play a bigger game, make more impact and embrace their most fulfilled, green life. Speakers range from thought leaders:
Barney Swan – the first man to walk the South Pole on renewable energy
Christine Amour-Levar – explorer and founder of Women on a Mission & Her Planet Earth
Alexander Chan – The Mills Fabrica in Hong Kong
Rachel Tan – youth activist
Aimee Maxwell – psychologist and deep adaptation spokesperson
Assaad Razzouk – better known as The Angry Clean Energy Guy
The MARKETPLACE
Attendees can expect a marketplace full of vegan-friendly products and innovative mouth-watering food. The marketplace itself will have over 100 mindful brand pop-ups, 20 edutainment booths by NGOs, a series of activism through art, mini-workshops as well as a lively atmosphere with local bands and entertainers.
Mindful Market
Live Music & Entertainment
Healthy & Delicious Food
Edutainment Activities
Interactive Activism through Art
Brands will be flying in from around the region, including Fashion Deploy from London, Indiigo Culture who are flying from New York, Flo Jewellery, Cocoparadise, Bamboa Home, ZeroYet100 from Hong Kong, Happy Earth from Thailand, and many more.
For further information on the TALKS and the MARKETPLACE, refer here.
Other Highlights
Cleaner Beauty & Health – Understanding your needs and prioritising your wellbeing allows you to give more to the world. Map out your health journey with qualified advisors at the Holland & Barrett zone.
Edu-tainment – NGOs will be educating guests through entertaining activities and games, and including WWF, Conservation International, Seven Clean Seas and many more. Expect fun for the whole family.
Green Warriors Exhibition – The third annual list of Green Warriors will also be showcased as an exhibition at the Festival. Thirty eco-game changers from around the region will be celebrated in a special photo exhibition by acclaimed photographer Alex Marco.
The Conscious Festival Event Details
While the event is FREE TO ENTER for the public, there is a modest ticket fee for the TALKS. This year, GITNB will be donating a large portion of ticket sales to planting trees.
More speakers, brands, artists, workshops to be announced on a later date.