From the producer of The Lion King musical, the beloved story of Aladdin comes to life in this spectacular new musical. The Aladdin musical is now showing at Sands Theatre at Marina Bay Sands from now till Sept 1.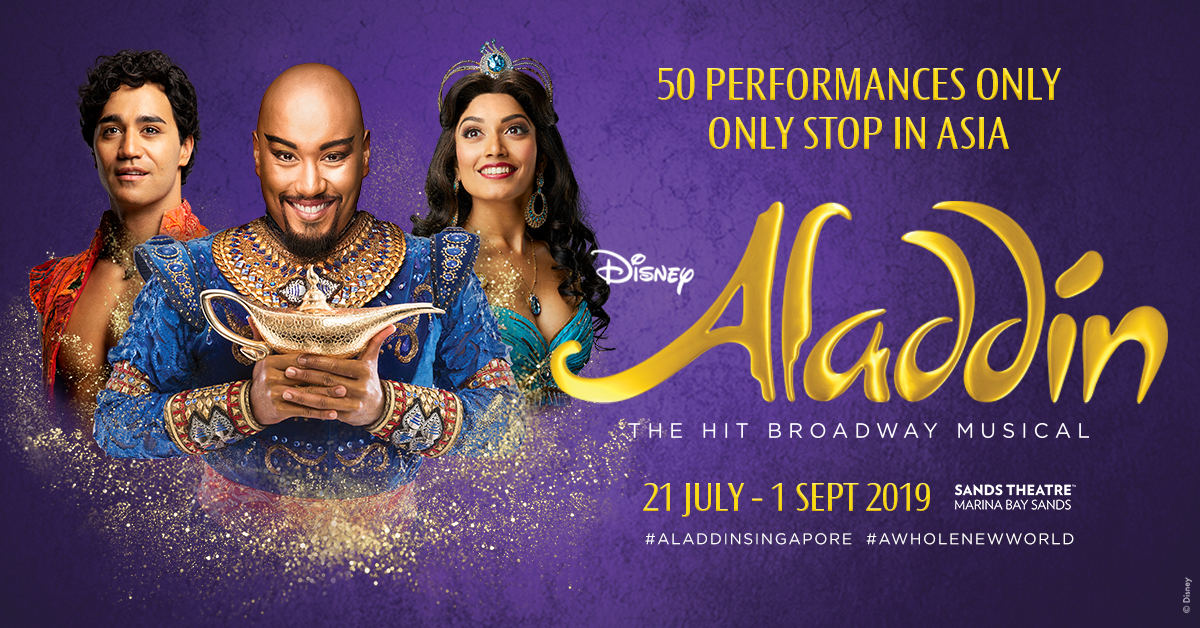 The timing is almost perfect, following closely after release of the live-action remake of Aladdin, Disney's classic 1992 animation film of the same name. For those who can't get enough of this timeless romantic tale set in a fictional Arabic world, here is a chance to relive the moments with Aladdin, Princess Jasmine, Genie and the rest of Agrabah in a theatre environment.
While Aladdin was the star in the 1992 animation film and Princess Jasmine stole the limelight in the 2019 live-action remake, the star for the musical is clearly the exuberant and ever-energetic Genie. The character is made for musical with his loud demeanour and tendency to burst into random songs and dances at any given opportunity.
The lead actor playing Genie is really great at engaging with the audience and even sneaked in a cameo for Singapore's Merlion mascot for a little local fun.
The musical is presented in breathtaking sets which would transport you to the magical kingdom of Agrabah, paired with well-executed special effects that come across as magic as well as over 300 lavish costumes to dazzle you blind.
I really enjoyed all the song and dance scenes featuring Genie. For those brief moments, you would almost feel you are in Agrabah and joining in the characters in their merrymaking moments.
Then, there are the quiet, romantic moments too…
Aladdin and Princess Jasmine have some sweet, loving moments and you could hear the audience go "awwww…." in the iconic scene when Aladdin invited Princess Jasmine to take a ride on his magic carpet.
Featuring all the songs from the classic Academy award winning animation film, including "Friend like Me", "A Whole New World" and "Arabian Nights", prepare to experience the unmissable theatrical magic that is Aladdin.
This is one of the best musicals I have watched which is adapted from a movie. The Aladdin musical is not a linear rehash of the same old narrative and musical treatment of the original, but actually adds colour and life of it's own.
Don't miss the Aladdin musical for their only stop in Singapore and the whole of Asia at Sands Theatres at Marina Bay Sands! Tickets are now available online via SISTIC.