Pokémon fans – do you know there is a "secret" Pokemon game in the Jewel Changi Airport (Jewel) mobile app? The Pokemon Explorer (PEX) game is an interactive play activity jointly developed and launched by Jewel and The Pokémon Company. The app is available for free download on both iOS and Android and the game is free-to-play once you are logged in to the app. Note that this game is not related to the Pokemon Go game developed by Niantic.
Okay, the app is not intentionally "secret", but Jewel has not gone out to publicise it in a big way yet as it is still newly launched. There is a banner on the Jewel app homepage which will lead you to game. If you are observant to your surroundings, you may have spotted standees around Jewel which have pictures of different Pokemon characters on them. There is a QR code on each of these standees and you can scan them to download the Jewel app and the game.
Designed to complement the diverse offerings and encourage exploration of Jewel, PEX consists of different missions for players to complete at various spots within the complex.
At the start of the PEX activity, players select a partner Pokémon that will accompany them at ten different stops, comprising a mix of missions and photo opportunities such as helping Pikachu collect berries around the Discovery Slides at Canopy Park and catching Magikarp at the Shiseido Forest Valley's East Trail.
Leveraging the sensors within each player's mobile device, PEX uses Natural User Interface to create an exciting and immersive play experience.
This slideshow requires JavaScript.
Below are some examples of the PEX stops: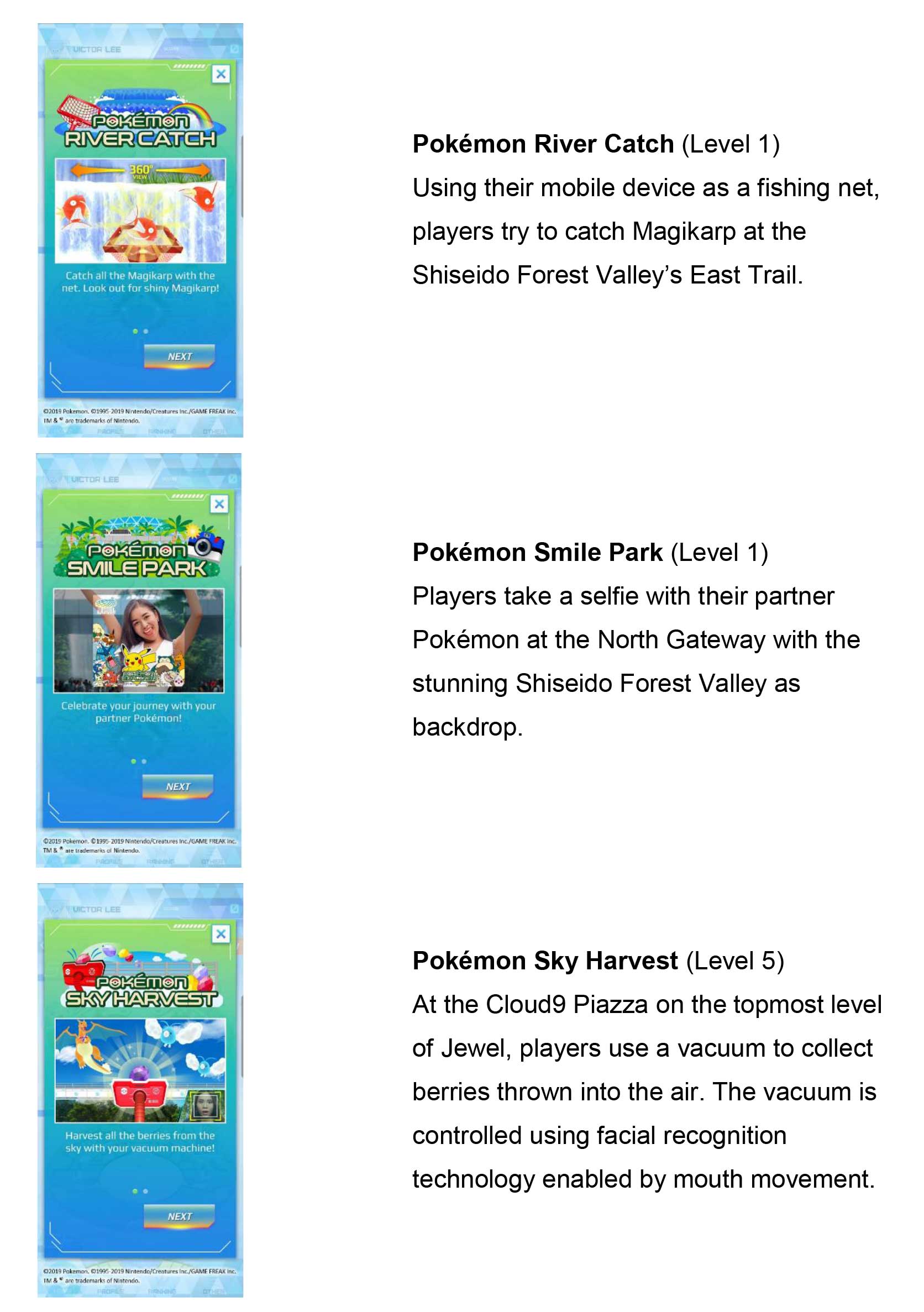 I brought my son Asher to Jewel over the weekend to try out PEX and he gave the game two thumbs up. Some of the missions are rather interesting and would require to do things like blow on your phone surface or make funny poses with your mouth:
I got to admit though – it's easier for kids to complete these missions than adults because they will find it amusing to do all these interactive activities. Asher certainly had a lot of fun running around hunting for the standees and completing all his missions.
Jewel and The Pokemon Company have big plans for the PEX game beyond being just a one-off, linear gameplay.
In future, there will be regular themed "assignments" issued by Pokémon Center Singapore on its Facebook page, and players may redeem a surprise at the retail store located at level 4 of Jewel. The highest scorers may even find yourselves on The Hall of Fame display at the store – this is definitely a big draw for the true Pokemon fans and something that money can't buy.
PEX can be played all over Jewel. It is a free game, but some of these stops are located within Canopy Park which is a ticketed admission [Standard rate: $5 (Adult/Child/Senior), Singapore Residents: $4.50 (Adult/Child/Senior)]. You can skip these stops if you do not want to pay for admission.
More information about PEX is available on the official website.