Nom Nom Nom makes a debut with everyone's beloved food and drinks, making this a gastronomic indulgence in a fun and colourful setting complete with a duplex carousel and "live" DJ sets. The first edition of Nom Nom Nom will take place at Shaw House from 5 to 14 July 2019. Open till 1 AM on weekends, Nom Nom Nom brings together modern interpretation of Singapore's most popular comfort food and the trendiest bites, all in one place.
Here's what you can find during the 1st edition of Nom Nom Nom Food Festival:
Location: Shaw House, Urban Plaza, Level 1 Foyer, 350 Orchard Road 238868
Operating Hours:
Monday to Wednesday, Sunday: 12 PM – 11:30 PM
Thursday, Friday and Saturday: 12 PM – 1 AM
Highlights:
13 F&B Booths (2 Beverage booths)
Lucky Draws
Eating Competitions (5-7 July, 12 & 13 July)
Daily Attractive Deals
Live music acts by local DJs from Ministry of DJs
Rides on 9.3m Duplex Carousel
Food and Beverage Booths
In this first edition of NOM NOM NOM, visitors can look forward to all of their favourite offerings of many different cuisines. A healthy mix of traditional and modern fare will leave visitors spoiled for choice. A few highlights are Three Buns by Potato Head Family, Beef Bro and Churros Republic.
Lucky Draws
With the purchase of every $20 coupon booklet, a lucky draw form will be given to customers. The prizes that are up for grabs are as follows:
1st prize: a 3D2N trip for 2 to Hong Kong (worth 1000SGD) – 1 winner
2nd prize: a 3D2N trip for 2 to Ho Chi Minh City (worth 1000SGD) – 1 winner
3rd prize: a 3D2N trip for 2 to Penang (worth 920SGD) – 1 winner
Consolation prizes: 1 pair of movie tickets – 20 winners
Eating Competitions
In the spirit of celebrating a common passion for food, Nom Nom Nom will play host to a series of eating competitions throughout the food festival. Participants can stand to win a pair of movie tickets.
5 July – 1 PM – 1:30 PM
6 July – 1:30 PM – 2 PM
7 July – 1:30 PM – 2 PM
12 July – 1 PM – 1:30 PM
13 July – 1:30 PM – 2 PM
Daily Attractive Deals
Exciting meal deals will be carried out throughout Nom Nom Nom at different timings of the day to ensure visitors get the most out of the food festival. These consist of Happy Hour Deals and Supper Deals, where the vendors will be selling selected items of their menu at very attractive prizes. The items on sale will rotate as throughout the festival, thus visitors can look forward to a different promotion each visit.
Happy hour starts early at Nom Nom Nom, from 4 PM onwards. Tiger draught and Guinness draught go for $4 and $5 respectively during this period with every purchase.
Duplex Carousel
Besides the gastronomic offerings, visitors will also get the opportunity to take a ride on the duplex carousel that will be brought in specially for the festival. Besides a beautiful backdrop for Instagram-worthy photos, the 9.3m tall carousel will be able to house 52 seaters per ride, ensuring ample space for groups to ride the attraction together.
Each ride costs $8 per ride and will last approximately three minutes.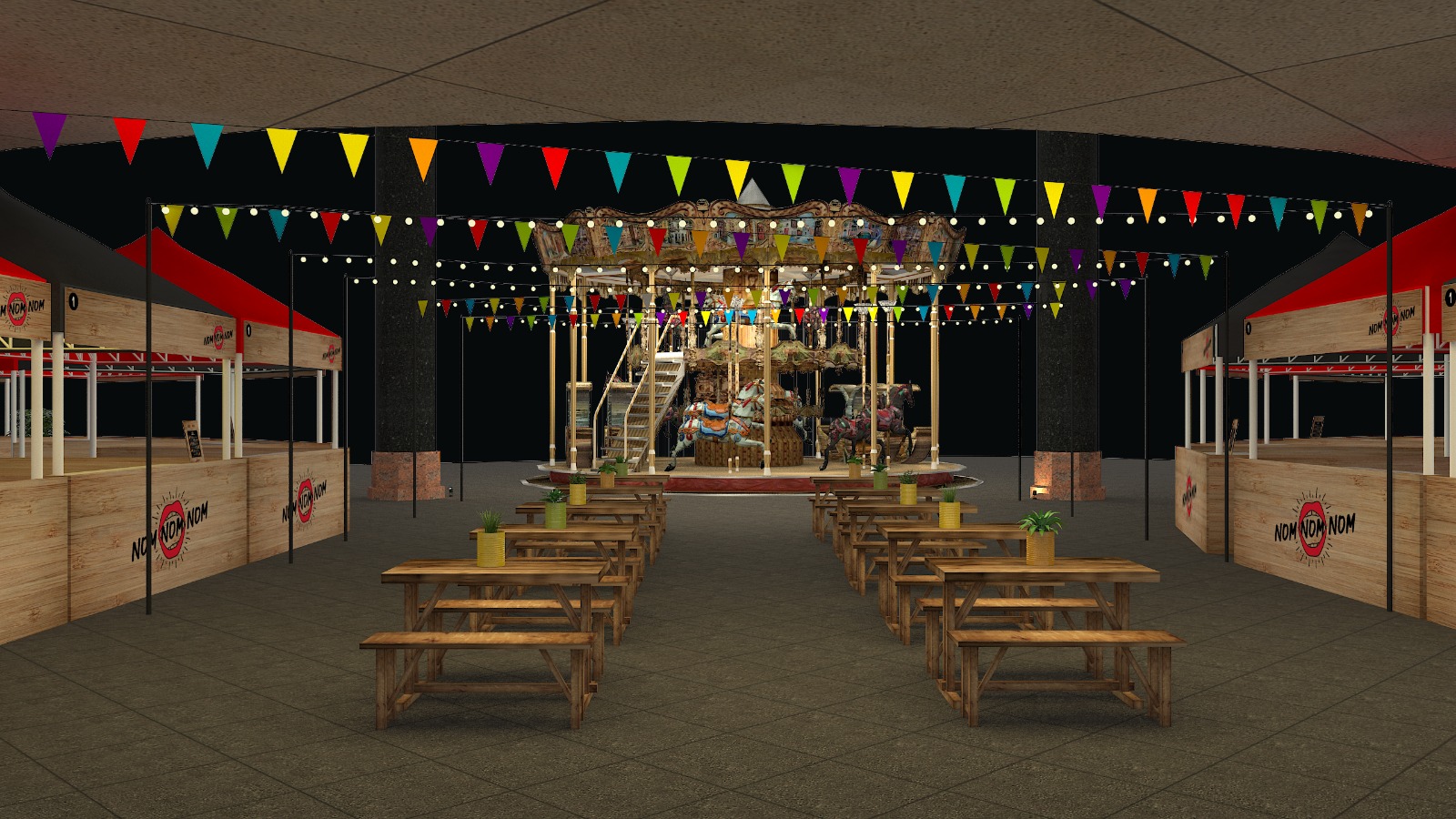 Live Music Acts
Visitors will be entertained throughout the day by periodic live music sets by local DJs from Ministry of DJs, Singapore's premier DJ School. A pool of students from the school will rotate during different set timings to entertain the crowd, showcasing Singapore's rising talent in a prime location.
Key sets not to be missed are:
Tropical House Set (7 – 9 PM) on Monday – Wednesday, Sunday
Tropical House Set (2 – 4 PM, 6 – 9 PM) on Thursday, Friday, and Saturday
Come down to Nom Nom Nom to celebrate the mutual passion of food with friends and loved ones this July.
For more information, visit the Nom Nom Nom website.