In a fame-hungry generation that grew accustomed to external validation from social media, how far would one go to for Internet fame?
In Taiwan, it may have gotten to a point of no return, for one young social media influencer. Liang Si Hui (梁絲繐), 22, was taken in for interrogation on her best friend's murder – who's also a popular model – but maybe more famous than the former. When the earth-shattering news broke out, many were appalled at how vicious this young lass was.
Without casting judgement on any of the individuals involved in this whole sad saga, let this be a cautionary tale in the pursue of online fame. The online entertainment industry may not be as innocent and simple as many thinks. Darkness lurks and young talents should be aware of the danger they face when meeting online strangers alone for the first time.
The two online models were the best of friends 
Both Liang and deceased Chen Ke Xiang (陳可緗) enjoyed a reputation for being some of the most popular online models in Taiwan. Of course, this went without saying given their stunning good looks and slender figures. The stiff competition in the modelling industry also didn't seem to dampen their friendship as Liang has posted on her Facebook how much she wanted to celebrate Chen's birthday in the following year.
Chen has even once reassured her father of her safety during photoshoots so long Liang was with her. As Chen was once sexually harassed by photographers, her father became worried for her safety, thus attempting to coax her into quitting modelling. In the end, he relented as Chen trusted in her friend. Little did she see harm coming her way with Liang being the crux of it.
Cold-blooded murder 
It's been reported that Liang lured Chen out, on the pretext that the latter is going for a modelling gig. The "photographer" is none other than Liang's boyfriend, Chen Yu (程宇), 24 – who has criminal records pertaining to sexual offences. Having a past record just doesn't bode well for one who's linked to a homicide.
True enough, Chen Yu – apparently the weakest link in this case – has already confessed to strangling the deceased with his bare hands. That didn't seem to alarm his model girlfriend as Liang still maintained her innocent position in this scandal.
He also took off with all of Chen's belongings, including 5, 000 TWD and her credit card; even giving Liang the watch he stole from Chen. The thought of that just gives us uncontrollable shudders.
However, he did not admit to sexually assaulting the model even though she was found without her undergarments, but with her clothes intact.
How did the police find out 
When the police found Chen, she laid motionless at a basement in Taipei. Her belongings were nowhere to be found – leading the police to track her credit card transactions. They managed to arrest Liang and her boyfriend based on their train reservations to Taichung and a five-star hotel reservation they made.
Besides that, Chen's handphone was discovered by a staff at the hotel with it ringing continuously in a rubbish bin. Knowing that something was amiss, the staff proceeded to call up the police. The police also uncovered Chen's ID in the hotel room where Liang and Chen Yu was found at while looking exceptionally guilty.
Throwing shade
The plot thickens – Liang's rumoured ex-boyfriend Sheng Jie Shi (聖結石), who is a prominent YouTuber in Taiwan, posted this on his Facebook: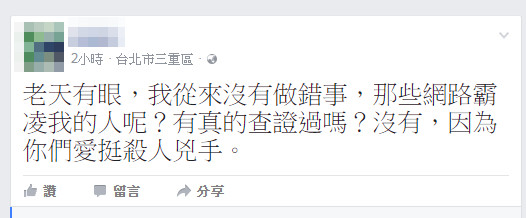 The context for this post was that Liang previously bullied him when they broke up through malicious claims that he cheated on her – to which he vehemently denied. Now that Liang is embroiled in a nationwide scandal, he alluded to the fact that Liang might be guilty in her best friend's death. Though he didn't mention the name, it's conspicuous who he was throwing shade at.
Possible motives
It's been reported that Liang's boyfriend committed the murder as he was in desperate need of money but many felt that something was amiss. Aside from the fact that accounts from both suspects didn't add up, to think the couple committed homicide for 5,000 TWD is counterintuitive. The amount is approximately S$229 – you'd think it's measly compared to the magnitude of the offence committed.
Liang's boyfriend even claimed that he wanted to help his Liang to pay off her school fees as her financial condition is far from good.
Could it be that Liang was jealous of Chen's beauty? That may emerge as one of the puzzles for the investigators to crack in this case.
Released due to insufficient evidence against her 
Liang's mother has even vouched for her daughter's presence at the time of murder. Speaking to reporters, she proclaimed that there was no possibility she could have participated in the killing of Chen as her daughter was at home.
While all evidence seems to point to her daughter's part in the killing, the police has released Liang without enough concrete evidence against her. As they ruled out the possibility of her being at the crime scene in the CCTV footage – which her boyfriend misled the police into thinking otherwise – the puzzle remains unsolved. Netizens were livid upon hearing that.
Desperate to make amends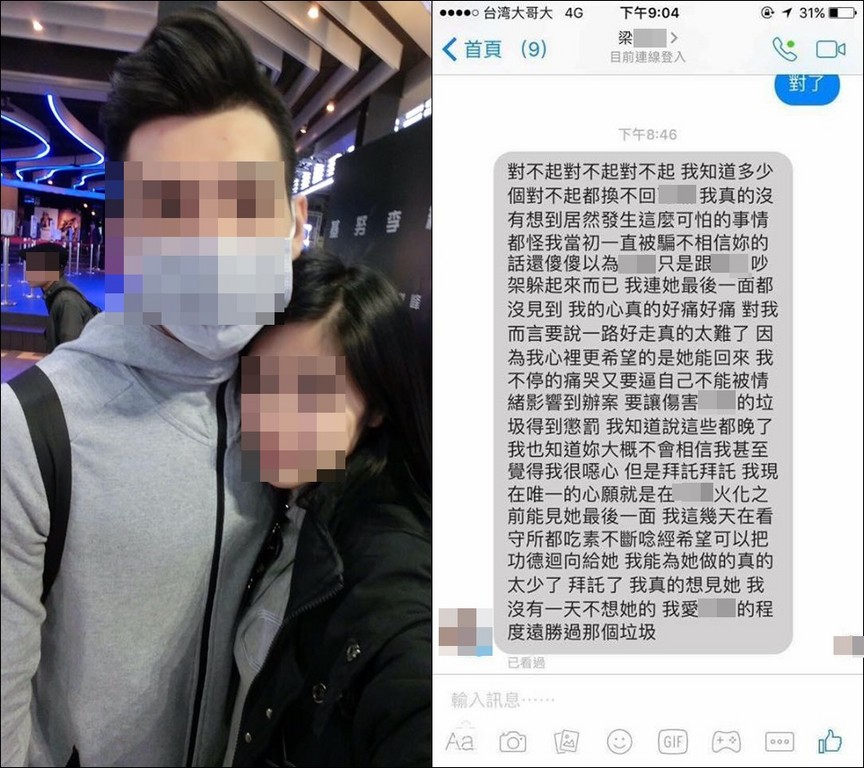 A screenshot of Liang's plea for forgiveness from Chen's family was leaked.  The screenshot showed her imploring with the recipient (believed to be Chen's sister) for a chance to see her friend for the last time. In the lengthy apology, she emphasised that she loved Chen even more so than her "garbage" boyfriend.
Wait, isn't the boyfriend whom she likened to trash none other than Chen Yu with whom she allegedly connived to murder her best friend? Her action perplexes us further.
Unfortunately, the boyfriend of Chen's sister didn't take to the apology positively as he proceeded with this: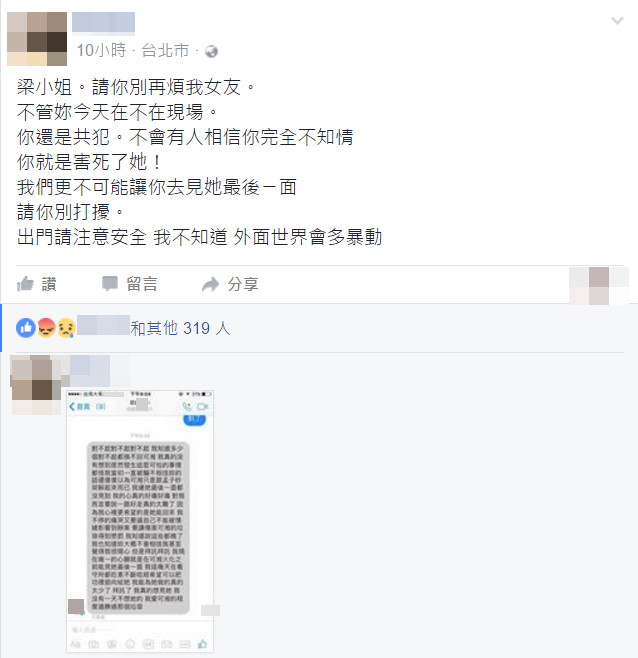 This was what he said: "Miss Liang, please leave my girlfriend alone. Regardless of your presence at the murder, you're still an accomplice. No one will believe that you're completely unaware of the whole incident. You were the one who harmed her! Over our dead bodies would we allow you to see Chen for the last time. Please stop harassing us. Also, be careful when you're outside as you wouldn't know how aggressive the public may react to you when they see you."
From the looks of it, there's no room for any redemption on Liang's part to salvage the situation, period.
As a wise maxim in Mandarin goes, you may know a person's face but you'd never know a person's heart.
What do you think? Is Liang guilty as charged or innocent as she claimed to be?