A recent survey by MasterCard revealed that consumers these days are becoming more discerning when it comes to selecting a dining spot for a meal and while word of mouth recommendations continue to be a trustworthy source of information.
The survey reveals that more consumers are also going online to search for reviews and recommendations as well as good deals prior to making a decision on where to dine at.
Overall, one in two Singaporeans check for online reviews of dining outlets. Interestingly, Generation X consumers (aged 45 years-old and above) are catching up with millennials (age 18-29 years-old) when it comes to booking dining coupons online, checking for online reviews and posting comments on social media after a meal.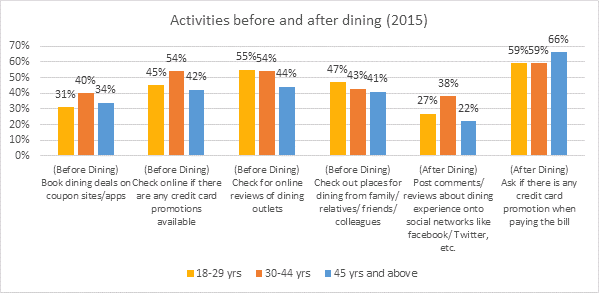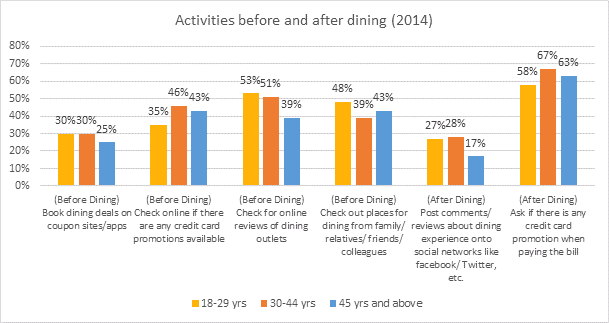 The results are based on interviews that took place between May and June 2015 with individuals between the age of 18 to 64 years-old across 17 markets in Asia Pacific on consumer dining patterns and preferences as well as habits before and after dining out. A total of 422 Singapore residents were interviewed, out of 8,698 respondents globally.
Compared with 2014, the percentage of Generation X who book dining deals on coupon sites and apps have increased from 25% to 34% (2015), surpassing millennials at 31% (2015). In term of checking for online reviews, the survey also shows a similar growth among Generation X from 39% to 44% (2015), an indication of the growing influence of online review sites.
Across all age groups, six in ten diners actively ask about credit card promotions when paying the bill. After a visit to a dining outlet, 29% of consumers post comments and reviews about their dining experience on social media networks such as Facebook and Twitter, a jump from 24% in 2014. Among Generation X, 22% upload post-dining comments and reviews on social media, an increase from 17% in 2014.
"The proliferation of smartphones and social media has changed the dynamics of how Singaporeans consume their information and make purchasing decisions. Whether it's the Millennials or the Generation X segment, information has become easily accessible online.  Consumers of all ages will continue to engage in the online space to seek quality experiences when dining out – whether through restaurant reviews, searching for new restaurants or checking out where their friends are dining." said Deborah Heng, group head and general manager, MasterCard Singapore.
The survey also revealed that 98% of local consumers in Singapore have dined out in the last six months and the most popular dining outlets are the mid-range/ family restaurants, fast food outlets and food courts, visited by close to eight in ten local residents. Only one in three have visited fine dining restaurants in the last six months and 15% of those surveyed have plans to eat out at more expensive locations in the next six months.