I am sure frequent travelers would have encountered a problem or two with excess cabin luggages.
To avoid the hassle and time expenditure associated with checked luggages, travelers would try to carry on more as cabin luggages. The airlines have recognised this trend and reacted accordingly, by offering reduced cost options for travelers wishing to fly with hand luggages only.
However, therein lies some confusion as different airlines have very different policies for cabin baggages and fee charges.
The travel experts at KAYAK.sg have put together a very useful infographic showing the hand baggage restrictions on short and long-haul flights, along with potential extra costs if the weight or size allowance is exceeded:

Baggage information is provided here for 23 airlines flying out from Singapore Changi Airport. This includes Singapore Airlines, Cathay Pacific, China Airlines, Jetstar Airways, Vietnam Airlines, British Airways, Thai Airways, Garuda Indonesia, Finnair, AirAsia, KLM, Korea Air, Tigerair, Malaysia Airlines, Royal Brunei Airlines, Emirates, Qatar Airways, Etihad Airways, United Airlines, Philippines Airlines, Scoot and SilkAir.
Do bookmark this page. It will be useful to cross-reference when traveling to avoid paying unnecessary additional baggage charges.
Avoiding additional charges means being aware of cabin luggage restrictions, especially when it comes to weight.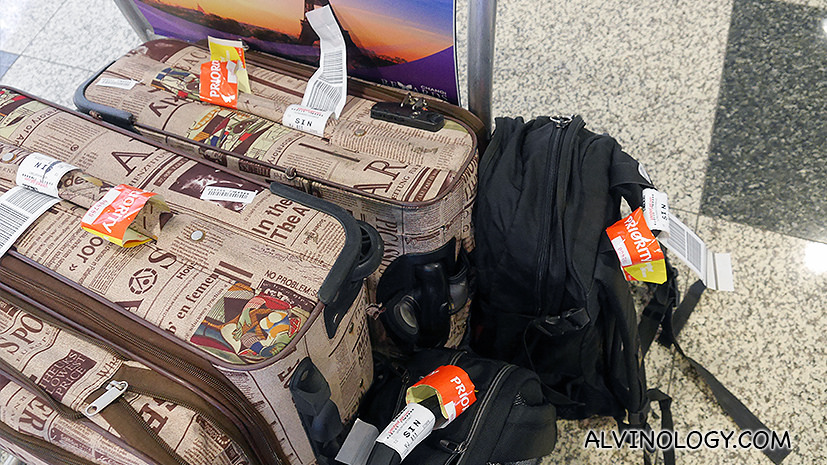 Travellers exceeding the allowance may be hit with surprisingly high fees at the airport. I was once slapped with a almost S$500 fee for an extra bag when flying with Luthansa. I am sure many others have such experiences where you are helpless to do anything except blame yourself for not reading the fine prints earlier.
When travelling with national carrier Singapore Airlines, passengers are provided with a cabin luggage allowance of 7kg consisting of one bag and one accessory on all flights. However, cabin luggage exceeding the defined size and weight restrictions laid out by the airline will incur a fee of S$12 per kilo on a short haul flight and S$77 per kilo on a long haul flight. The latter is quite hefty. A 5kg excess baggage alone will cost an extra S$385.
On the other hand, Malaysia Airlines does this differently by enforcing a per unit excess luggage fee system which varies between S$27 and S$108 depending on the duration of the flight. Each unit being measured in 3 kilograms.
It seems if you are the kind who is likely to shop too much and have problem with excess cabin luggages, the best airline to fly with is Malaysia Airlines.
When flying with an international airline, always take note of the different luggage policies. On flights with Thai Airways, travelers can carry a piece of cabin luggage up to a maximum of 10kg. Cathay Pacific allows passengers to take up to 7kg on board, while KLM travellers can take 12kg on board. Exceeding this regulation on either carrier may result in excess baggage fees.
Note: Indicated prices and cabin luggage allowance are based on information received from airline employees or website. Costs are subject to change and conversion rate; prices may vary depending on flight route, flight segments, booked airfare or departure airport; some airlines might already check the cabin luggage before going to the gate and costs apply at the check-in counter; prices indicated are based on applicable excess luggage fees of the airline.