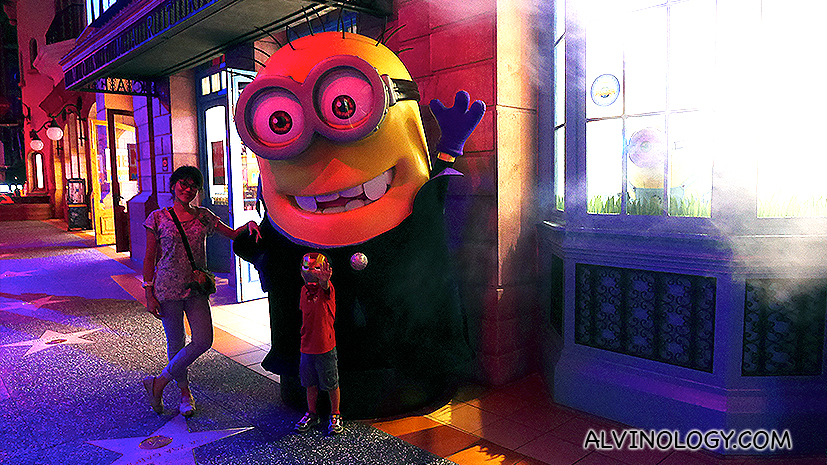 If you are a Halloween junkie, Resorts World Sentosa (RWS) will be your must-visit attraction in Singapore for this October. That's because you can have TWICE the fun by visiting both of their Halloween programs at the S.E.A. Aquarium and Universal Studios Singapore (USS) on the same day.
My family managed to do just that. Right after lunch, we headed first to S.E.A. Aquarium to explore their Spooky Seas – The "Pirates Ahoy!" edition.
This is tailored for the family friendly crowd. There are many activities for young children to participate in. Upon arrival, Asher was greeted by a pretty pirate who gave him an activity sheet to complete as we explore the aquarium.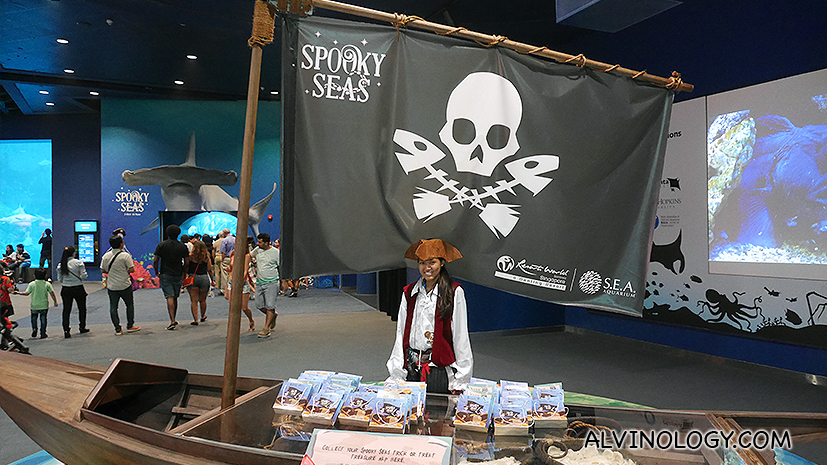 The walkways, exhibits and water tanks are all decorated with skeletons, graveyards and other Halloween-themed decors, adding to the fun of exploring the aquarium, especially for the little ones.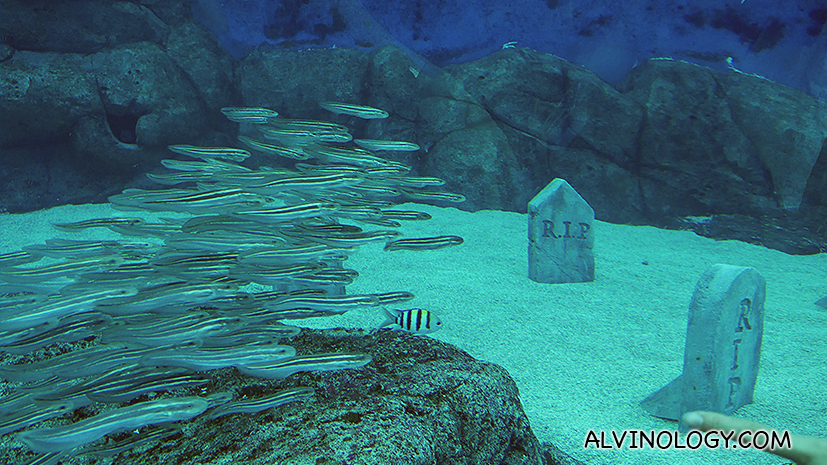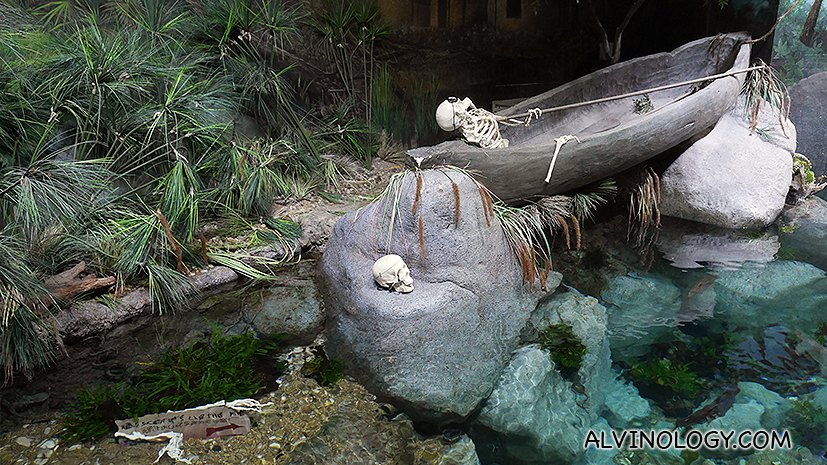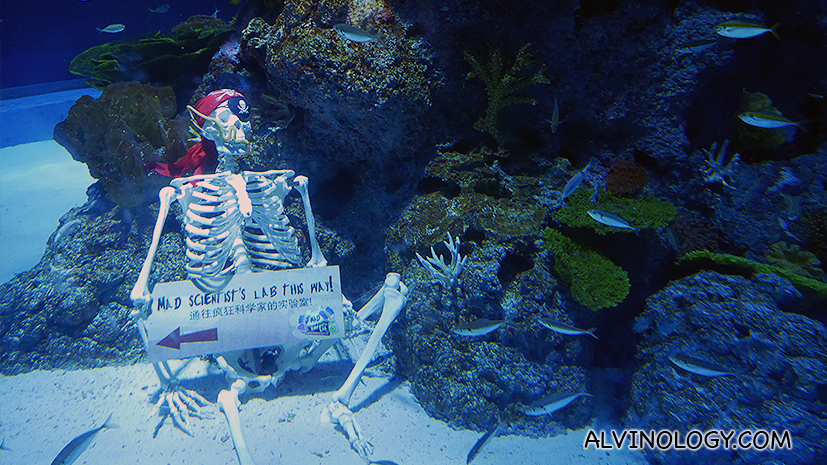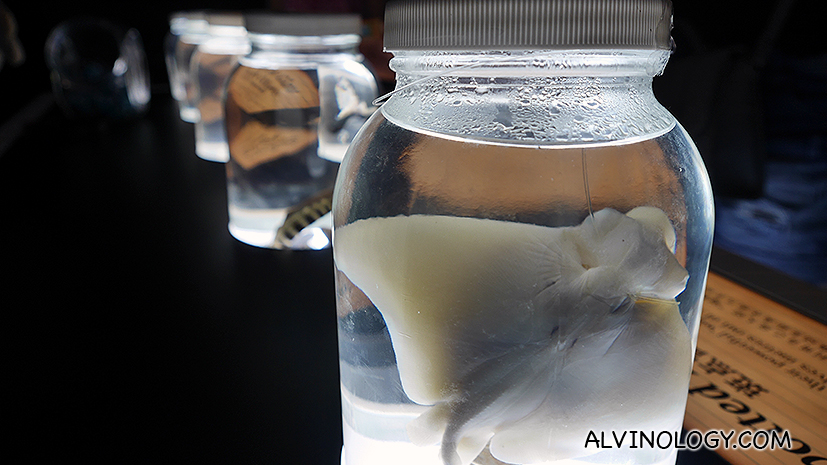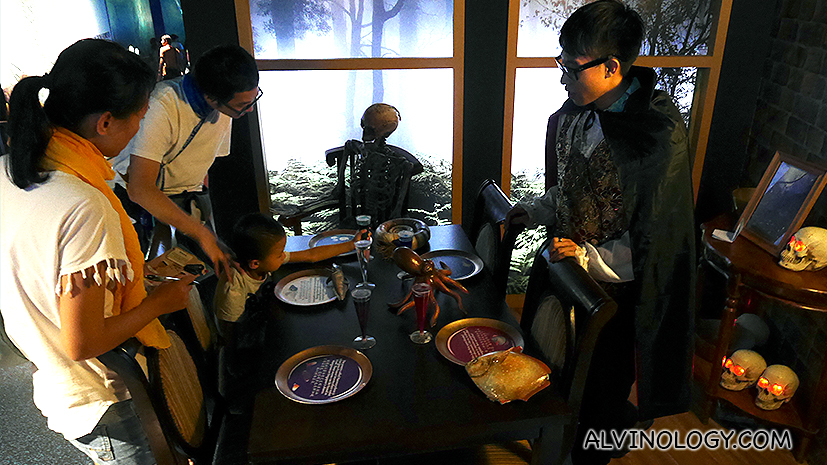 Divers are dressed in skeleton outfits to fit the occasion and two of them even carved pumpkins underwaterto entertain visitors. We managed to catch one of the shows and Asher got to do some colouring as well.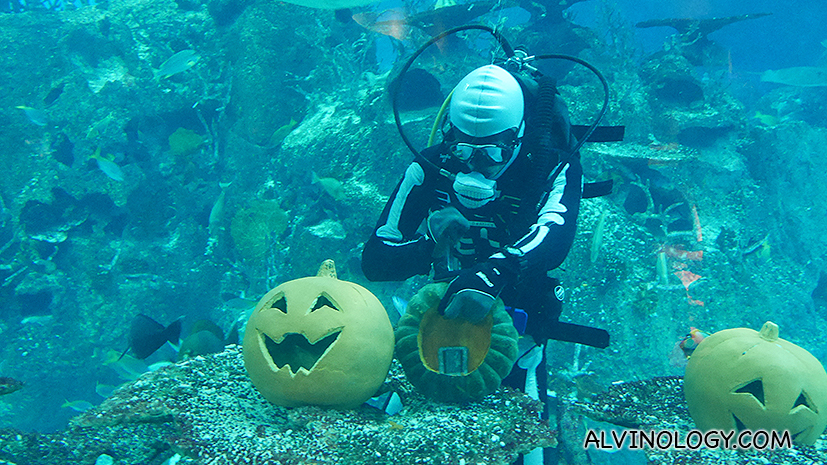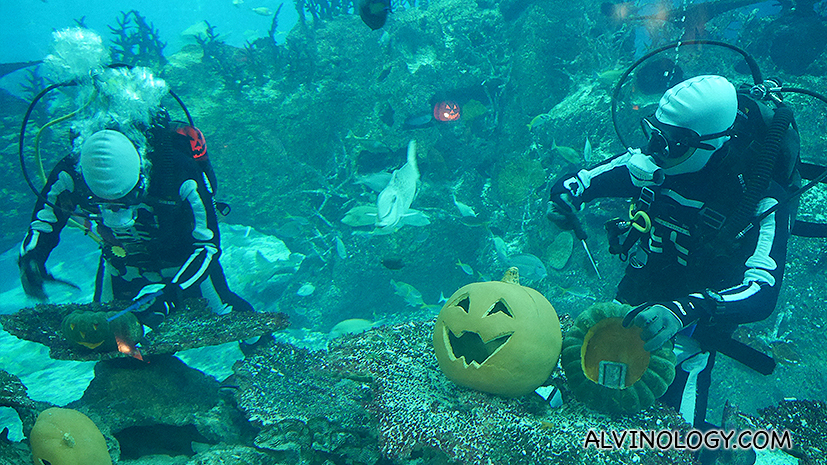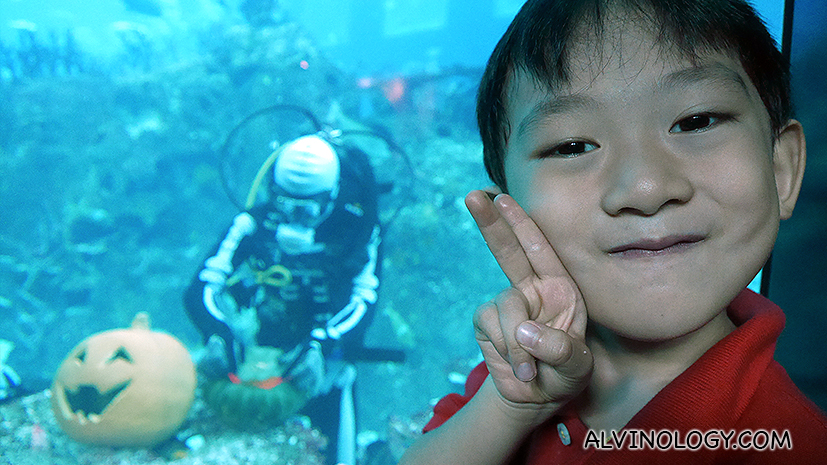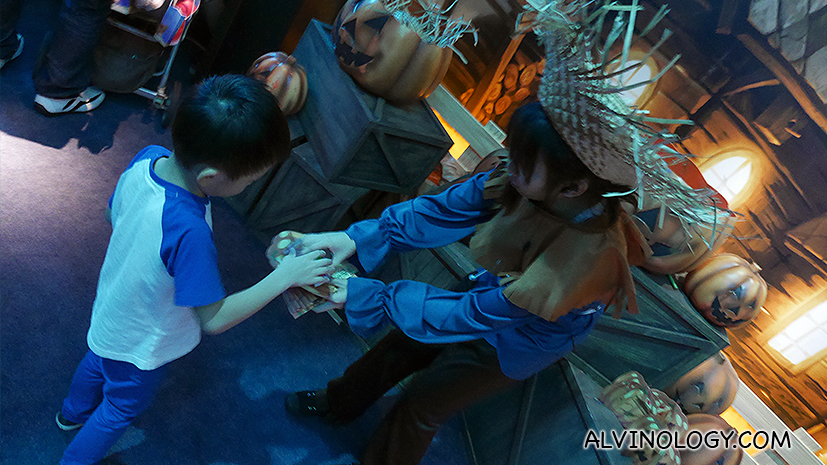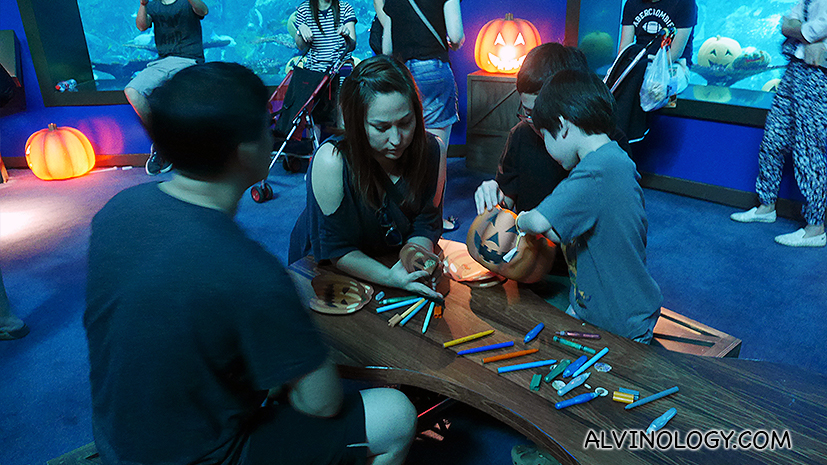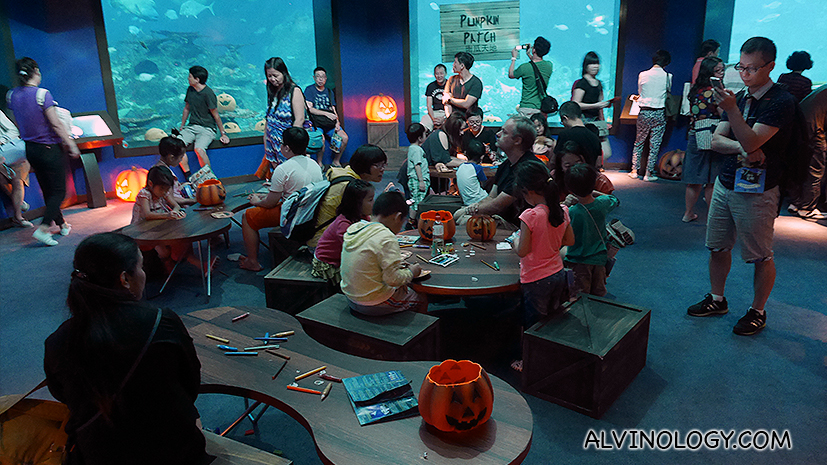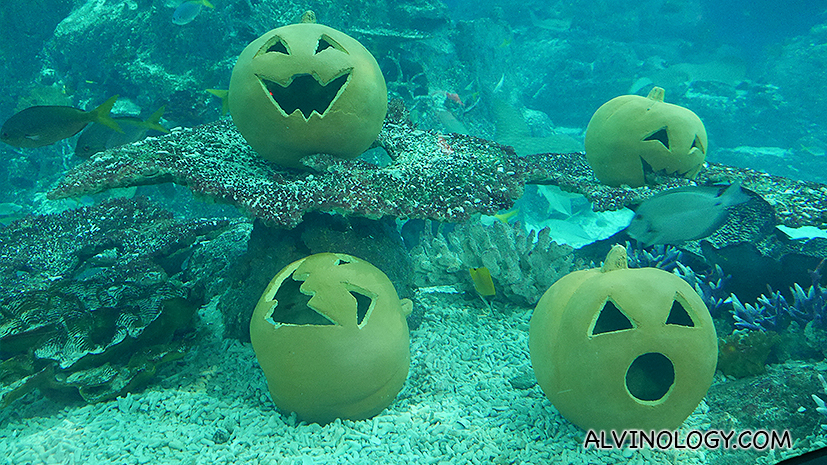 Spooky Seas
The "Pirates Ahoy!" edition

1 Oct – 15 Nov 2015

Legend has it that the best treats are hidden in a treasure chest within a haunted shipwreck. But the evil skeleton pirates that rule this shipwreck have kept even the bravest divers at bay.

Now, you have the power to unlock these secret treats. Simply embark on the Spooky Seas Trail and complete a task at each of the five stations – Fishy Graveyard, Mad Scientist's Lab, Pumpkin Patch, Vampire's Lair and Potion Parlour. With wit and speed, solve puzzles, pick up treats and collect all the ingredients needed to concoct a magic potion to release the ultimate prize. Good luck!

Skeleton divers

They are the guardians of the forgotten sea depths, rising from the darkness only during Halloween. Feel the chills as they swim by, and don't forget to capture evidence of their rare appearance.
Time: Mon – Sun, 1pm and 4pm (45 mins per session)
Venue: Open Ocean Habitat

Live pumpkin carving

You may have seen pumpkin carving demonstrations on land. But underwater? Come witness this feat as our divers carve pumpkins into Halloween lanterns from within the habitat.
Time: Sat and Sun, 1pm and 4pm (45 mins per session)
Venue: Open Ocean Habitat
The aquarium closes at 5pm. We lingered around till around 5.30pm before leaving the aquarium premises to do a little shopping at Candylicious, followed by a hearty dinner at PISCO South American Kitchen & Bar. By then, it was 7pm and the admission to the USS Halloween Horror Night 5 (HHN5) was open.
This is my first time experiencing USS's Halloween Horror Night and boy was I in for a surprise! Look at the crazy crowd: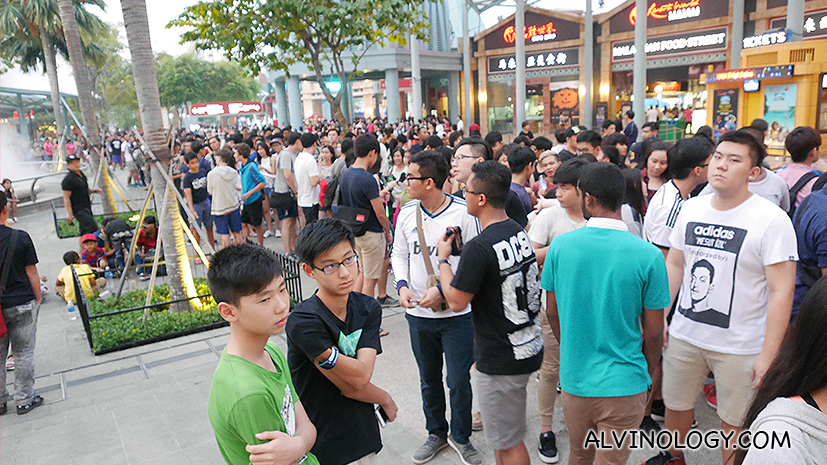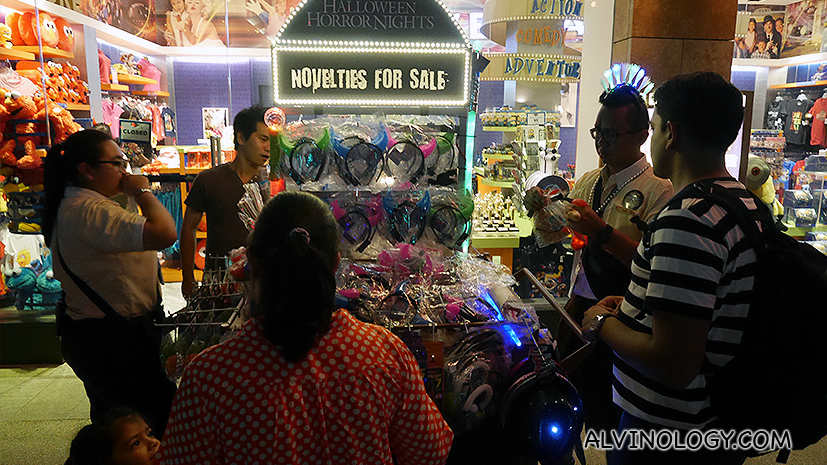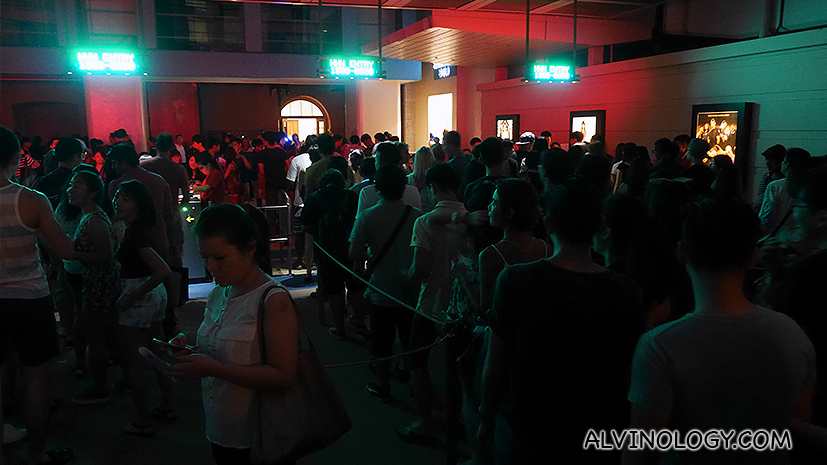 There were long queues forming even before the gates were open. It's like the Hungry Ghost Festival, except that instead of ghosts waiting to entering into the mortal world, we have humans hungry to get scared, dying to enter into a make-believe ghostly world.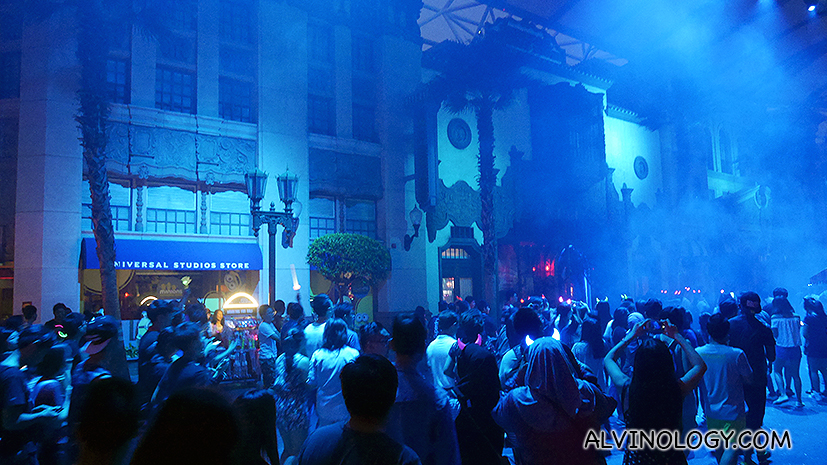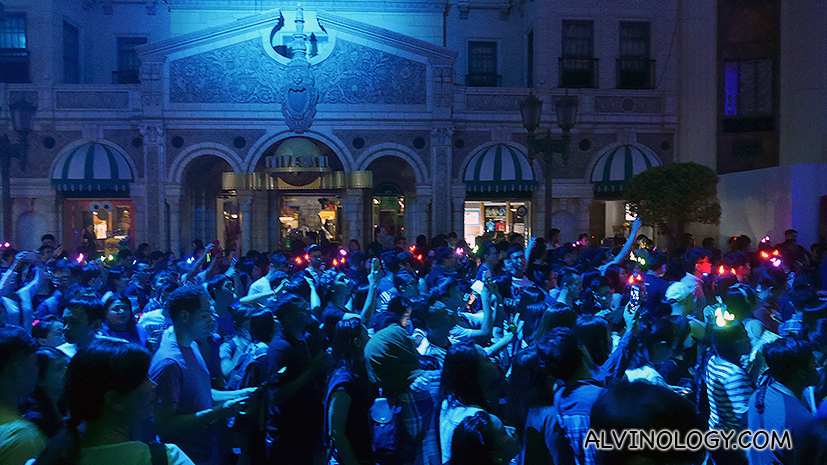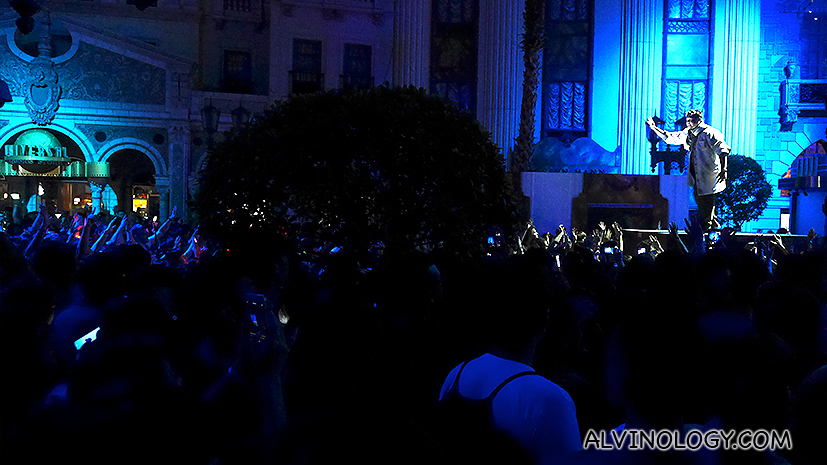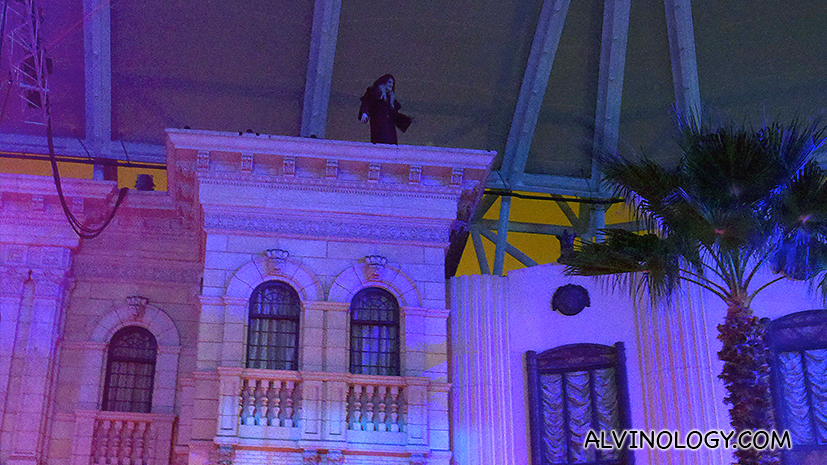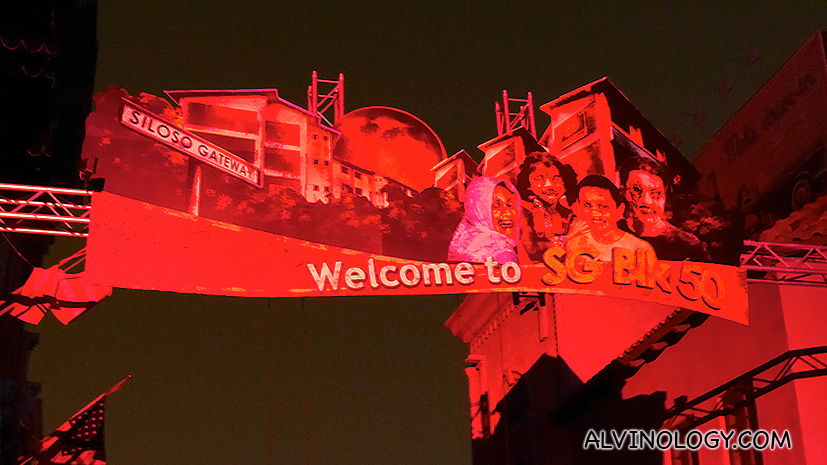 For parents bringing young kids, avoid the mad rush at the beginning and go in slightly later to avoid getting stuck in the crowd during the opening act. You will thank me for this. For teens and adults, by all means cheong all the way! If I were ten years younger, I will probably be rocking to the music and cheering like many of the youngsters I saw too.
Once in, head for the 4 x Haunted Houses first as these will draw the longest queues. In the interim, explore the scare zones for some cheap thrill.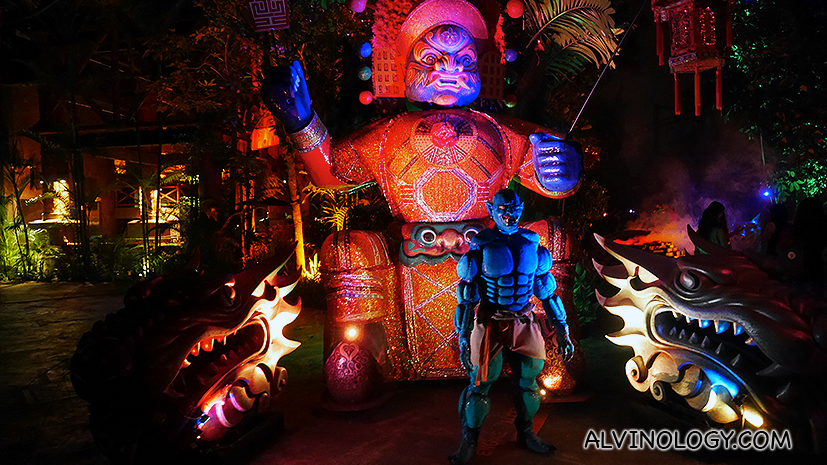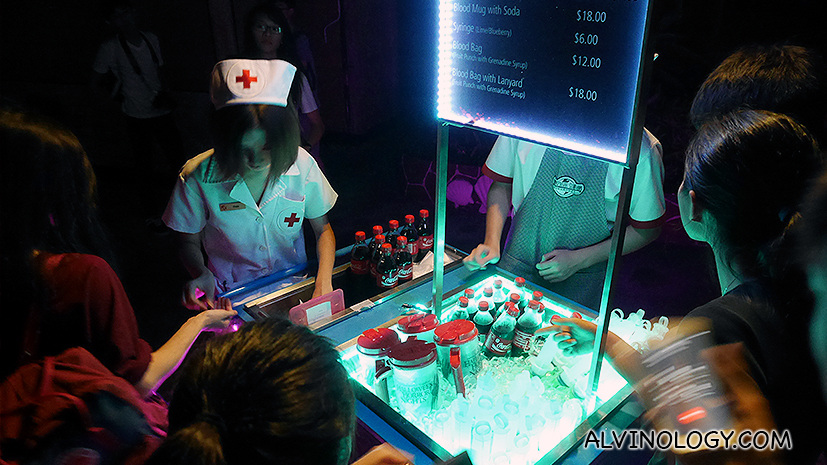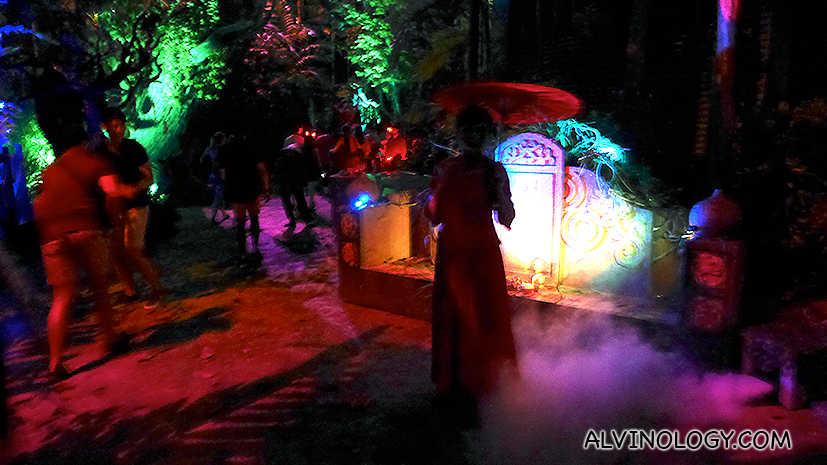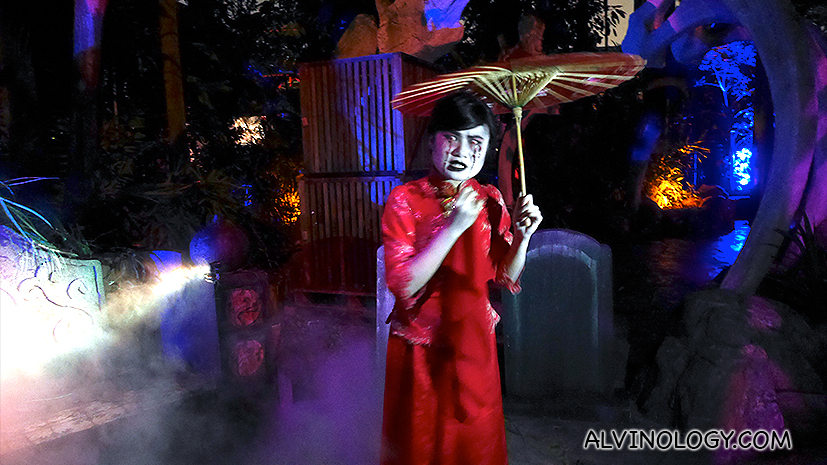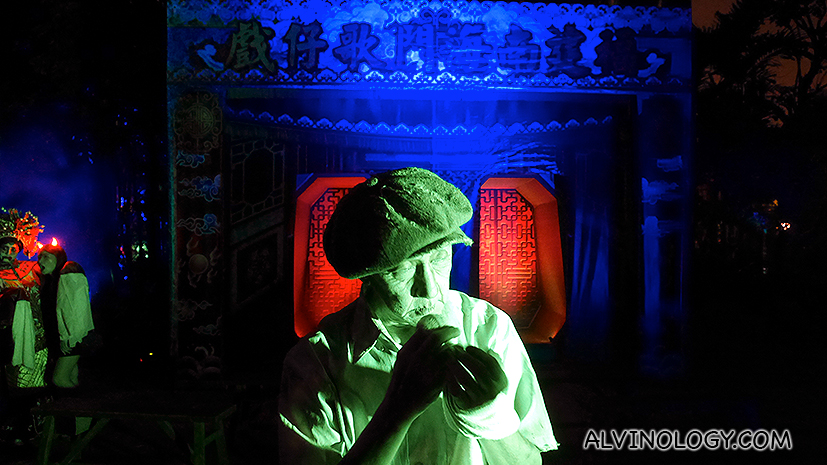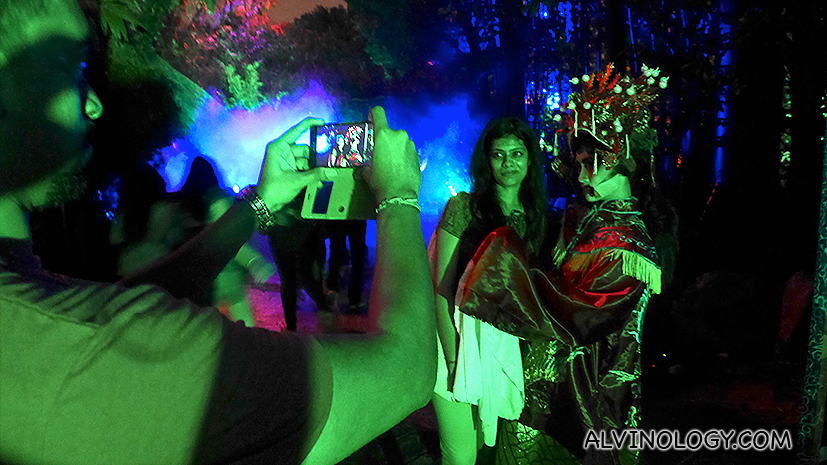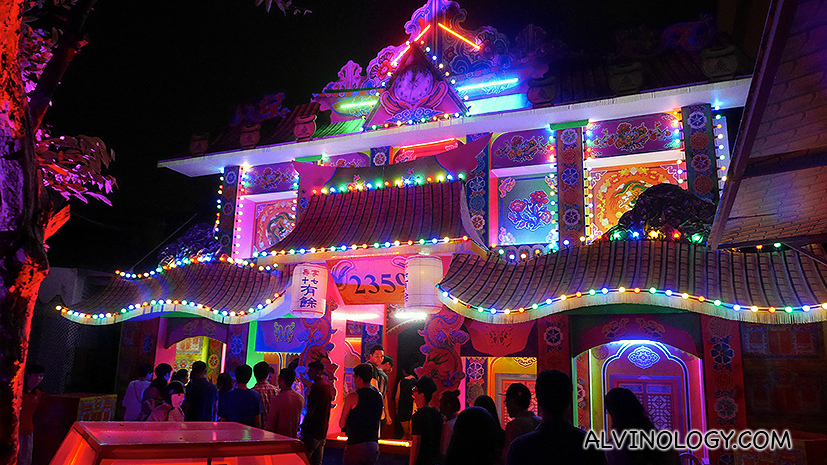 Even if you are not into the horror bits, there are things to do as selected regular rides are still on. Asher got to ride on the Puss In Boots' Giant Journey which he enjoyed very much. Most of the Far Far Away Land rides were available on the night we visited.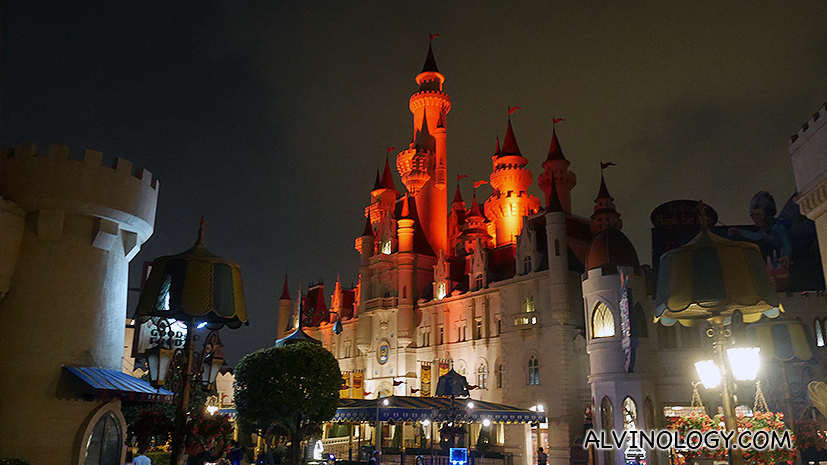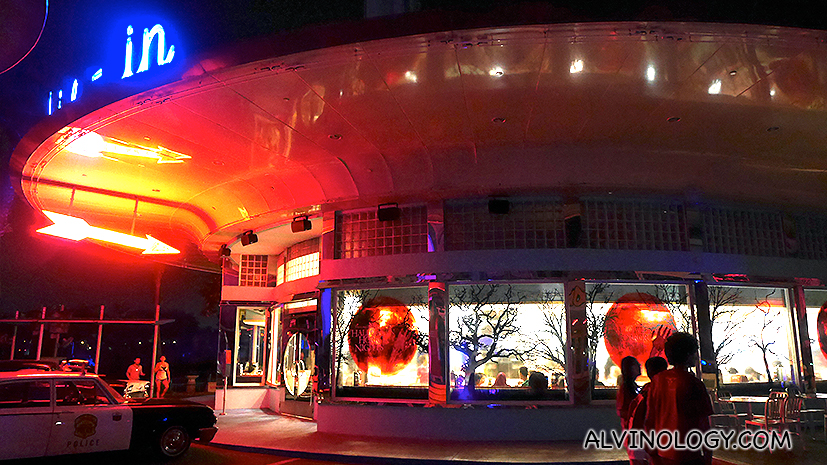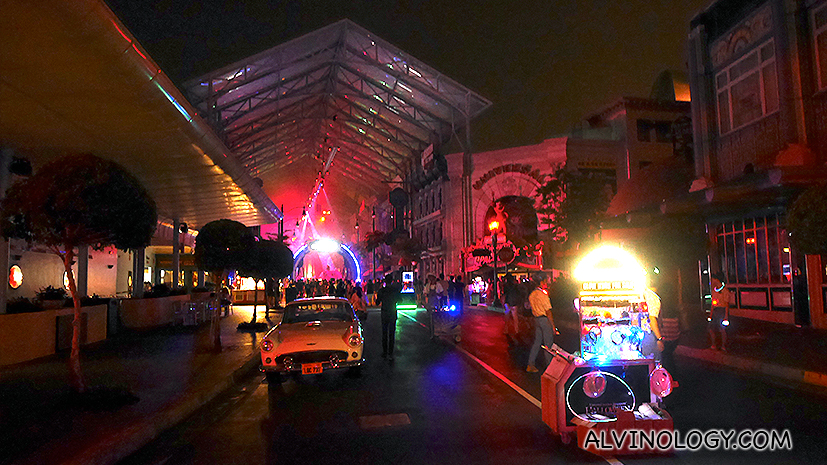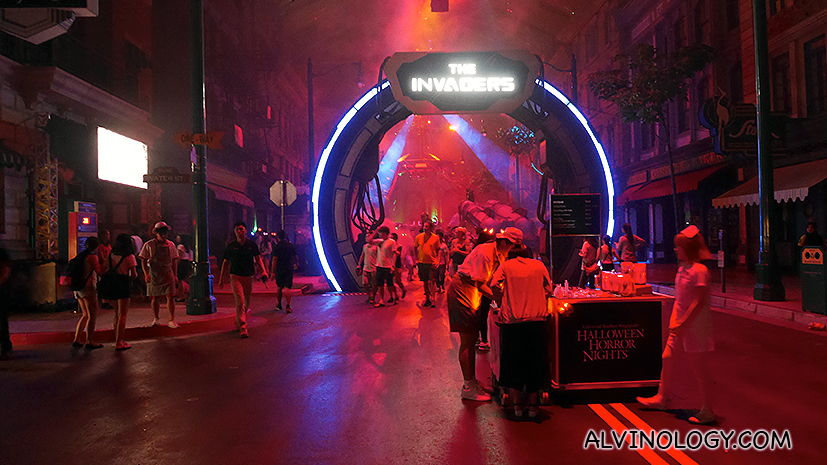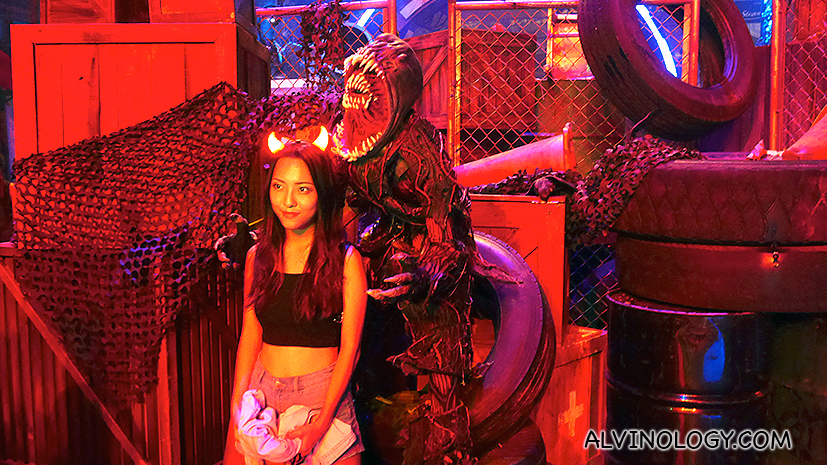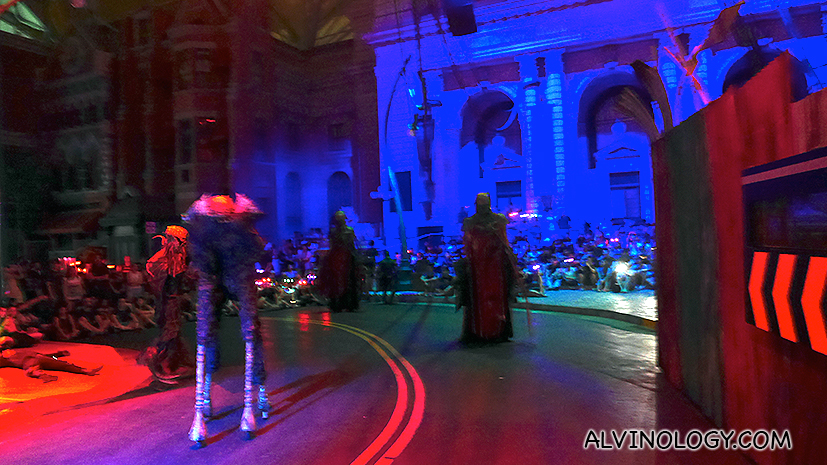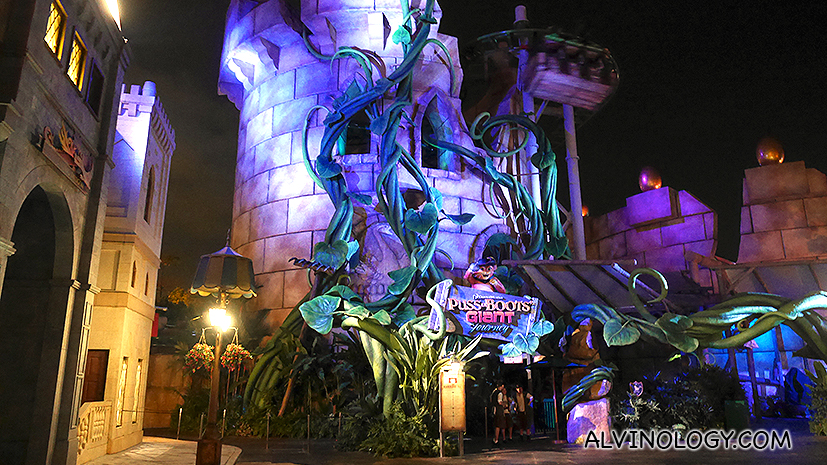 If you have not visited Halloween Horror Nights before, you have to try it at least once! Make HHN5 your first one!
Experience the horrors of the Blood Moon, unleashed across 4 haunted houses and 3 scare zones at the region's premier Halloween event. Select rides will be open.

Admission Ticket:
Save $10 per ticket when you buy 4 or more! (U.P. S$68)

Admission Ticket is valid for event dates on 2, 3, 9, 10, 11, 16, 17, 18, 23, 24, 25, 29, 30 or 31 Oct.

Opening Hours:
7.30pm – 12.30am on non-peak nights (2, 3, 9, 11, 18, 25 and 29 October)
7.30pm – 1.30am on peak nights (10, 16, 17, 23, 24, 30 and 31 October)