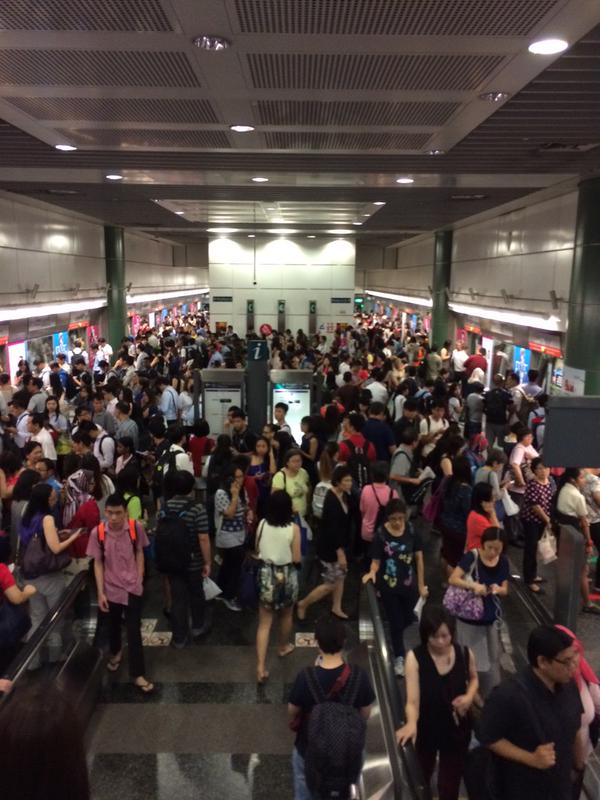 Picture via Winston Foo on Twitter.
Three more days to Polling Day and the North-East Line experienced a delay this morning. Bad timing, but good thing it isn't too major to cause a severe disruption to the morning commuters.
SBS Transit posted a tweet about the delay this morning, attributing it to a signalling fault at Sengkang station. At 7.19am, commuters were told to expect additional travelling time of about 10 minutes. About 20 minutes later, it tweeted that free bus rides were available between Punggol and Farrer Park stations. By 7.54am, train service were said to have been resumed, but free buses were still running between the two stations.
One of my colleagues was late for work today because of the delay and shared some posts on migme: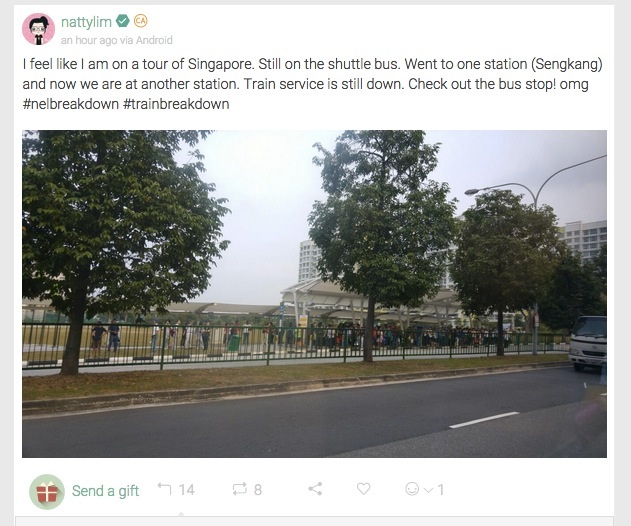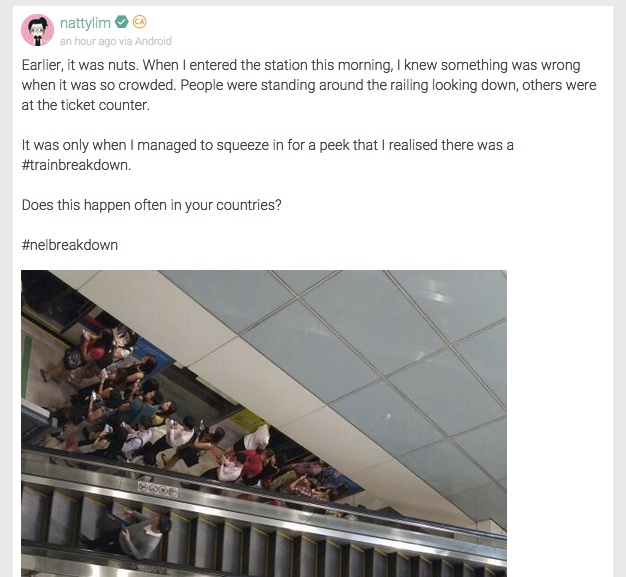 People seems to be more calm about train delays and breakdowns these days. When I asked in office who else experienced this, everyone was pretty chill about it and just take it that it's something that happens – just like breathing air.
In other words, we have come to accept the imperfection in our transport system until infrastructural improvements take place.
This was not the case earlier when Singapore experienced the worst train breakdown to date on July 7. Services on the North-South and East-West Lines came to a complete halt for several hours during the evening peak hours, affecting over 250,000 commuters.
Singaporeans were more measured and calm when dealing with the breakdown compared to earlier instances, helping each other, sharing taxis and queuing orderly to get home safely.
However, people were angry. There were calls for SMRT's CEO, Desmond Kuek and Transport Minister Lui Tuck Yew to step down. Lui really did step down and exited from politics just before Ge2015.
Although Lui did not attribute his resignation to public anger over transport woes, it is crystal clear to all Singaporeans that two transport ministers have been sacrificed – Lui Tuck Yew and the guy before him, Raymond Lim who was axed right after GE2011.
It doesn't help that SMRT CEO Desmond Kuek took home a record S$2.25 million in remuneration in 2014. The amount is double what he made when he first joined the rail operator in October 2012 and dwarfed that of his predecessor, Saw Phaik Hwa and his counterpart, Kua Hong Pak, ComfortDelGro's CEO.
Last year, Kua drew between $1.75 million and $2 million, a remuneration band that has not changed in recent years. Saw Phaik Hwa, made about $1.85 million before she left in 2012.
Yes I know Kuek is compensated based on the commercial performances of SMRT, however, to the public, we see SMRT as a public transportation company which enjoys many benefits from the government. This is where commercial interests and public goods fail to align.
Every time the trains breakdown, Singaporeans are reminded of sore points like this all over again. Let's not even go down the road on fare hikes and a Public Transport Council which seems to be on the side of the operators rather than the commuters.
Obviously, simmering anger over transport woes like train breakdowns matter.
Imagine if the train delay this morning was a full-blown breakdown like the one in July. Or if there is a train breakdown on Cooling Off Day or Polling Day.
Voters are emotional creatures. A badly timed train breakdown can just swing sentiments away from the incumbent.
Scary isn't it?
It's now on the shoulders of SBS Transit, SMRT and it's CEO, Desmond Kuek to make sure trains run smoothly all the way till Polling Day.