Marina Bay Sands has a reputation for offering some of the most indulgent dining experiences your money can buy in Singapore, so when I got invited to dinner with celebrity chef David Thompson at Long Chim, I jumped at the opportunity. Long Chim is a Thai restaurant that has only opened in March just this year, so it half a year after their grand opening, what was the Long Chim experience?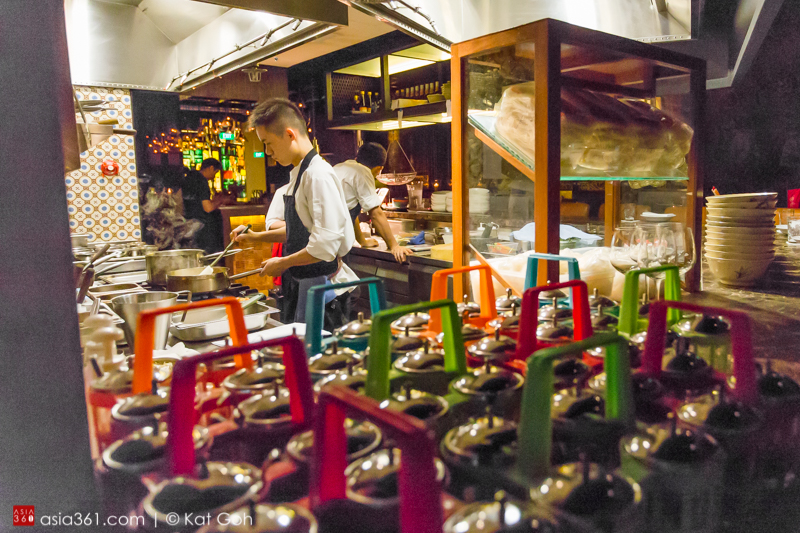 I know what some of you may be thinking at this point: a Thai restaurant run by a white Australian chef? Well regardless of chef Thompson's ethnicity, his track record when it comes to Thai cuisine speaks for itself. He opened his first restaurant in Sydney after coming back from Thailand and has lived most of the last 30 years in Bangkok. His Nahm restaurant in London was the first Thai restaurant ever to get the much coveted Michelin star. Recently awarded the No. 7 spot on San Pellegrino's Asia's 50 Best Restaurants 2015 and 13th on World's 50 Best Restaurants 2014 for his restaurant Nahm in Bangkok, Long Chim is the chef's first restaurant in Singapore.  Success doesn't come easily in such a competitive market in the restaurant business and chef Thompson has certainly earned his celebrity status in this pedigree. He will be opening his next restaurant in Perth in December.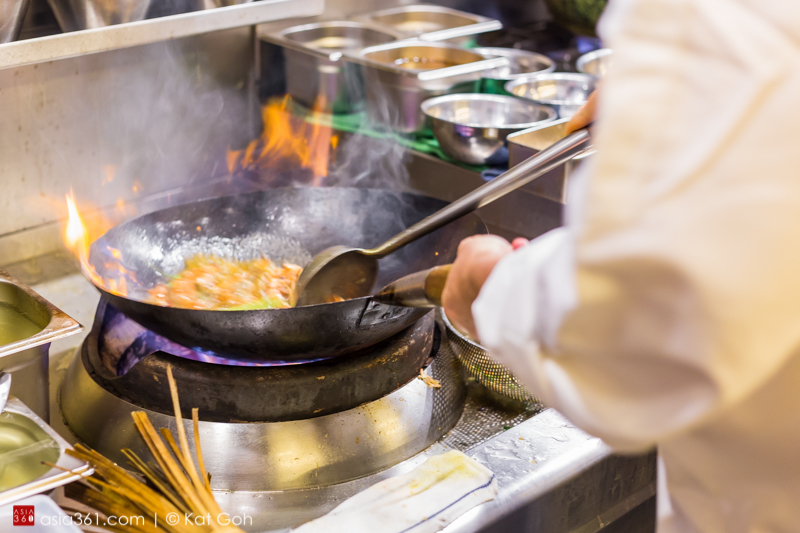 I arrived at 7 pm and already, the restaurant was filling up quickly for a hazy Tuesday evening. Chef Thompson was busy running in and out of the kitchen, but he had popped by to say hello a few times throughout the tasting. Now this was the juxtaposition that puzzled me a little: here we are in Singapore's most opulent venue MBS, sitting in such a gorgeously decorated restaurant with stunning views overlooking Marina Bay (and the menu prices reflect just that: S$30 for a pad thai) but the very essence of Long Chim (which means 'come and taste' in Thai) is simply Thai street food. This juxtaposition may confuse most diners who would expect the Thai equivalent of haute cuisine at MBS but it works for a simple reason: the food is incredibly good, or as they say in Thai, aroi-haw.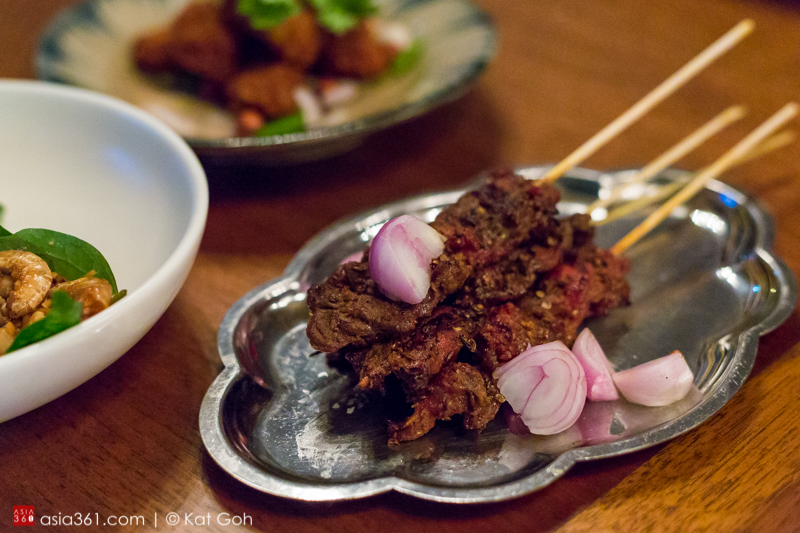 To be perfectly frank, unless you are a real connoisseur of Thai cuisine it is really hard to turn one's nose up at the food served up at Long Chim. Whether it was typical hawker food or prepared for the Thai King, it was delicious. The mixed starters consisted of what looked like beef satay (well, barbecued chunks marinated of beef on a bamboo skewer) that was very tender, cured pork fritters that were exploding with punches of lime and chilli and a refreshing betel leaf boat filled with dried prawns, ginger and coconut. What followed were two noodle dishes: the classic pad thai and Prin's noodles. I was totally bowled over by the pad thai because of the texture of the noodles – the chef had expertly exposed it to just enough hot water to soften it for the stir-fry but it kept a certain bite to it, making it firm but not too hard, chewy but not too much hard work. Long Chim's pad thai sets the gold standard for making the perfect pad thai and I wish I had the time to quiz the chef as to just how many seconds he soaked those pad thai noodles for to get that beautiful, perfect texture. On the other hand, whilst Prin's noodles (with pork and prawns) was somewhat underwhelming, given I had tasted it after the pad thai.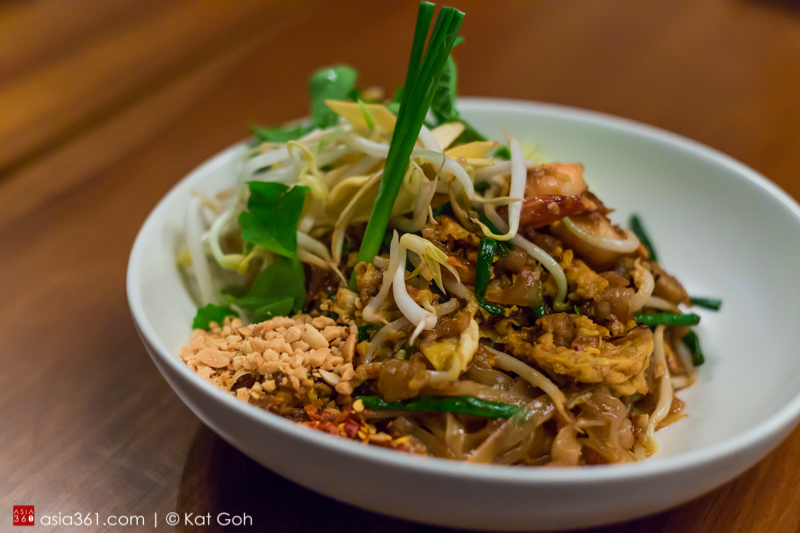 After the noodles, we were invited to the kitchen to have a look at chef Thompson work his magic in he kitchen. After having watched loads of reality TV programmes like Hell's Kitchen and Ramsay's Kitchen Nightmares, it was almost a bit of an anticlimax to see a kitchen run completely smoothly – with the chefs working diligently with production-line efficiency. We watched chef Thompson prepare a red prawn curry for our table and I thought, well if this is ordinary street food that the Thais eat, then I'm moving to Bangkok. Other side dishes included a grilled eggplant salad, a beef green curry and a stir-fried vegetable dish with oyster sauce. Frankly, the red prawn curry (S$31) was so outstanding that the rest of the dishes somewhat paled in comparison: but the red curry complimented the succulent tiger prawns perfectly in a way that did not overpower the natural sweetness of the fresh prawns. Served with the dinner was also the classic Thai Tom Yam fish soup which I found just a little bit too intense, despite having succulent chunks of fish in it. You can see why Thai restaurants outside Thailand often have to compromise the flavours of some of their classic dishes because we are simply not used to the way they like their spices.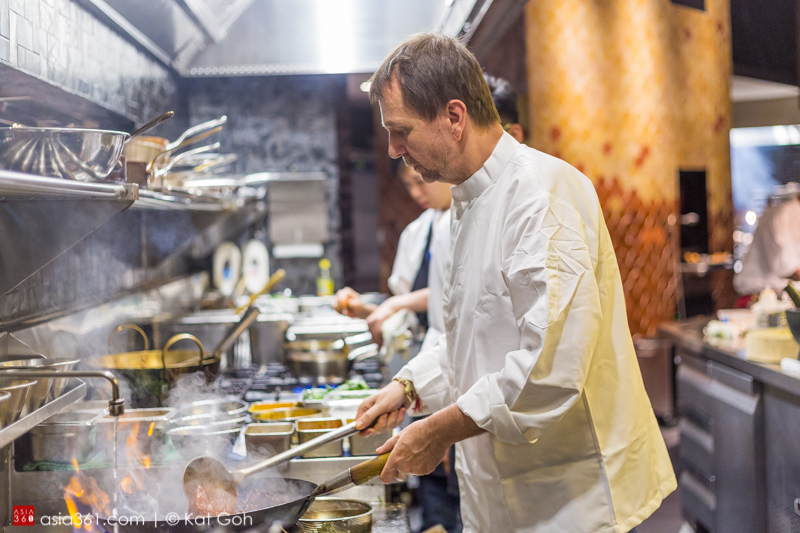 Chef Thompson then joined us at the table and it was interesting to have the chance to speak to him personally, after having seen him work in the kitchen and tasted his excellent food. I asked him if he had to tone down some of the more spicy or salty flavours of Thai cuisine to appease a Singaporean palate and he gave an interesting answer: he said that he has carefully selected dishes that are from the milder range of Thai street foods for his Singaporean restaurant whilst still remaining faithful to the original flavours and recipe of these dishes. Of course, his staff are happy to make recommendations to cater for clients with certain preferences, say if the client wishes to have a Thai curry but doesn't want it too spicy, then they would be able to create a dish that would suit the client's tastebuds without compromising on the integrity of Thai cuisine. I have also noted that our charming Thai waitress was extremely knowledgable about the dishes she was serving us and chef Thompson pointed out that the Head Chef and about 50% of the staff working in his restaurant are indeed Thai; and that it was crucial for him to have a team like that to create an authentic Thai dining experience for his guests.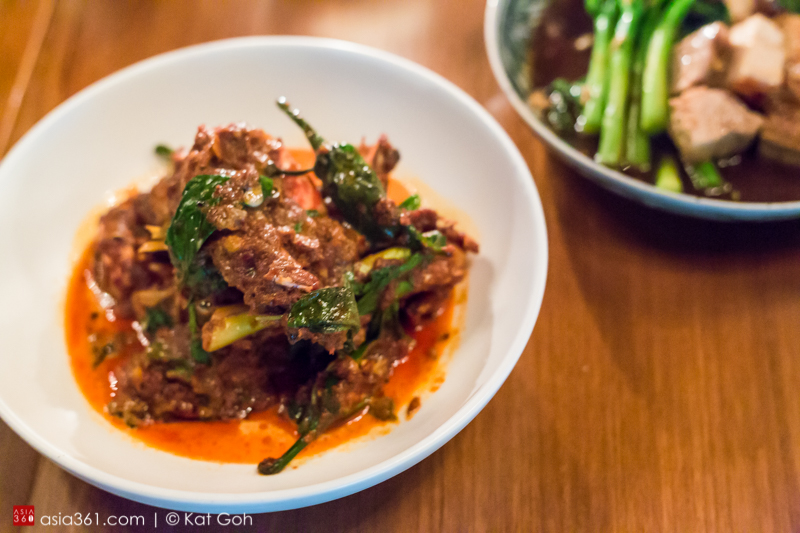 And as if we weren't already full enough at that stage, desert arrived and somehow I found a way to eat even more when I saw the deserts. The big winner amongst the deserts is the durian ice cream with sesame wafer (S$15): now I must profess, I am not a fan of durian at all but the ice cream was so delicately done, with the creamy texture of the finest gelato complimented by the crisp and slightly salty wafer, I found myself enjoying durian ice cream for the first time in my life. The mango with the sweet sticky rice is pretty standard Thai fare, it was good but again, when one desert stands out amongst the others, the durian ice cream was a hard act to follow. Lastly, there was the banana roti (which resembled a banana pancake) which I have seen before in Thailand. I wasn't sure if I had any room left for something quite as heavy as that at the end of big dinner, so I went for the lighter, less stodgy kinds of desert created from the wide array of exotic Thai fruits.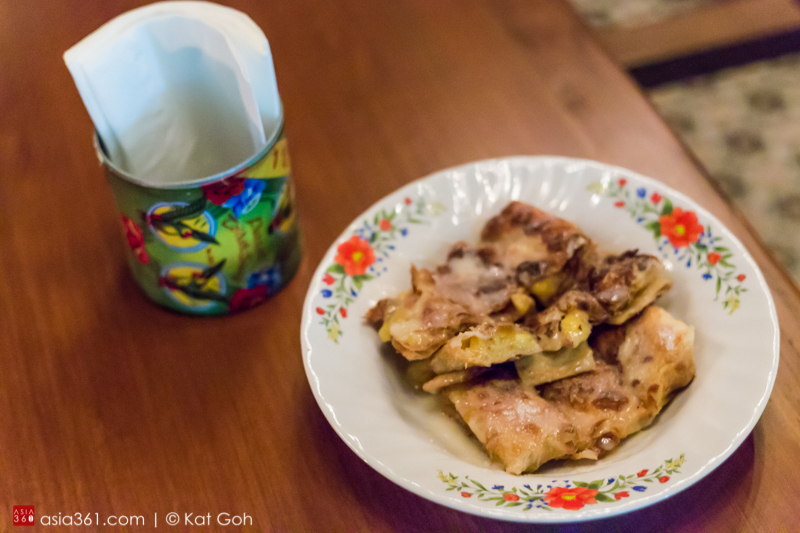 Long Chim's bar is also a delightful experience, with Thai flavours complementing all the classic cocktails as well as some, like the Market Fresh, that are totally unique. Market Fresh is based on whatever fruit is best in the market on the day. Ours was star fruit juice blended with a whisky (which admittedly is always a bit overwhelming for me). My favourite was Monsoon Bird, their take on this classic rum cocktail finished with fresh watermelon, citrus and ginger – the flowery rum didn't overpower the drink and it stood out as the perfect cocktail with the finest balance of flavours. At the end of our meal, our bartender also presented us a Senorita: a desert cocktail with sharp notes of citrus, tequila and finished off with a big dollop of homemade coconut and mango ice cream. It was certainly a very innovative reinvention of a classic cocktail to give it a Thai twist. For those of you who prefer a non-alcoholic alternative, there are also classics like the Thai ice tea and the Thai lemonade with basil seeds: both of which were beautifully blended and just the kind of refreshing drink you would crave with a spicy Thai dish.
Finally, would I recommend Long Chim? It is undoubtedly pricey, but I wouldn't even use the cliche "you get what you pay for". No, this is MBS and just walking through the shopping arcade to get to the restaurant you would already have walked pass boutiques from LV, Gucci, Chanel, Armani, Boss, Givenchy, Prada, Tom Ford and Versace. No, MBS does not do cheap, MBS does not do bargains (except that Long Chim's bar does have a happy hour Monday-Thursday 5:30-7:00pm where a cocktail for $10 is amazing), but what you will get is an extraordinary experience for the price you pay. Long Chim would be the place to take the date you want to impress, or where you want to take that important client who has just signed that important contract with your company or somewhere for the boss to reward the team who have just worked extremely hard. Everything from the exquisite service to the stunning views to the imaginative cocktails to even the quirky Thai themed toilets will make it an experience to remember.  So I'm sure you will have someone in your life who deserves a special treat: your spouse, a parent or a sibling, your best friend or maybe someone at work. Take them to Long Chim if they are worth it. So give it a go and let us know what you think, #longchimsg and #davidthompson
Many thanks to chef Thompson, the staff at Long Chim & MBS for a wonderful evening.
For opening hours, directions and further information on Long Chim, please visit their official website.