This article is written by Emily Koh and was first published on ASIA 361.
I'll be honest — when I first set my eyes on the ASUS Zenfone 2, I was a little underwhelmed. It looked just like another ordinary phone to me – plain, simple, nothing over the top. Picking it up, there was a noticeable lack of heft that would accompany a premium smartphone.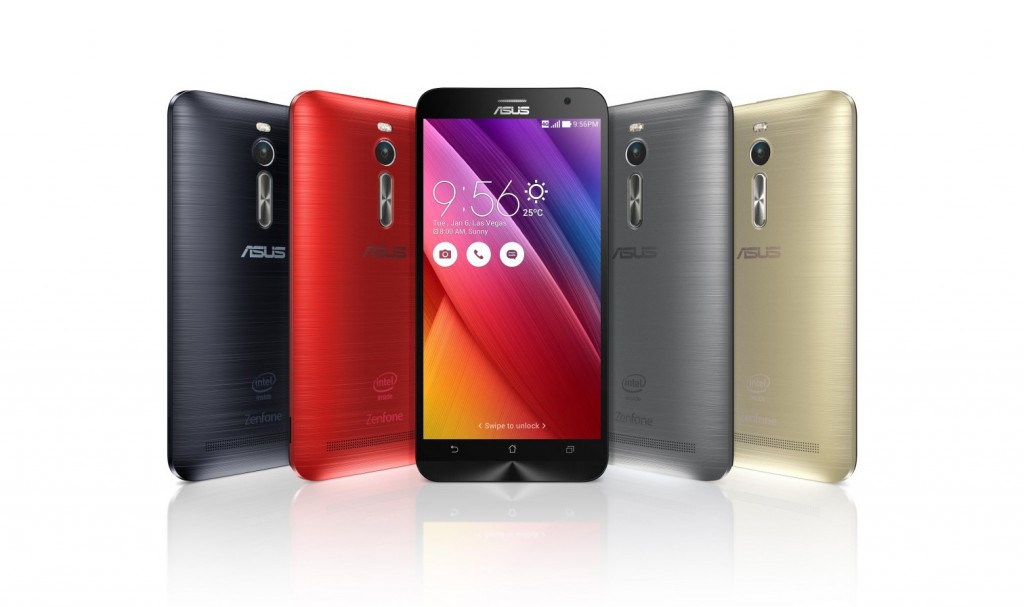 However, to compare it against top of the line phone models such as the Samsung Galaxy S6 and Sony Xperia Z3+ would be akin to comparing apples to oranges. The ASUS Zenfone 2 was never meant to be a technological marvel, yet it satisfies the needs of an everyday user without any fuss, at a very affordable price point. There is nothing in particular that I like about the phone, yet when taken as a whole, the phone manages to prove its worth as a trusty companion that meets what I require from a phone.
13MP PixelMaster Rear Camera
Initially when I snapped a few shots with the Zenfone 2 camera, I could not see anything extraordinary. It was only when I used the camera in low light that I realised how useful the Zenfone 2 camera was. It is able to make low-light photos a good 400% brighter, without looking unnatural with a million other filters, or me having to painstakingly edit everything. For casual shooters out there, the 13-megapixel front and 5-megapixel back cameras will adequately fulfil your Instagram-lust.
To add on to the fun, the Zenfone 2 comes with uber cool accessories, such as the Zenflash and the Lolliflash.
ASUS Zenflash
The Zenflash (S$24.90) is a professional xenon flashlight, similar to those you'll find in a DSLR — about 100 times brighter than LED flashlights. The photos taken by my Zenfone 2 are nearly as good as those taken by a professional camera. What you get is much sharper detail, extreme low noise, and no afterimage; it really saves you the hassle of editing images when you get photos as good as those taken by a DSLR.
ASUS Lolliflash (AFLU001)
Accompanied by the Lolliflash (S$17.90), you can immediately create different colour scenarios with the multi-colour filters. The Lolliflash is an external, wireless flash accessory that you can plug directly into the earphone jack. The Lolliflash also intuitively mimics the exposure to natural light, somewhat akin to the "beauty mode" you see in many camera apps. It's not only compatible with the Zenfone 2, but also with any smart phones with a 3.5mm audio jack.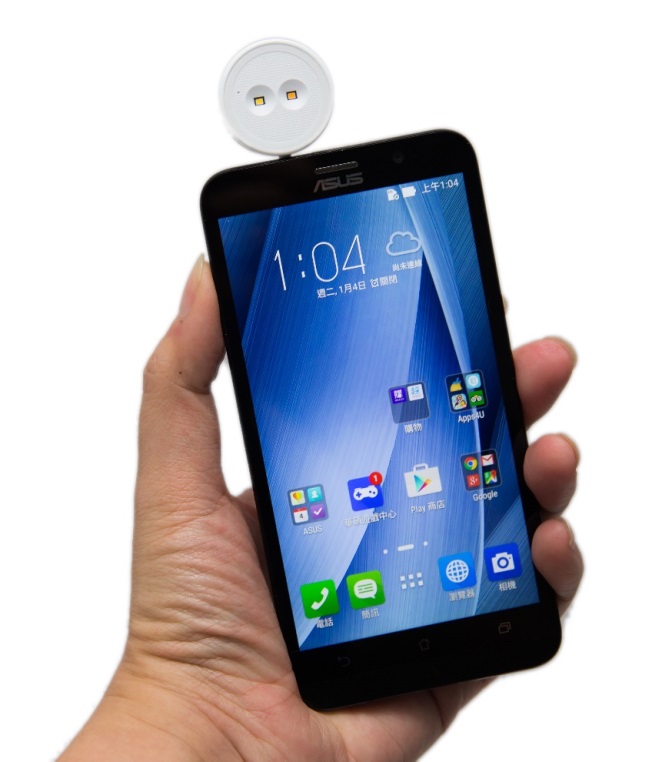 One may, however, question the need for the Lolliflash when you can simply achieve the same functions with camera apps. I'd say that the Lolliflash functions creates the most optimum result that you cannot get elsewhere when used together with the Zenfone 2. Considering the Zenfone 2's inherent lowlight camera functions, the Lolliflash has three levels of light intensity to choose from, offering a powerful flash and a 70 degree beam angle that can bring out the best in any photo. I don't think any app can top that.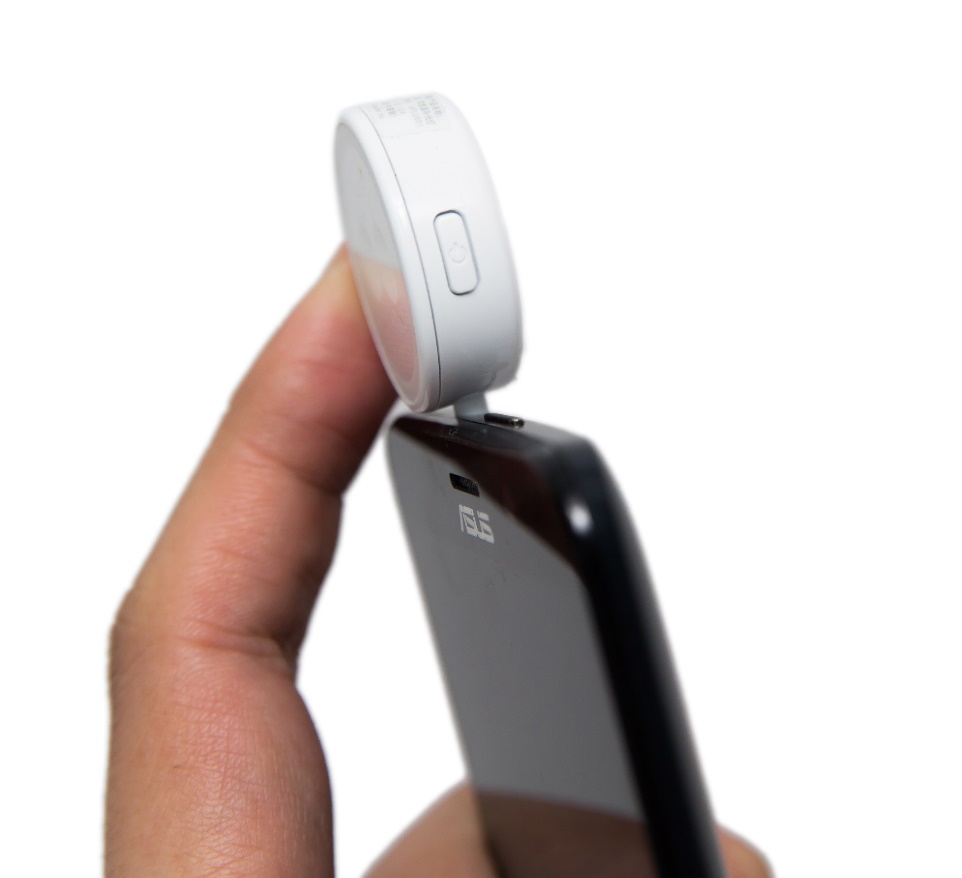 5.5 inch display

The ASUS Zenfone 2 features a 5.5 inch display. This is as big as the LG G4 and the iPhone 6 plus, in its 5-inch body.   With its 1080 x 1920 pixels display on a Gorilla Glass 3 surface and anti-glare coating, the high-resolution screen is perfect for watching videos and reading ebooks.
64-bit Super Quad Core Inside with Android 5.0 Lollipop and ASUS ZenUI
What's really cute about the ASUS Zenfone 2 is that it comes with an Intel processor and Android 5.0 Lollipop system. Further, it comes with the brand new ASUS ZenUI.
The result is a dynamic and responsive UI design that is intuitive, and super easy for navigating. I could customise and personalise my phone settings. For example, with the Lollipop feature, incoming phone calls did not interrupt me while I was sending emails, and notifications could be ranked based on who they're from and the type of communication.
Compared to other more intrusive UI's out there such as Samsung's Touchwiz and HTC Sense UIs, the ASUS ZenUI provides for a less cluttered, more streamlined user experiences, without too much of the bloat-ware that comes with other phones.
Dual SIM
This would appeal to frequent travellers and business executives. Instead of carrying a personal phone and a work phone, one can reduce costs by using two different networks and forgoing the hassle of carrying extra mobile phones.
RAM (4GB) and Processing Power
The Zenfone 2 comes in two configurations: 2GB RAM with quad-core 1.8GHz processor (and Intel Atom Z3580), and a 4-GB RAM with quad-core 2.3GHz processor (with Intel Atom Z3580).
The 4GB worth of RAM puts it ahead of most of its competitors such as the Xiaomi Mi4 and the Sony Z3+ which are touting just 3GB-RAMs. Multitasking was a breeze with this phone. I was able to toggle between apps with hardly any lag.
Internal Memory (64GB)
The Zenfone 2 has an eye-popping 64GB worth of internal memory. To add to that, if 64GB is not enough for you (it is definitely enough for me!), there is a micro-SD card slot to satisfy all you photo/video-hoarding people out there. The 64GB internal memory could potentially save you some substantial cash should you decide to get another phone with a smaller memory and purchase an additional memory card. This should be factored into the cost aspect of your decision making process. No other phone at the Zenfone 2's price point comes close to offering this amount of internal memory.
On the whole, the Zenfone 2 is a very decent phone, only if you're not too quick to judge. I would also give it a thumbs-up for its extravagance of RAM, its generous internal memory storage space and the very attractive price point. I doubt one will be able to find smartphones offering 64GB storage at this price elsewhere.
The ASUS Zenfone 2 (64GB) retails at S$599 on Lazada.sg and comes in Glacier Grey, Osmium Black, Glamour Red, Ceramic White and Sheer Gold.
---
GIVEAWAY
We are giving away one set of Asus Zenfone 2 to one lucky reader! For a chance to win, simply follow these steps:
1. 'Like' the Asia 361 Facebook page and/or Alvinology Facebook page.
2. Share this post on Facebook and tag up to three friends.
3. Tell us why you deserve to win the Asus Zenfone 2 by commenting below or on our Facebook post.
Contest ends 14 September 2015, 11.59 pm, and is open to Singapore residents only.