"澎湖湾, 澎湖湾, 外婆的澎湖湾 …"
When I was a kid, I've heard the Chinese song "外婆的澎湖湾" (Grandma's Penghu Bay) by潘安邦 (Pan An Bang). I didn't know what that Penghu Bay referred to, and I never really bothered to find out as the song faded into near-oblivion in my world.
That is, until a recent trip to Taiwan. I found out that the "澎湖湾" in the song actually refers to a place in Taiwan (I've lived in ignorance all these years, I know). The song speaks of the beauty of Penghu Bay, of which the singer had fond childhood memories involving his maternal grandmother who lived on the island. Little might the late Pang An Bang have expected that 36 years later, his song would be the inspiration behind a movie, a directional debut by Taiwanese singer Richie Jen (任贤齐). The movie "落跑吧, 愛情" (All You Need Is Love), starring Richie Jen himself and popular actress Shu Qi, is set in none other than Penghu County.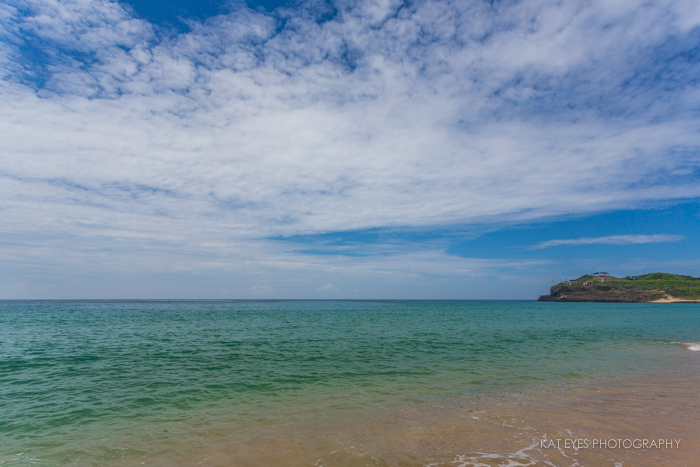 Located in the western part of Taiwan, Penghu, also known as Pescadores, is an archipelago made up of 64 islands and islets. It is known for its beautiful beaches, fresh seafood delicacies and stunning basalt column formations. I wouldn't have known this side of Taiwan, if not for a media tour – led by Richie Jen, no less – as part of the promotion for "All You Need is Love".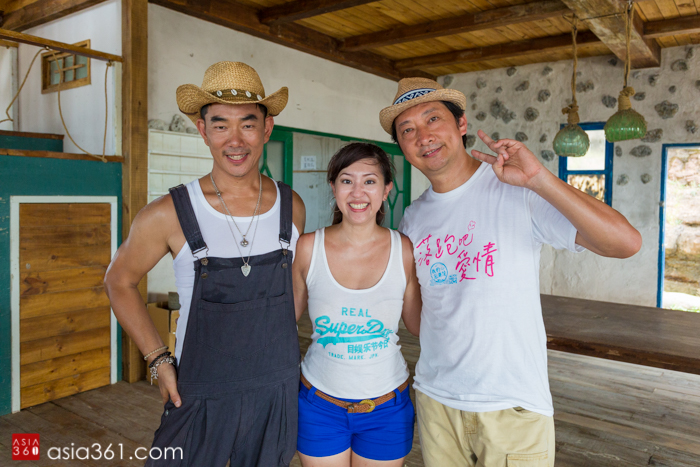 Erkan Village
On the Xiyu Islet of Penghu is Erkan Village (二崁古厝), a quaint village featured in the movie. Time seems to have stood still in the village where people live in traditional tiled dwellings with courtyards and gardens. The village can be dated back to over three centuries ago, and was formed by settlers from Mainland China during the Ming dynasty. Curiously, most of the villagers share the surname 'Chen'.
Meandering through the small alleys, I saw little plots of vegetables in the gardens of the houses, villagers setting up stalls to sell local produce and interestingly, walls and walls of corals and basalt. The village exudes an unspoilt quiet charm and the people seem to live a simple, laid-back lifestyle.
Qimei Island
Qimei (七美), literally translated as "Seven Beauties", got its name from a tragic tale of seven women who committed suicide when Japanese pirates raided the island, all in a bid to protect their chastity. The seven women jumped into a well, which was subsequently filled in with soil by the island inhabitants and left as a tomb for the seven women. Before long, seven lush trees grew out from the well and the area is now enshrined as the Tomb of the Seven Beauties (七美人塚).
The name Qimei also denotes the seven beautiful things the islanders take pride in – the scenery, the sea, local produce, the geology, architecture, history and the people. Indeed, the island offers some very pristine spots for snorkeling, such as Yueli Bay, with virtually untouched corals.
Another famous attraction of Qimei is the Double Heart Stone Weir (雙心石滬), which is also featured in Richie Jen's movie. The stone weir is an ancient fishing method passed down from seven centuries ago. It is constructed using corals and stones to form walls that trap fishes in the water. The stones are shaped like two linking hearts and the unique shape has made the stone weir a popular attraction on Qimei.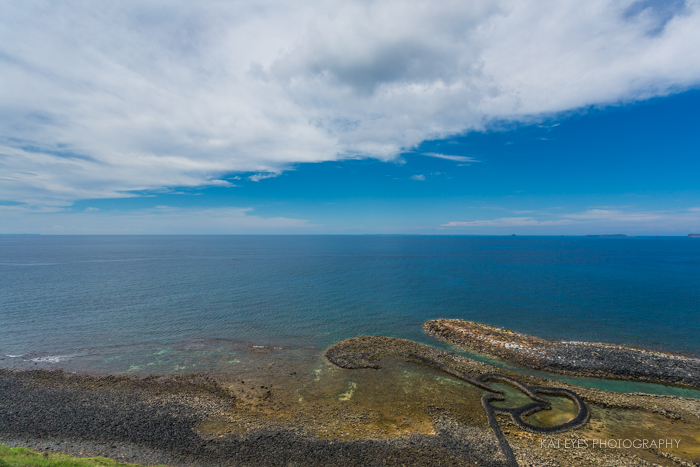 To get to Qimei, one would have to take a 90-minute boat ride from the South Sea Tourist Centre (南海遊客中心) from Magong harbor. Along the boat ride, you will be able to catch sight of some of the basalt columns scattered across Penghu.
These amazing works of Mother Nature were formed millions of years ago; the movement of tectonic plates caused cracks in the earth's crust and forced hot lava to the surface. The spewing lava cooled rapidly and contracted into thousands of perfectly hexagonal basalt columns. The most spectacular walls of basalt-column formations can be seen at Tongpanyu.
Kuibishan Geopark
You've most probably heard of the biblical story of Moses dividing the Red Sea. And at Penghu's Kuibishan Geopark, it is where the story get re-enacted in a way and comes to life. Kuibishan is an intertidal zone; when the tide is low, the sea "divides" itself to reveal a trail meandering from the beach to a basalt hill.
When our guide brought us to Kuibishan, it was late morning and there were many people waiting by the beach. To be honest, I was clueless and did not know what we were waiting for. Shortly after, a lady held up a gong and started hitting it. That was what the crowd was waiting for.
One by one, young and old, the crowds gingerly waded out to a little islet named Chiyu, where a basalt hill sat. The waters had not subsided fully and the people looked as if they were walking on water.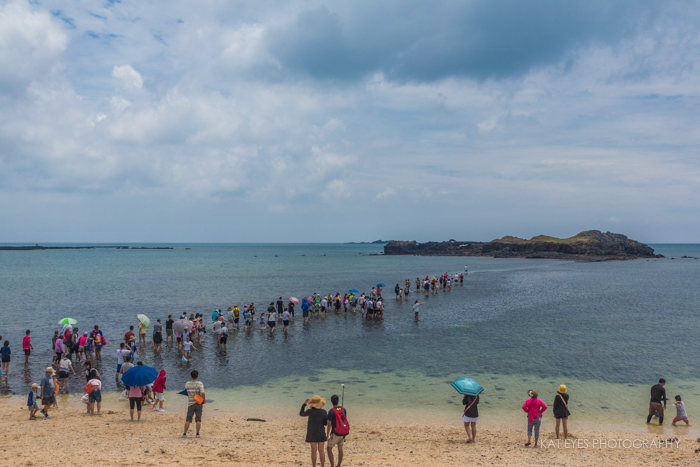 It was quite a sight watching nature at work here. I was honestly fascinated. I waited till the tide was low enough to reveal the trail before I decided to cross to the basalt island. The walk on the trail, made up of basalt gravels, turned out to be not as easy as I thought it would be. The path was wet and slippery, and my slippers did not make it any easier to walk. At one point, my toe hit one of the gravels, leaving me to grimace in pain for a minute.
But, I did not regret making the walk for sure. Like a schoolchild out on her first ecology excursion, I was enthralled by the sea creatures hiding between the gravels. I literally squealed in delight at a starfish and some hermit crabs I saw.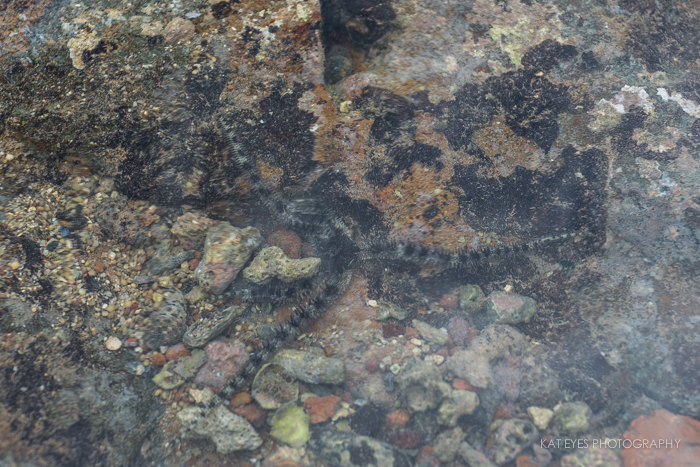 It's moments like this that remind me of how marvellous Nature can be.
The movie "落跑吧, 愛情" will be shown in Singapore cinemas on 3 September 2015. Watch the movie trailer here:
How to Get to Penghu:
From Singapore, you can fly to Taoyuan International Airport and take a high speed rail train to Taichung (less than an hour). At Taichung, you can then take a 40-minute domestic flight to Penghu. You can use Magong City in Penghu as a base for your activities. Other domestic flights are also available from all major cities on Taiwan.