This article was first published on ASIA 361 and written by Goh Guo Hua.
Our love affair came into being at that heady time in between a blossom and forever. I was barely 18, but by that time Nandos had already swept across the dark continent like a sweltering South African alizé .
My wife too, had her dalliance with Nandos while in college. She would spend hours asleep in its premises in jejune attempts to revise her school work, while the succulent quarters of tangy spiced chicken sustained her efforts. It would not be a stretch to say that this review will be a biased one.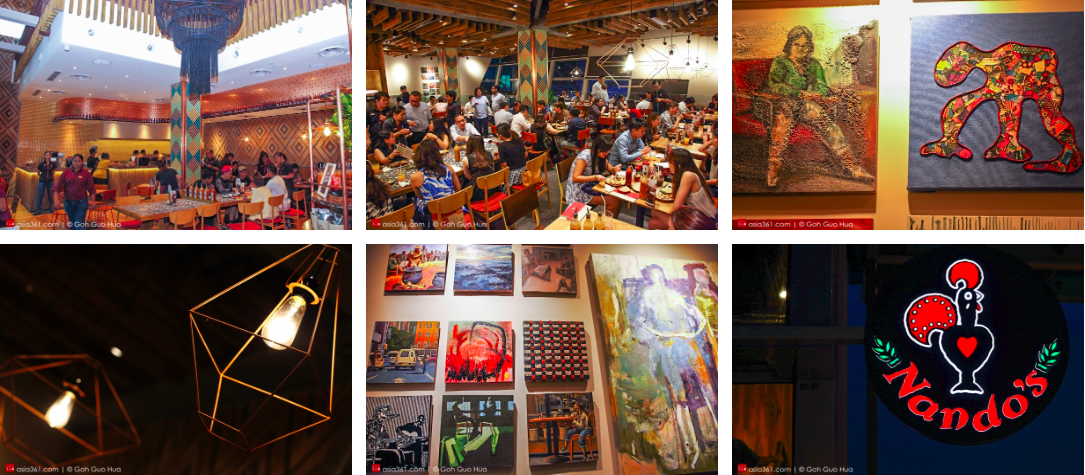 Founded in 1987, Nando's is now a recognised name in 30 countries, with about 1,000 outlets. In 2010, Nandos landed on the sunny shores of Singapore. Advancing northward, Nandos opened its tenth and latest store at Bishan and brings the tangy heat of African interior to the Singaporean heartland. Decked out in a fusion of Arizona-esque and South African accoutrements, the two-story, standalone building is bathed in the warm colours of its homeland and decorated with South African oil paintings.
Nando's, as most would know, specialises in chicken dishes. Chicken prepared with lemon and herb, mango and lime, and in medium, hot, extra hot or extra hot peri-peri marinades (properly known as Galinha à Africana).
The menu at Nando's is, however, much more extensive. There is a wide variety of burgers, wraps, pitas and something they call a Portuguese roll. For those really hungry, the Espertada (skewers of chicken and vegetables) or the Cataplana (grilled peri peri chicken with roasted vegetables on a large copper dish of rice) will hit the spot.
Tonight, I asked for my usual half lemon and herb-seasoned chicken plate with two sides, of which, my favourites have always been the buttery smooth Mediterranean rice and grilled vegetables.  For this, I was  considered a featherweight, and was conferred the status of "Not So Brave", with a flag to advertise this dishonour.
This was, however, intentional. As a tip from my many years of being hooked on Peri, I recommend ordering the mild flavoured options and experimenting with the different bottles of sauces available. There's peri-peri in varying degrees of spiciness, a garlic sauce and a spicy sweet sauce.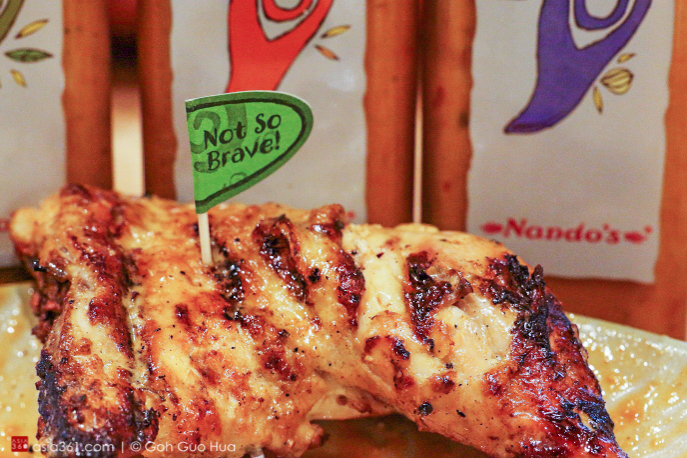 The menu starts with a basic quarter chicken plate but that will leave you hanging and wanting more. I would go for at least half a chicken which would give you ample opportunity to savour the addictively spicy, citriusy tang of peri peri.
If at this time, you can imagine biting down a juicy flame grilled chicken thigh that is savory, excitingly sapid, tantalisingly tangy and subtly smokey, you've caught the peri-diction.
Keep calm and Peri on.
Nando's Junction 8
9 Bishan Place #01-51,
Junction 8 Shopping Centre
Singapore 579837
Opening hours: Daily from 10 am to 10 pm