Congratulations to Martina Veloso and Team Singapore! Veloso just won a silver medal for shooting for Singapore.
At the 10m rifle women's final this morning for the Nanjing 2014 Second Summer Youth Olympic Games, Veloso lost by 0.6 points to Sarah Hornung from Switzerland to cling the silver medal.
Veloso was the competition favourite as she is the gold medalist in the 2014 World Cup in Munich. However, it was Hornung who performed impeccably throughout. Veloso tried to bridge the gap between them throughout the competition but the Swiss shooter refused to drop her guard.
Hornung led the field for most of the final and grew stronger with each passing shot. At the half-way stage, of the elimination round, Hornung had opened a 0.7-point lead over the eventual bronze medalist Julia Budde from Germany and led Veloso by 0.6 points.
In the fourth round, Hornung shot a 10.6 and 10.4 and extended her lead further. Veloso and Budde struggled to catch up.
Budde led Veloso by 0.3 points, in the fourth round and extended it to 0.8 in the fifth. But then she faltered in the next round and managed just 20.4, as opposed to 21.3 scored by Veloso. The round put Budde out of the competition.
Veloso then attempted to close Hornung's 0.9 point-lead in the last round, but she failed and settled for the silver medal.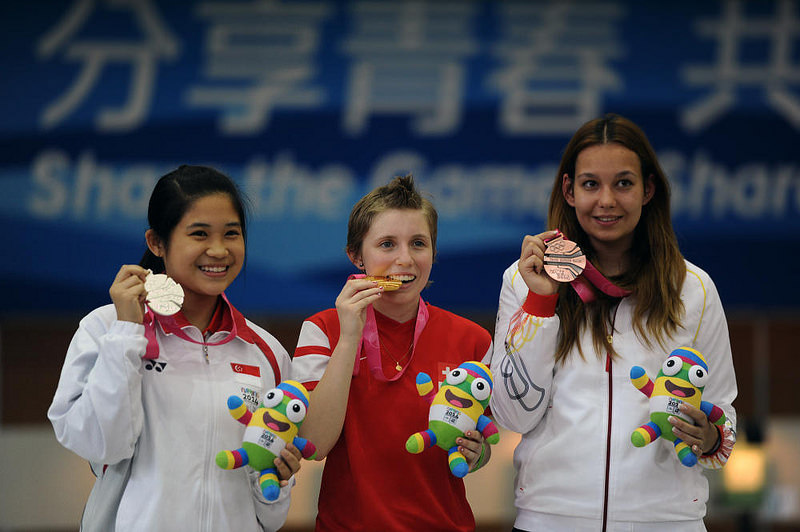 Veloso said that her Swiss opponent deserved the medal as she performed really well.
"It doesn't matter, she deserved it today," Veloso said, referring to missing the gold medal. "I'm just glad that I did my best, I'm thrilled."
"Today I had to forget about all those medals I've won (in the past) and had to focus on today."
Source: Nanjing Youth Olympic Games Official Website/ Xinhua