I have always wanted to be a rock star. There I said it.
This dream dawned upon me soon after I met my husband (then-boyfriend) 11 years ago. He was a metal-head through and through and it was thanks to him that I learned about rock luminaries the likes of Guns & Roses, Warrant, ACDC, Metallica, Dream Theatre, Poison, Skid Row and Black Sabbath. Before this, my music staples were more radio-friendly hits like (erhem) Backstreet Boys, Take That, and basically songs you hear on Kiss92FM these days.
My rock star dream came true for a brief moment when my husband and I along with a few of his friends got together to form a band — for a charity gig–  close to 10 years ago. We were called Soundcheck and I was the lead singer (then, truly inspired by Shirlyn of The UnXpected, a rock quartet who made regular appearances at Wala-Walas). We covered songs like Hotel California, Summer of 69, We Will Rock You and Sweet Child of Mine. Boy, I miss those days of jamming (and screaming) in the studio. 
So you can imagine how thrilled I was when I learned Rock of Ages was coming to Singapore and I got the chance to catch it. It'd probably be the next closest thing (other than the sweet squealing sounds of my 7-month-old when she's craving for milk, or attention) these days to have my eardrums a-ringing!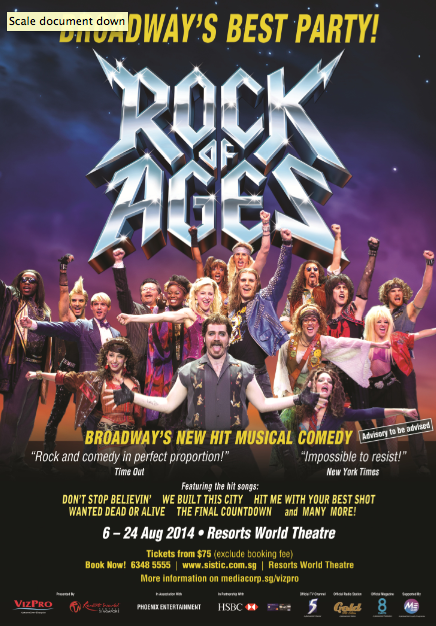 The other similar -genre musical I've seen in Singapore (back in 2007) was We Will Rock You, a musical based on songs by Queen. (See the pattern there?)
Honestly, I would have really loved to watch ROA with the original cast — as Constantine Maroulis (American Idol alumnus) played the leading role of Drew Boley but hey, I'm not complaining especially when I was invited to the gala premiere with front (well, second front) row seats at the premiere at Resorts World Theatre three days ago!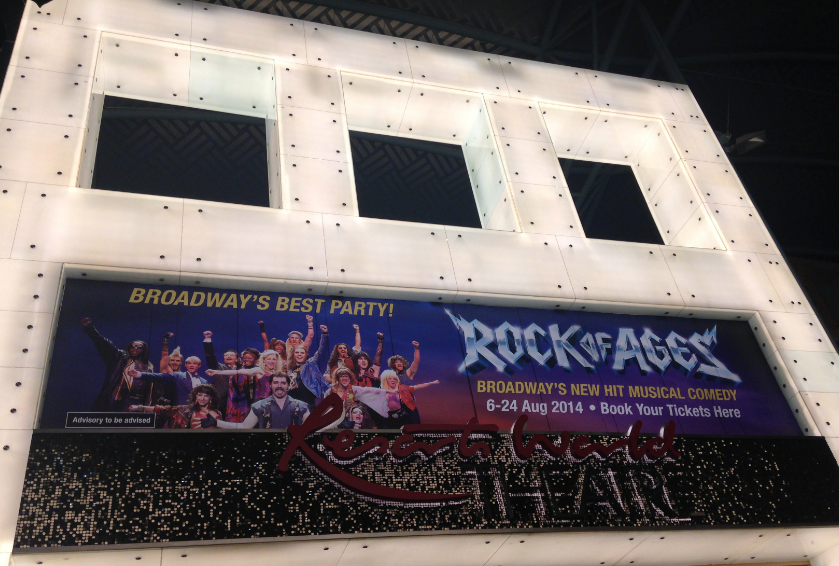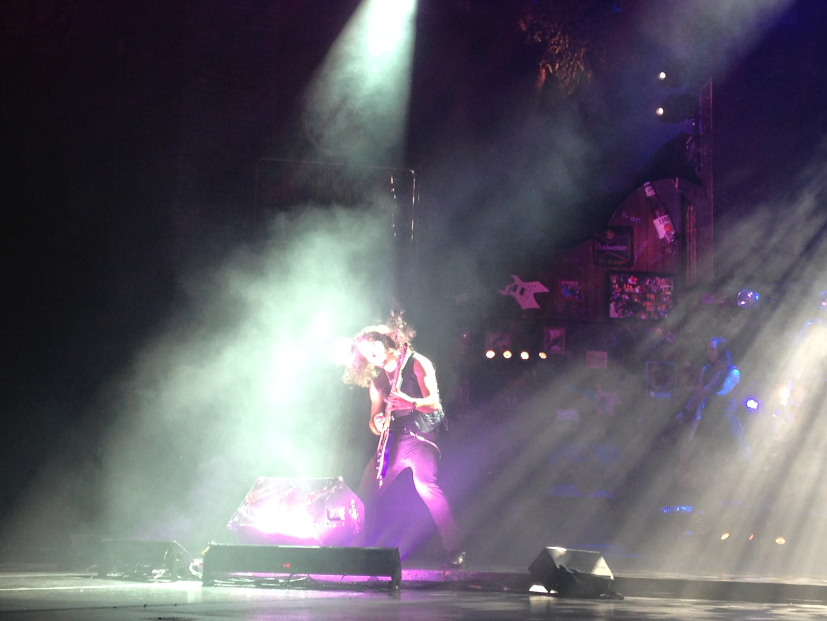 For the uninitiated, Rock of Ages is a musical that's a good pace of comedy, romance mixed with copious amounts of rock and rolla. For those who grew up in the 80's, the musical's a throwback to simpler times: where the single complex thing in a young person's life was probably making sure one's eye shadows matched the shades of his or her leg warmers and off-shoulder sweaters!
Rock of Ages is set in 1987 on the Sunset Strip (Los Angeles), and centers around the love story between a small town girl and a big city rocker in LA's most famous rock club. They were brought together not only by their common search for fame but love for rock.
It's a simple plot but pumped up full of energy throughout the whole two hours with high octane, earth-shaking, head-banging good old rock songs that you don't have to be expert in and can't help sing along to within the first minutes of the opening act. Just think "We Built This City" (Jefferson Starship), "Wanted Dead or Alive" (Bon Jovi), "Don't Stop Believing" (Journey) and more…
I saw the Rock of Ages movie before a couple of years back and was pretty impressed by Tom Cruise's portrayal of what's supposed to be Axl Rose (Guns and Roses's lead singer), whose character name is Stacee Jaxx (lead of the band, Arsenal) and thought he totally stole the show.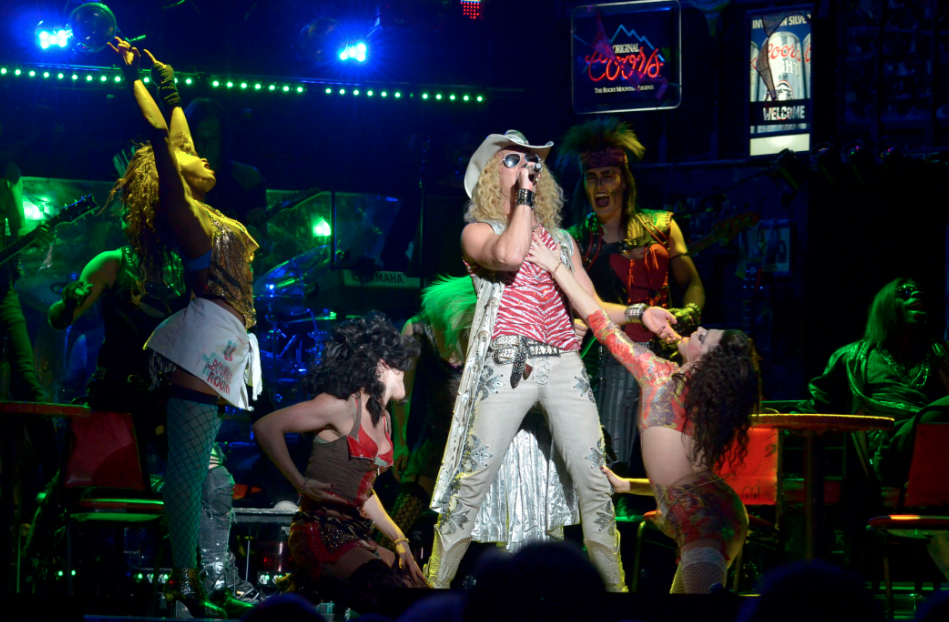 I was truly anticipating that to happen with the musical. Instead, I was thoroughly drawn by Drew Boley's character, played by Dominique Scott.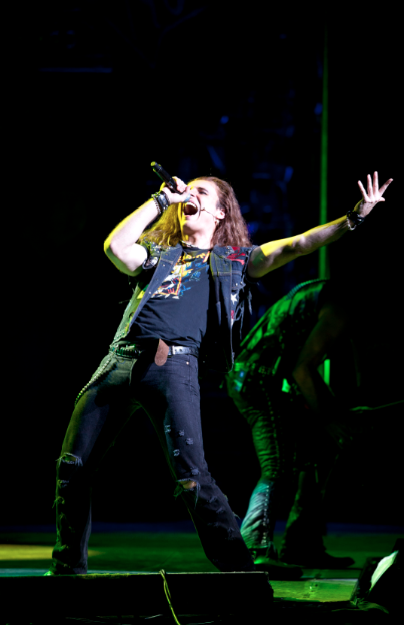 I felt he captured the vulnerability and rockstar dreams-hungry qualities of the character really well. And his hair (which he tucks behind his ears every now and then)? It was just the right amount of flippant-ness 😉
However, if you were to ask me who's the real show stealer? It will have to be the hippie-loving, confectionery-dreaming Franz (played by Tanner Hussar). I will not give away  any more and spoil the show for you.
On the way out of the theatre, some of the cast members were out getting pictures taken and interviewed by The Sam Willows and Darren Tan for Mediacorp TV.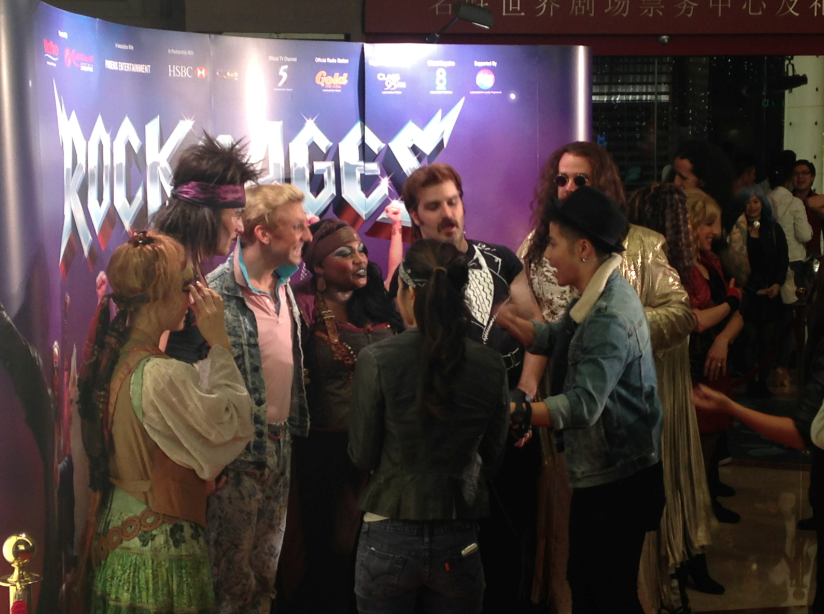 The Rock of Ages musical is showing at The Resorts World Theatre from 6th to 24th August and tickets are on sale at SISTIC, priced from $75 onwards. All I will say is you will have Nothing But a Good Time with Rock of Ages, so go catch it before the show ends!
ALVINOLOGY  x ROCK OF AGES: THE MUSICAL GIVEAWAY 
We have a pair of Cat 2 tickets for the musical show on 15 August 2014, Friday, 8pm  (so make sure you're able to make this date before deciding to take part in this contest) to be given away, thanks to the organizers behind this!
And all you have to do is answer this simple question correctly and email it along with your full name, mobile number and I/C or passport number to wong(dot)adlena(at) gmail.com by 11 August, 6pm
Question: In which year and location was the Rock of Ages set in?
All the best and hit me with your best shot and fire away!
CONTEST UPDATE:
Congratulations to 
You have won yourself a pair of Cat 2 tickets to catch Rock of Ages this 15th August! Have a rawkin' good time!
We have emailed you the details of the collection so check your inbox soon 🙂