I've been up to quite a bit of "fishy business" this week.
It all started on Sunday, with a trip to River Safari to catch Jeremy Wade in action.
Jeremy who?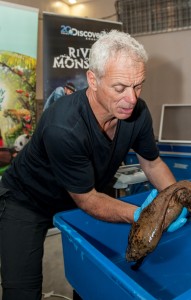 A zoologist and biologist by training, Jeremy got hooked (sorry for the pun) to observing, catching and documenting fishes of every kind since his first overseas trip to the mountain rivers of India 30 years ago.
Today, he's known (at least to me) as the crazy guy who's wiling to risk his limb – and sometimes, his life – to catch a few big fishies. He says:
"I don't see myself as a particularly expert angler," he says, "but I am able to get into the kinds of places where outsiders don't normally go and seem to have enough energy after I get there to put a line in the water."
He was here last Sunday to promote the sixth series of River Monsters (premiering 8th July, 9pm on Discovery Channel). It was a surreal experience to see the man in the flesh, out of water (for a change), and he is every bit the unassuming, straight-thinking host and angling expert I've been seeing on television. Can't wait for the new episodes to start and see what adventures Jeremy is up to this time.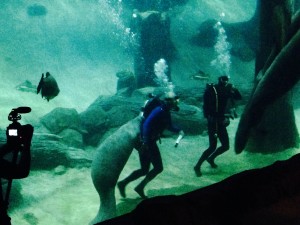 ***
From watching giant fishes on Sunday to eating 'em little ones on Thursday. It's always nice to ring in the weekend with an invite to slurp ramen, this time, at Sanpoutei Ramen Singapore located at Holland Village.
I'm no expert in ramen – but I know a good ramen when I taste one. And this ranks pretty high up my charts. Here are 3 reasons why:
Reason #1:
The soup base is made from a proprietary recipe consisting primarily of two kinds of premium niboshi (or dried sardines). This gives the soup a balanced (not too strong on the porkiness) richer aroma and stronger taste, a departure from the either too-salty or too-bland ramen soups I have been tasting. And you can be sure that the sardines used are top-notch because one, they are from Niigata (a well-known seaport town) and two, they are imported from Japan daily.
Reason #2:
My husband who went for the tasting with me remarked, "It's very hard to make a staple food taste good." And I believe Sanpoutei knows that. The CEO, who took over the reins from his father who founded the restaurant in 1967, Hironobu Kaneko-san was present at the media tasting and he explained how they take pride in making sure as much of the ingredients that go into the ramen are handmade and made fresh and authentic. He singled out the noodles: Freshly-made in the shop with specially-imported top quality flour from Niigata, the rice capital of Japan, each strand of noodle is crimped (the usual ones are either straight or wavy) and possesses a light gold hue.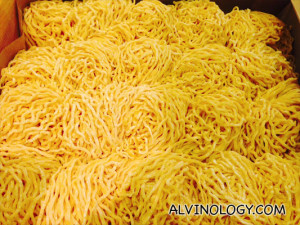 Needless to say, we devoured our Rich Tori & Miso Ramen ($16) in mere minutes. The gravy-like soup base is made with a chicken stock that has been simmered for eight hours and topped with soft boiled egg, vegetables and minced chicken.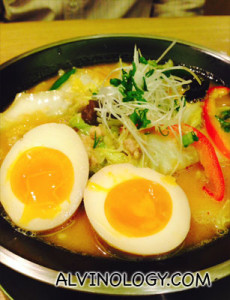 Reason #3:
The hospitality and the attention Sanpoutei pays to details — and it's right to the bowl that they use to serve the ramen in. Interestingly, the bowls are imported from Niigata in a town called Tsubamesanjo. They are double-walled so they retain the heat of the noodles (at an ideal 80 deg C) but the exterior is still cool to the touch.
As if the food was not enough to seal the deal, we were treated to some fine sake as well. And again, Niigata is THE place to get the best sake from in the whole of Japan. The clean, crispness of the sake washed down appetizers we had earlier quite nicely. You can try a selection of these sakes in tasting portions, or at $10 for a 140ml pour.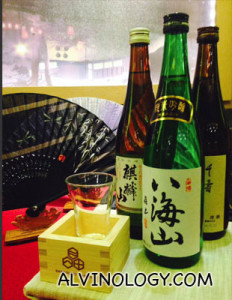 Our favorites? The deep fried spring chicken with Oroshi Yuzu Ponzu sauce (if you have a fiery tongue, you can opt for the spicy sauce) and the crispy tempura shrimp salad.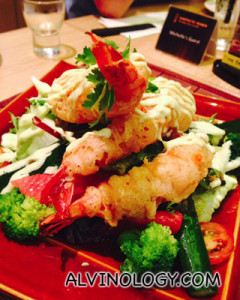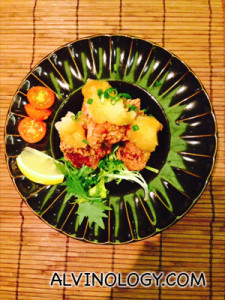 Sanpoutei Ramen is located at 253 Holland Avenue (the row of shophouses facing Holland Road), #01-01 and opens daily from 11.30am to 11.00pm. For more updates on their menu items, visit www.facebook.com/sanpouteisg.