Eatzi Gourmet's Mother's Day Special Cakes (Halal)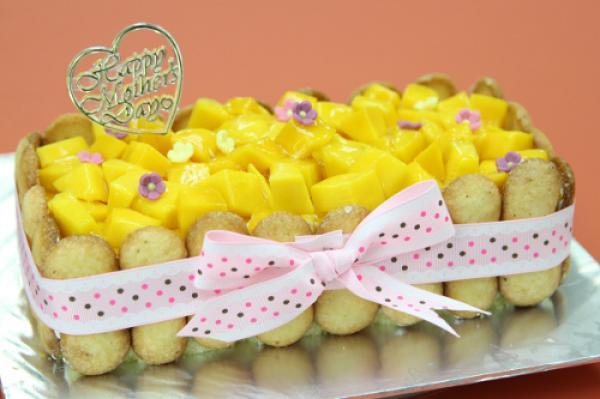 For Muslims looking for a halal Mother's Day cake, why not order it from Eatzi Gourmet?
Run by JP Pepperdine which owns and operates the Jack's Place group of restaurants, among many other restaurants in Singapore, quality is assured.
There are three Mother's Day Special Cakes to choose from:
Mango Loaf
Size: 1.3 kg (serve 10-12 pax)
Original Price: S$62 (Now S$52.70)
Concoction of mango mousse enclosed between layers of soft vanilla sponge, topped with fresh mango cubes and lined with sponge fingers.
Mango Chocolate Surprise
Size: 1 kg (serve 8-10 pax)
Original Price: S$58 (Now S$49.30)
Layered with mango & chocolate mousse in vanilla and chocolate sponge. Decorated with mango cubes.
Mango Double Decker
Size: 1.5 kg (serves 10-15 pax)
Original Price: S$68 (Now S$57.80)
Mango mousse in vanilla sponge, topped with mango slices. Double decked with Raspberry macarons.
I tried the Mango Loaf and it does come like how it is presented on the website:
From now till 11 May 2014, customers who order your Mother's Day Cake online are entitled to 15% off the cake price. JP Pepperdine members get additional 500 bonus points for Mother's Day cake order during this period. There is free delivery for orders above S$120.