Specially produced for collectors, the S.P.O.R.E Vision Watch is limited to 328 pieces world-wide. It was soft launched on 19 October 2021.
Of this exclusive 328 pieces, 8 pieces were snatched up by a newly established charity for its forthcoming fundraising project.
The overwhelming reception to the soft launch of the watch caught everyone by surprise. As a result, only 50 pieces remaining will be available on the Fronds website on 12 December 2021 at a retail price of Four Hundred and Ninety-Nine dollars (S$499.00) each.
Collection of the watch is expected to be latest by early January 2022.
Crafted during the COVID-19 pandemic, the S.P.O.R.E Vision Watch is a testimony to the tenacity of Singaporeans during difficult times, a "Time for Change" to cope with the challenges brought upon us by this black swan event.
Only 328 pieces are made to commemorate the date 28 March 2019, a date which holds much significance for many Singaporeans.
The watch has possibly the world's first Red-White uni-directional rotating bezel. The red and white colours are inspired by the Singapore flag. Red is the colour of blood, symbolising life, passion, energy and strength; while White represents light, goodness, purity, integrity and cleanliness. All these are qualities wearers of the watch would be proud of.
Product Specification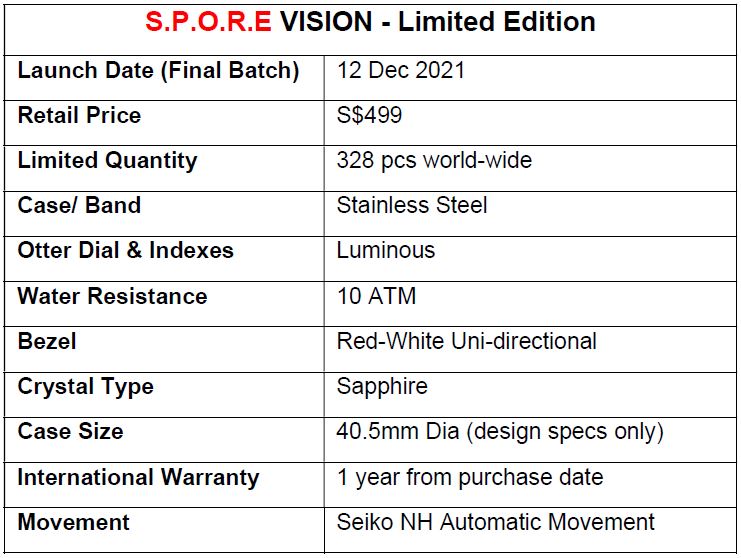 Warranty
The watch comes with a 1-year international warranty and an exclusive S.P.O.R.E. Heritage booklet. The booklet contains a handwritten message by Dr Tan Cheng Bock addressed to every proud owner of the watch, calling for all to be a more compassionate and caring people.