It's a boy for giant pandas Kai Kai and Jia Jia, who welcomed their firstborn at River Safari on 14 August 2021.
After close to a month in the warm embrace of Jia Jia's loving care, the panda cub is doing well and steadily growing day by day. The cub's gender was unveiled by the #littleone's father Kai Kai, who made the gender reveal as part of his 14th birthday celebrations.
With 14 blue and pink candles gracing his exhibit in the Giant Panda Forest, Kai Kai tugged on an enrichment gift which released a shower of blue confetti, along with carrots, which he enjoys crunching on. Kai Kai's birthday falls on 14 September, about a month after the birth of his cub.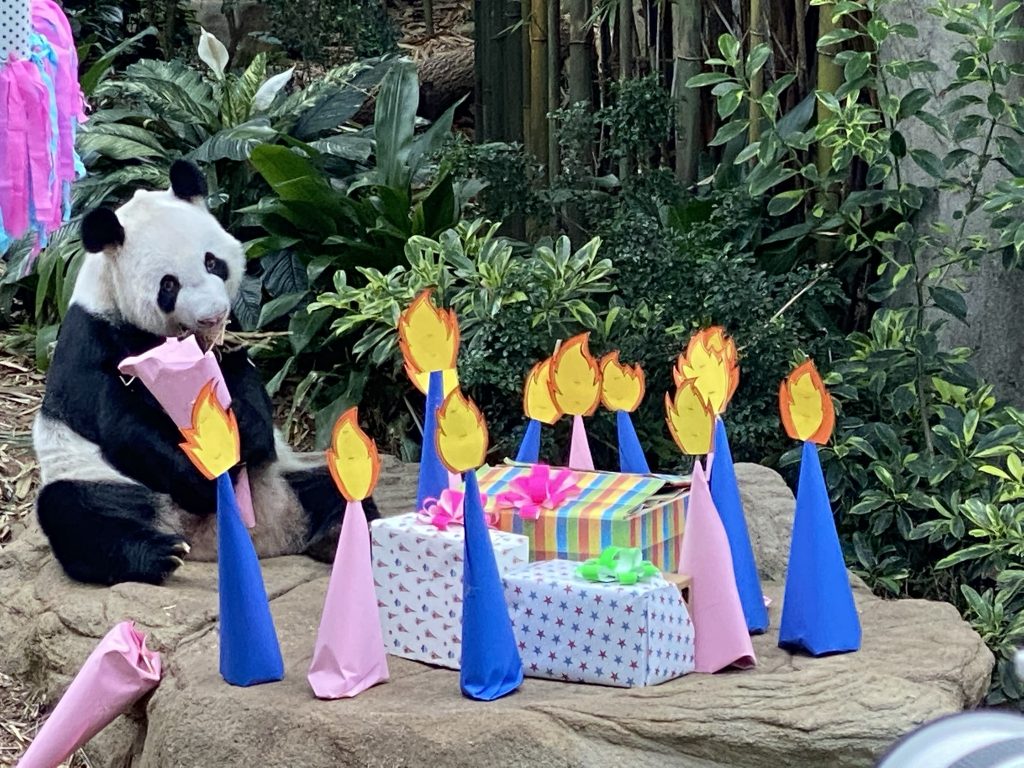 The gender of the cub was determined through a series of visual assessments performed by Wildlife Reserves Singapore (WRS)'s panda care team, led by Animal Care Officer, Ms Trisha Tay Ting Ni. This was subsequently confirmed in consultation with the team of experts from China Conservation and Research Centre for Giant Panda (CCRCGP) who observed the cub through a series of photos and videos shared by the WRS panda care team.
The cub has not yet undergone a full veterinary examination because mama panda continues to be its primary caregiver.
With Jia Jia continuing to be a super mum, there have so far been no reasons for any medical interventions. The close relationship between Jia Jia and her carers has allowed them to observe the cub at close range, enabling them to confirm the presence of external male genitalia.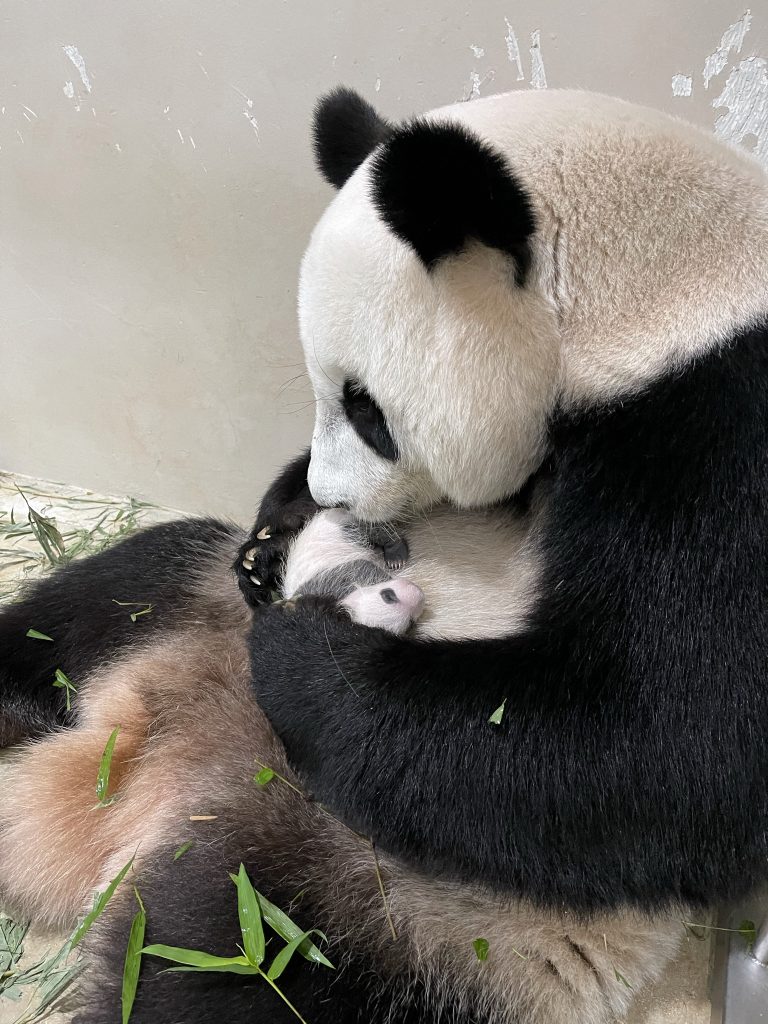 As Jia Jia further settles into her mothering routine and rests more, her carers will slowly start to resume conditioning sessions via positive reinforcement training to prime her for cub retrieval. Only then would the care team be able to conduct thorough health checks on the baby.
These conditioning sessions include getting Jia Jia to have her back towards the den bars, which allows her keepers to feel around her abdomen where the cub is usually cradled. Being comfortable with this will help facilitate retrieval of the cub.
Another exercise involves fetching a 'toy', then releasing it at the den bars, allowing keepers to retrieve it from her. All this conditioning helps Jia Jia recognise cues and responses, while increasing her comfort level for the cub to be retrieved by her care team.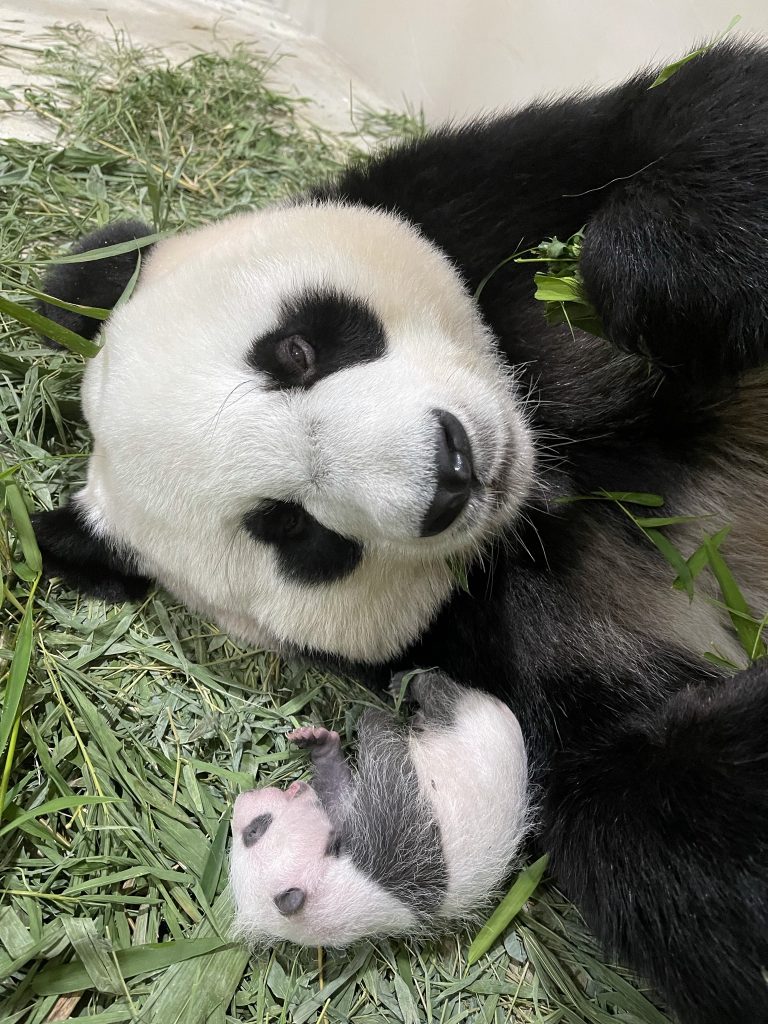 In the past month, the cub has started to develop prominent black markings around his eyes, ears and body – transforming from a fur-less pink newborn to a miniature version of his parents. Jia Jia has also regained her appetite and has resumed eating, albeit slowly.
She is now regularly seen munching on her favourite bamboo leaves, while contentedly and confidently cradling her cub. The new mom is also comfortable leaving her cub unattended for short intervals, while she eats, poops or pees.
In conjunction with this momentous milestone, members of the public will be able to play a part in the naming of this #littleone before it turns 100 days old on 21 November 2021.