Inspired by planet earth with an eco-conscious approach to sneaker design, ASICS Sportstyle reveals the two latest creations of the GEL-LYTE III OG, namely the ASICS x SVD GEL-LYTE III OG and the GEL-LYTE III OG 'Patchwork'.
We were sent a pair of the former and wore it out for a few days. So far so good! The design is definitely unique and is a conversation piece when hanging out with friends. Best of all, it is built with sustainability in mind.
The SVD x ASICS GEL-LYTE III OG is Spanish retailer, SVD's debut collaboration with ASICS. It attempts to  reimagines sneaker design and manufacturing processes, seeking out a range of innovative and environmentally conscious materials to highlight each of the silhouette's iconic characteristics. Textured fabrics and recycled elements include an upper made of cotton, eco-leather overlays adorning ASICS' Tiger Stripe logo, partially recycled foam on the tongue, 100% recycled plastic bottle insoles, as well as 100% jute fibre laces. The silhouette comes in unique packaging that has been specially designed for the collaboration and pays tribute to both brands and our planet.
Raúl Fernández, SVD's Creative Director says, "The silhouette takes a lot of inspiration from the earth with a contrast of colors that are reminiscent of natural elements. We were really committed to giving the GEL-LYTE III a completely organic look and feel with an eco-friendly design from top to bottom. Essentially we wanted it to look like it came straight out of nature, playing around with a combination of raw and recycled materials, the raw being the yin to the recycled materials' yang."
Rubén García, SVD's Procurement Director adds, "We really wanted to demonstrate the endless possibilities in sneaker design from an eco-friendly perspective, and while we are currently seeing many brands develop in environmentally conscious manufacturing and design processes, as we are currently doing for our own line of SVD branded products, we are aware that we still have a long way to go. We also have a very important relationship with Japan in that we share an affinity for the use of authentic materials and a love for quality craftsmanship, so ASICS was the perfect brand to partner with for this special eco-focused project. They always go above and beyond."
We love the Earth tones, rugged look and sturdiness of the shoes when we put them on. The rattan shoelace adds a nice finishing touch. Here is a pair of shoes for eco-warriors to make a statement and to generate conversations around sustainability with your circle of family and friends.
The ASICS x SVD GEL-LYTE III OG is now retailing at $279 and is available for purchase on ASICS.COM and at Limited Edt Chamber and Vault [email protected]
ASICS GEL-LYTE III OG 'Patchwork'
Working toward a more sustainable future, ASICS Sportstyle also unveiled the GEL-LYTE III OG 'Patchwork' model, a modern re-work of a classic silhouette, using upcycled materials from previously produced styles.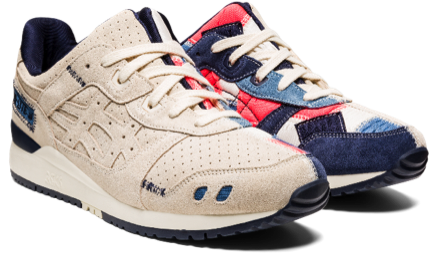 A unique take on a staple sneaker for ASICS, the GEL-LYTE III OG 'Patchwork' features approximately 9% of scrap material by upper weight (US 9 size) from previously produced "SUNRISE REBORN PACK" shoes, which were also made from collected recycled clothing.
The silhouette has an artistic, asymmetric look, with the outer side of the shoe made with a luxurious suede and some navy contrast stitching. The inner is a patchwork design made of scrapped mesh material emphasising a fun contrast – this also runs up the spilt tongue, a key design element of the classic GEL-LYTE III. T
"This in/out contrasted 'split' design was inspired by the unique build of the GEL-LYTE III OG split tongue, I wanted to highlight this feature and celebrate it, creating a unique item in the process". Shared Kalin Ishida, the designer of GEL-LYTE III OG 'Patchwork'.
The sock lining within the sneaker was created using a resource-saving technology called Solution Dyeing, which is a method that reduces CO2 emissions from the dyeing process by around 45% and cuts water use by around 33% when compared to conventional processes. It also features the sunflower icon which is representative of future generations growing healthier and more positive in both mind and body. The shape of the emblem features two arrows in the center to reference the circularity of resources and our hope for a better future.
"The ideas of turning these scrap fabrics, something that would normally become waste, into a strong design element that brings excitement and interest to the shoe is very compelling to me. With the in/out contrast design, I attempted to toe the line between 'easy-to-wear basic' and 'forwardly-unique'". Added Ishida on the sustainable design of the sneaker.
The GEL-LYTE III OG 'Patchwork' is now available at ASICS.COM, ASICS Plaza Singapura store and Limited Edt Queensway at $189.