Eatbox is returning this year with something special – its very own permanent location. Brought to you by Invade, the organisers of the wildly popular Artbox Singapore and Shilin Night Market, the creative food hall spanning 9,500 square feet (sqft) will take over Tekka Place come September 2021.
Eatbox, Invade's boutique version of Artbox, will be located right by Rochor MRT and will bring you its distinctive brand of creative, innovative, and interactive experiences.
Gastronomy and Entertainment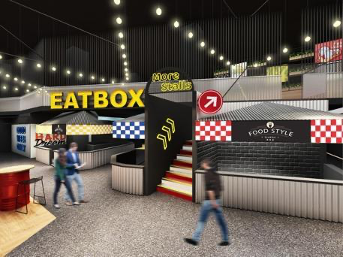 Eatbox will be bringing its first-ever creative food hall featuring 20 booths and 4 kiosks with international cuisines and fusion fare that you will not want to miss. Eatbox will also be integrating a Cloud Operating System to make ordering, paying and collecting food more convenient than ever.
Featuring flavours from around the region with local twists, the curation of notable F&B vendors will also be introducing some exciting new-to-market items. These include:
Satay Ummi – Nasi Lemak
Butcher the Burger Bar – Butcher Truffle Eggstarter
Okinawa Onigiri – Onigiri-Sandwich.
Chickata – halal Mookata options
Don't forget to pop by the creative murals at Eatbox's hype zone to get a shot for the 'Gram. These interactive murals are created in collaboration with a roster of local artists and will be regularly refreshed every six to eight months.
Partnerships
Invade has partnered with Pow Lay Kuan, Temasek Polytechnic, MC Payment, and SEED Ventures to make Eatbox a reality. Aspiring start-ups supported through Temasek Polytechnic's Innovation and Entrepreneurship Programme will be able to come on board with Eatbox to commercialise their innovations and run their own businesses.
Patrons can place and pay for orders using QR codes and get alerts when their meals are ready, offering not only great convenience to customers but a more efficient ordering system for vendors.
Upcoming content and experiences
Alongside Eatbox, Invade will be creating two additional mainstays, featuring a thematic Experience Centre of over 6,000 sqft and a retail and recreational content space of over 4300 sqft.
The centre will include an instant-noodle themed experience playground that combines Singaporeans' love for food and retail with great photo opportunities, as well as a basement content space with a pop-up retail concept that features flexible retail and recreational options.