TikTok launches a nationwide call for Singaporean youths to participate in its Youth for Good initiative. In collaboration with the Ministry of Culture, Community and Youth (MCCY), Ministry of Education (MOE) and National Youth Council (NYC), this initiative will equip youths with tools, resources and the platform to raise greater awareness about the social issues that affect their peers today, starting with mental and cyber wellness.
From 14 to 31 May, Singaporean youths aged 19 to 34 years can apply via the TikTok app to become a wellness educational content creator.
Participating youths will undergo an 8-week specialised training programme from 28 June to 22 August, where they will be empowered to not only leverage the various tools, features and trending challenges on TikTok to create relatable educational content, but also learn how to provide support and strength to their peers who may be struggling with mental health, experiencing bullying or feeling unsure of how to deal with traumatic experiences such as harassment.
5 Staycations at EPIC discounts- from the luxurious to the cozy! #SingapoRediscovers
Local non-profit organisations, including Campus PSY, Care Corner, CARE Singapore, Fei Yue Community Services, Samaritans of Singapore, Silver Ribbon (Singapore), and TOUCH Community Services, will join TikTok in this programme to guide youths with expert industry knowledge that they can creatively transform into short-form TikTok videos to educate their peers at scale, for example, stigmatising words to avoid; how to notice and respond to preliminary signs and symptoms of mental health issues in their peers.
Mental Health Awareness Week 2021
In celebration of global Mental Health Awareness Week 2021 from 10 to 16 May, TikTok has also launched its #mentalhealthawareness educational campaign to encourage the TikTok community to share inspiring short-form video stories about their personal mental health journeys, as well as offer wellbeing support and messages of positivity to help one another.
Starting today, 11 local non-profit organisations will go live on TikTok to address youths' concerns towards help-seeking, which include confidentiality, cost, accessibility, permanent record, among others.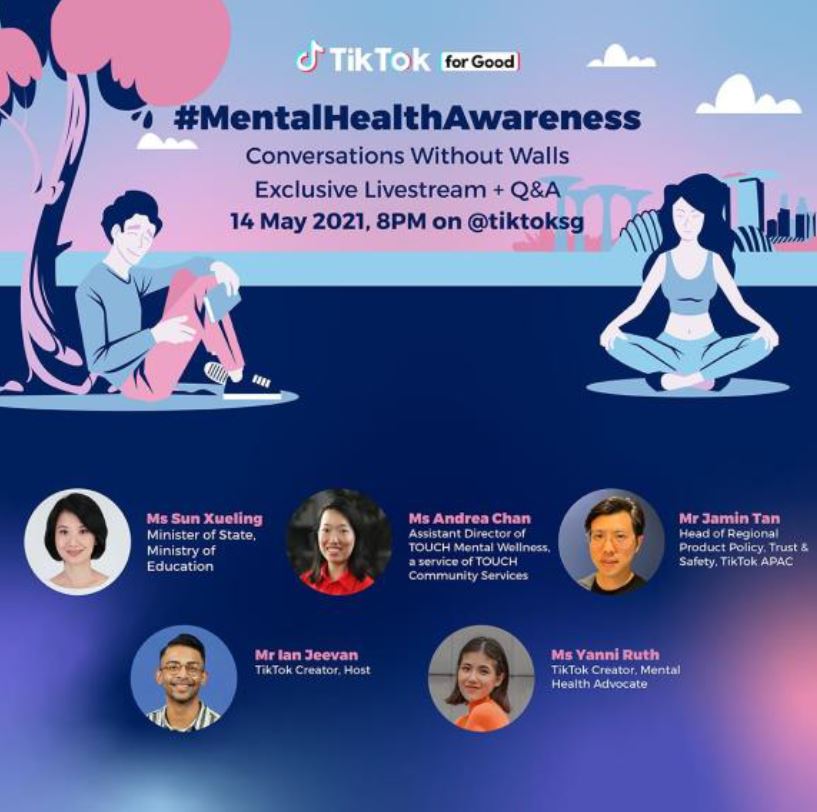 Continuing from the Youth for Good initiative and its partnerships with non-profit organisations, TikTok calls out to more counsellors, therapists, psychologists and psychiatrists to join the growing mental health support ecosystem on TikTok and create a safe online space where people experiencing distress and trauma can share their personal struggles and recovery journeys freely, find communities of support and break through the walls of social stigma.