In celebration of Earth Month, Deliveroo has teamed up with your favourite restaurants across the island to help bring the power of green into your diet. With these deliciously sustainable promos, you're spoiled for choice.
Swensen's – IMPOSSIBLE Deliveroo Box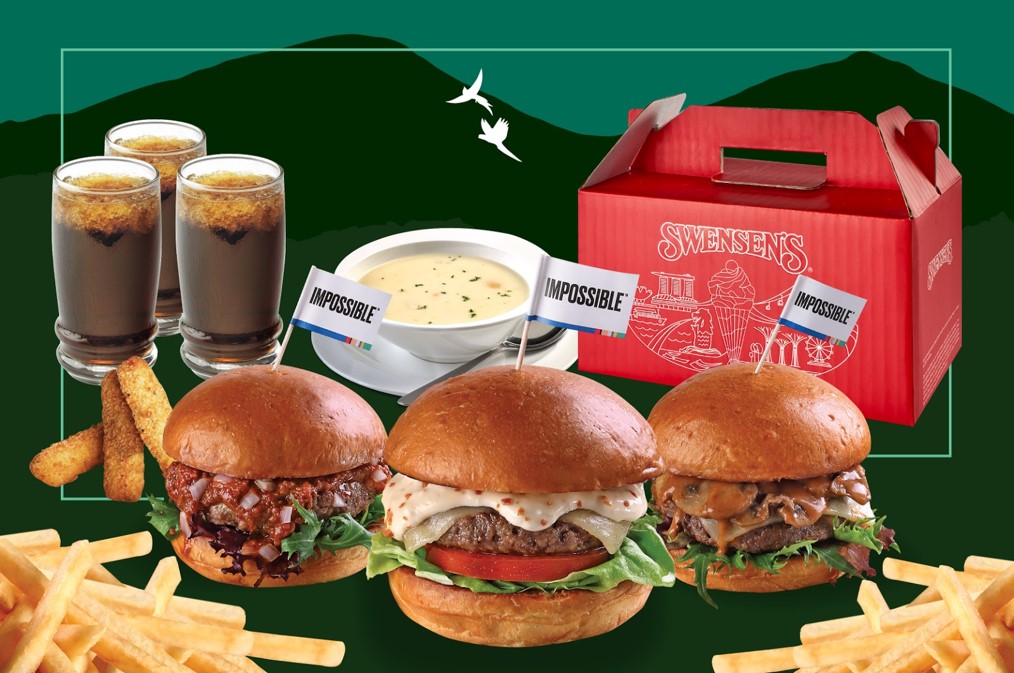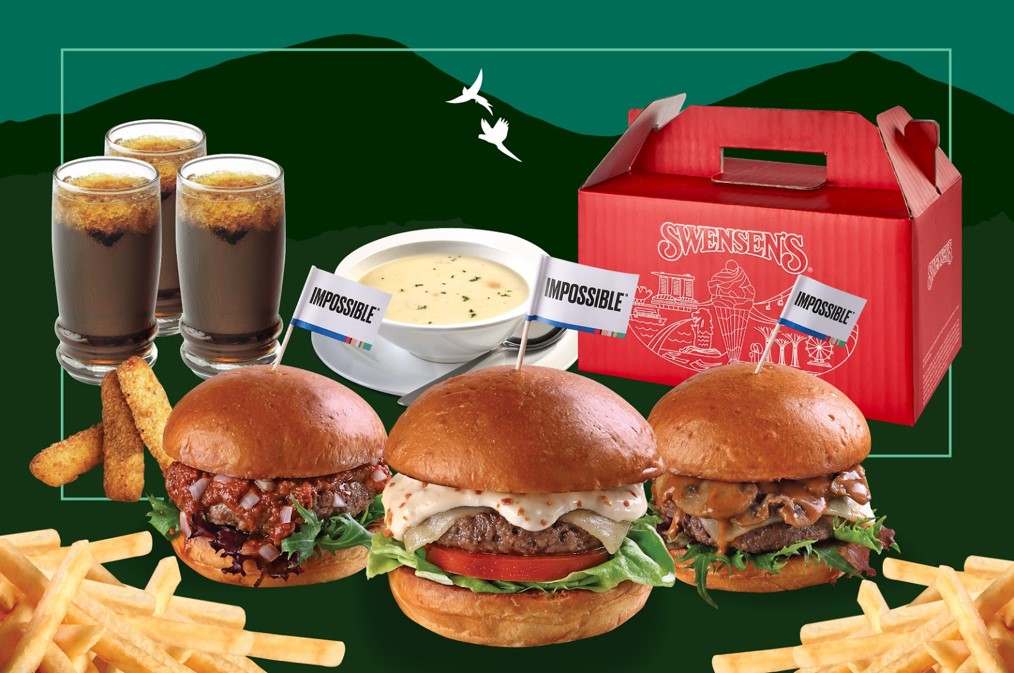 The Swensen's IMPOSSIBLE Deliveroo Box is now available exclusively on Deliveroo and each bundle provides three burger meals which you can customise to your tastes.
The IMPOSSIBLE Deliveroo Box comes with a selection of 3 Impossible burgers:
Cheese
Rendang
Mushroom or Garlic Aioli
Each burger is served with signature U.S. fries and mozzarella cheese sticks, a drink and soup of the day. From now till 30 April, the delicious set is available at just $58.29 (40% off usual price $97.15) at all Swensen's outlets on Deliveroo.
Three Buns – Le Big Mock
Three Buns is bringing back the Le Big Mock, a beloved creation from their past Earth Month menu. It features smashed 80g Impossible meat patties, dill and toasted caraway seed, soya milk mayo, cucumber and jalapeno pickle, shredded lettuce, with vegan cheddar in a toasted mango flour sesame bun.
From now till 30 April, order the Le Big Mock for $24 ++ at Three Buns Quayside, Robertson Quay, Potato Head Keong Saik.
PizzaExpress – Earth Day Bundle
Carb load in the name of nature with PizzaExpress' new Earth Day Bundle, featuring their best-selling doughballs and an indulgent pizza made with Impossible. The Earth Day Bundle comes with one Doppio Doughball dish, one Impossible Teriyaki Romana Pizza and two Coke cans.
From now till 25 April, this feast for two is available for $39.38 (20% off usual price) on PizzaExpress Islandwide.
Good Food People by SaladStop!
Available on Deliveroo Islandwide, the online marketplace was established by SaladStop! to make plant-based food options convenient, accessible and fun. Choose from over 130 products, ranging from essential ingredients, sauces and plant-based alternatives to meal bundles.
Best-sellers include Chickpea patty, Falafel, Kung Pao Heura Chicken and Beyond Italian Meatballs, ranging from $3.90-$15.80.
Spizza – Pizza Primavera Superfood Pizza (with eco-friendly packaging)
Pizza restaurant chain Spizza has introduced their own take on a classic Pizza Primavera using the colourful superfood, beetroot. This dish is sure to be a feast for the eyes and taste buds, with healthy toppings of asparagus, egg and tomatoes. For that added fun for children, Spizza also uses Pasta straws at dine-in outlets and eco-friendly kraft packaging for takeaway and delivery.
The Pizza Primavera (12") is made with beetroot dough, homemade tomato sauce, mozzarella, beetroot slices, asparagus, hard-boiled egg, feta cheese and mixed cherry tomatoes.
From now till 30 April, order this creation for $26.50 at all Spizza outlets on Deliveroo exclusively.
Singapore Staycations: Just $2.12 for a fishing experience staycation for two at RM hotel!
Live out our Earth Month pledge to protect the environment in April and beyond. In the months to come, you can also consider avoiding single-use takeaway packaging by opting in for barePack reusable containers at over 50 participating restaurants on Deliveroo, the next time you place an order for delivery or pick-up.