Subway Singapore is now offering four fresh vegetable toppings that guests can add to their favourite Subway orders. Introducing Sweet Corn, Shredded Carrot, Mixed Capsicum and Shredded Beetroot.
Subway's new Everyday Subs are rolling out right now. Gain more through the week with a fresh flavour each day:
Egg Mayo Mondays
Chicken Teriyaki Fridays
Roast Beef Tuesdays
Meatball Marinara Saturdays
Tuna Wednesdays
Chicken Bulgogi Sundays
Roasted Chicken Breast Thursdays
Moreover, Subway's Everyday Value Meal is offering the one and only Veggie Delite – available every day. With purchase of these Everyday Subs, guests will receive 1 six-inch sub and 1 sixteen-ounce drink of choice.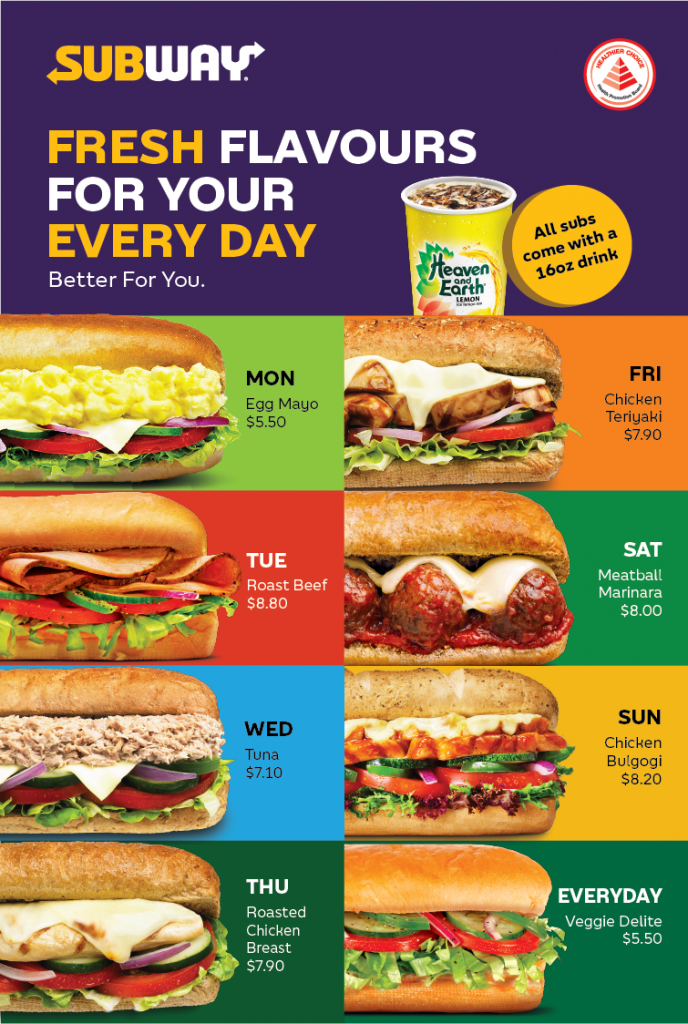 Singapore Staycations: Just $2.12 for a fishing experience staycation for two at RM hotel!??
Sub with Your Name On It – Subway Singapore's Social Contest
For a limited time only, Subway guests can stand a chance to win yummy meal by purchasing a Make Me A Sub meal!
In the coming weeks, Subway Singapore will post an Ingredient Alphabet List – guests can use letters of their name which correspond to different ingredients to build a sub with their name on it!
To qualify for the contest, guests will have to:
Take a picture of their #MakeMeASub sub
Tell Subway the name and the ingredients in the sub
Tag #MakeMeASub and #BetterForYou
Subway guests with craziest combos stand a chance to walk away with a free meal of their choice!