We're just days away to Singapore's first ever IT Show Festival 2021 happening across our partners' online and selected physical retail stores islandwide from 11 – 21 March 2021!
Showcasing an exciting line-up of new product launches and the hottest tech and gadget deals of up to 50% off, the digital brochure will allow shoppers in Singapore to be privy to the over 20 participating brands, retailers and partners. Here are some of the best deals you can find:
ASUS ZenBook Duo 14 (UX482) – $2,598 (new product launch price)
Philips 55 OLED 805 – $3,199 (new product launch price)
Lionsforge CRAFTLASER – $5,199 (new product launch price)
Secretlab OMEGA Stealth – $469 (U.P $499)
Skullcandy Push True Wireless Earbuds – $59 (U.P $195)
iPhone 12 mini 64GB/128GB/256GB – from $1,149
Lenovo YOGA S7(14″) 82A2008TSB Laptop – $1,399 (U.P $1,798)
HUAWEI WATCH GT 2E – $148 (U.P $218)
iRobot Roomba e5 – $888 (UP $1,318)
Mobot Nakxus NF1 – $1,399 (U.P $1,899)
Singapore Staycations: Just $2.12 for a fishing experience staycation for two at RM hotel!??
Shoppers can also bookmark their favourite purchase items ahead of the shopping festival. Here are the event details:
11 – 21 March 2021
Happening Online and Offline
Official hashtag: #ITShowFestival2021
Spend and Win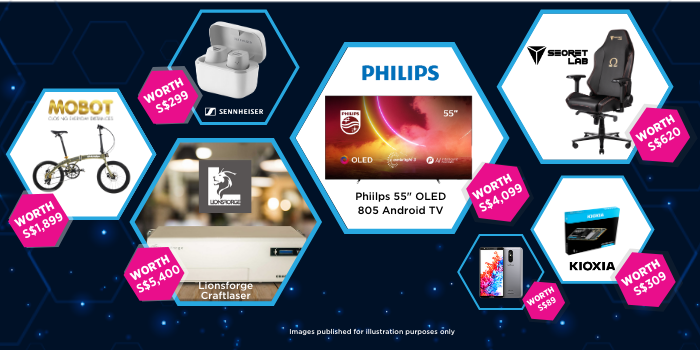 Not to be missed is the "Spend and Win" lucky draw where shoppers can stand the chance to win more than S$15,000 worth of attractive prizes at no minimum purchase. Prizes include a Philips 55″ OLED 805 Android TV, SecretLab OMEGA Stealth Chair, Sennheiser CX400BT True Wireless Earbuds, and many more.
Even more exciting is the opportunity for shoppers to double up their lucky draw chances either by paying with an AMEX (American Express) credit card, or by signing up for a new and/or re-contracting with StarHub services.
Shoppers can register for the "Spend and Win" lucky draw here.
For those looking to trade-in or repair your old tech devices, gaming consoles and game titles, IT Show Festival 2021 has got you covered. Get an instant quote within minutes here.