Are you looking for a romantic place in Singapore to spend Valentine's Day? Look no further. You can get the best of all worlds in one single romantic spot to make your Valentine's Day one for the books. Visit CHIJMES.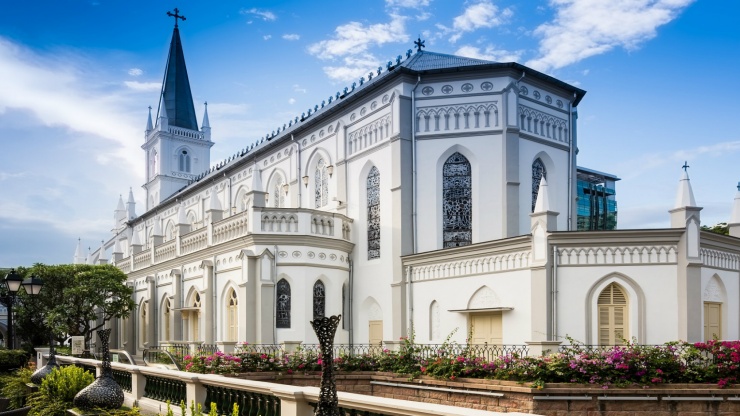 Image Courtesy of Visit Singapore.
Although this historic building was once a Catholic convent, there is a reason why the 'Crazy Rich Asians' movie shot their wedding scene in its chapel: the place looks romantic and magical at first sight. That aside, though, there is also a slew of things to do at CHIJMES that can keep you and your date entertained for however long you plan your date on taking.
Cafés at CHIJMES
Is your date taking place in the morning? Do you simply want to have some brunch or afternoon coffee or tea? Perhaps you'd like to have some coffee after dinner? Take your date to CHIJMES and sip on a cup o' joe at our top picks for a memorable Valentine's Day:
1. The Glasshouse

Image Courtesy of The Shelter Company.
As if CHIJMES in itself wasn't breathtaking enough, The Glasshouse offers an Instagram-worthy venue with its minimalist furniture, lush plants, and floor-to-ceiling windows. Pair their specialty coffee with some classic toast.
2. Hvala
If your tea prefers coffee over tea, visit Hvala. They have an extensive list of teas that you can pair with their ice cream or cakes. The minimalist zen decorations will also help you relax and put your mind at ease.
3. Privé

Image Courtesy of Tripadvisor.
If the weather is good, consider visiting Privé so you can sit outside and enjoy the atmosphere as you have your coffee. This is also a good option if your date is vegan as they have a nice selection of plant-based foods from appetizers to desserts that they are sure to appreciate.
Restaurants at CHIJMES
Planning to have a proper meal with your date on Valentine's Day? Whether you plan on dining in for lunch or dinner, take your pick from our favourite restaurants at CHIJMES.
4. The Winery

Image Courtesy of Tripadvisor.
Whether you want to enjoy an outdoor ambiance or dine in some classy interiors, this Spanish tapas restaurant offers good food with a twist, as well as strong alcohol if you are drinkers. Although a bit on the pricey side, it's Valentine's Day – so you have the excuse to splurge!
5. Whitegrass Restaurant

Image Courtesy of Tripadvisor.
For Instagrammable food and an unforgettable dining experience, Whitegrass is the place to dine. Not only is the food stylishly presented, but everything tastes great, too. Expect French cuisine with Japanese techniques and cocktails, as well as exceptional service.
6. Ashino

Image Courtesy of Ashino.
Love Japanese food? Ashino offers a curated dining experience with flavours that will blow your mind. Dubbed as one of the best omakase in Singapore, every dish here is delicious. They also specialise in aged sashimi, which can be hard to find in Singapore; so make sure to try that out, too.
7. Dome Dining at CHIJMES

Image Courtesy of Time Out.
Did you know that you can now enjoy a meal in a private dome at CHIJMES, as well? If you have dinner plans, this is definitely the ultimate way to spend Valentine's Day. Enjoy good food as you dine under the stars and enjoy the lush greenery all around you.
This magical installation is filled with lights and is absolutely picture-worthy with its stunning backdrops. Spending Valentine's Day here is a date your loved one won't soon forget! Make sure you book ahead, though. We're sure everyone is eyeing these domes for their Valentine's dates.
8. Instagram Spots at CHIJMES

Image Courtesy of Perennial Real Estate.
As mentioned earlier, CHIJMES in itself is magical at first sight. Whether you want to take photos of the area or with you and your date in them, you definitely won't run out of places to take Instagram-worthy shots here. Stroll around the entire area and you will find spots at every nook and corner to take Valentine's photos at to keep the memories of the day alive.
Top tip: Bring a monopod or a tripod with you so you won't have to ask random strangers to take photos for you.
Since CHIJMES is conveniently located within Singapore's city area, you can take the bus or metro to get there or take a taxi at any time. The place is open 24 hours, but we'd highly recommend making reservations for dining since people in the mood for romance will definitely be eyeing CHIJMES for their Valentine's dates.
CHIJMES is located at 30 Victoria Street, Singapore.