RVs are great for spending quality time with your family and going on camping trips to enjoy nature comfortably. However, buying an RV can be a little too pricey for some people. Fortunately, there are many ways you can enjoy the comfort of a family RV without having to purchase an expensive one, and this is what we are here for. Our guide introduces you to some of the ways in which anyone can use an RV without having to burn a hole through their wallet, including renting or remodeling an old RV that you have in your garage.
When it comes to looking for a suitable recreational vehicle, you don't have to spend as much money as most people think. Depending on what suits you better, you can always opt for a used option, which is way cheaper than a newly purchased RV. Another option is renting an RV for the time that you are going to be using it.
If you already have an old RV sitting in your garage that you haven't been using for a while, you can always revamp it and turn it into a brand new RV ready for use. In all cases, these options require a bit more effort than what it takes to simply buy the latest vehicle.
1. Renovating The Interior of An RV
Most of the time, people would refrain from using their old RVs because of how dull and cramped the inside of their vehicle is. This is usually due to the simple paint jobs done to the interior furniture and walls that can make any area look smaller than it actually is. You would be surprised by how much change you can make to the inside of your old RV by simply investing in new wallpapers or painting the kitchen in a brighter color. You may also want to paint the bathroom walls and buy new, more radiant sheets for the RV beds. This will make it feel like you have more space inside and will give your old RV a brand new fresh look.
2. Renting An RV
Before renting the perfect RV, you need to become familiar with the types of RVs and their sizes to decide on the best option for you and your family. If you are using it with a large number of people or with a family of more than four members, you will need to look for Class A Motorhomes that come with the largest internal space and can fit up to five people comfortably. The RV experts over at https://www.thewanderingrv.com/cheap-rv-rentals explain how you can find the best options at the lowest rent prices. However, you need to know that the rental price of the RV you choose is very important, considering you will also need to pay a security deposit in most cases. However, this deposit will be refunded to you once you return the RV in the same condition.
3. Renovating the Outside of An RV
Some campgrounds refuse to let you park your RV on their site if it looks old, neglected, or deteriorated. You wouldn't even like to drive in an old RV that looks worn out by time for the same reason. This is why most people would just buy a new one. The good news is that you can easily transform your RV into a brand new one with some fresh paint. Painting the outside of your RV and giving it a new shiny layer can cover any scratches on your vehicle and turn it into an entirely different RV that looks good as new.
4. . Changing the Floor of an Old RV
One reason for throwing away an RV or avoiding using it might be how old the vehicle floors have gotten and thus not being ideal for regular use. This can be resolved easily by replacing the hardwood on the floors or buying new carpets instead of your old tired ones. This will not just make your RV more functional, and it will also give it a new look and allow you to take it out of your garage and use it again without having to look for a new one. Most RVs can simply be repaired and used again rather than be replaced and costing you thousands of dollars. You just need to identify the problems within your RV to fix them.
5. Buying A Used RV
If you don't have an old RV to revamp or if you don't want to rent an RV for temporary use, a very good and cheap idea is buying a used RV. This will let you own one and be able to use it whenever you need and for as long as you need to. However, buying a used RV is not as simple as buying a new one that comes with a warranty and guarantee of quality. When looking for a used RV, make sure that you take a look at it first before paying the price so that you can detect any problems that might go overlooked. You will need to check the roof of the vehicle and its interior to make sure that there are no bends, leaks, or mold signs in any of the corners.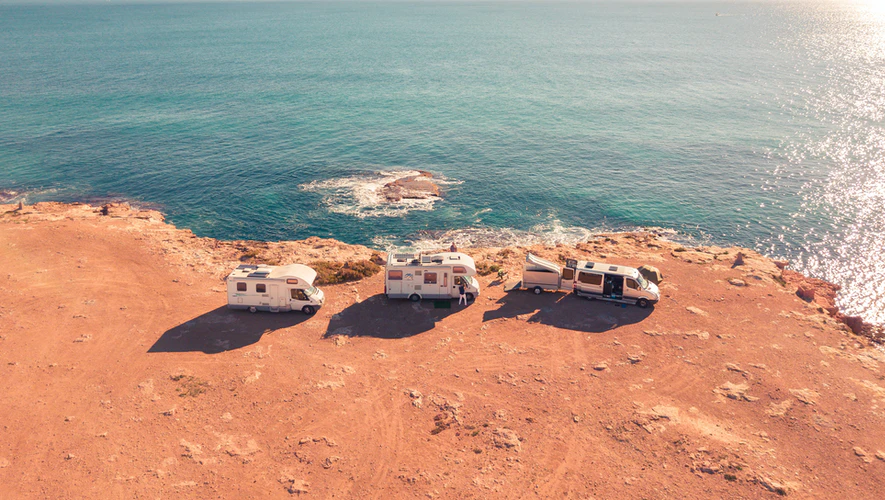 6. Buying a Used RV Online
Instead of looking around you for RV users or for brick-and-mortar dealers that sell used RVs, you can do your research online and find many online stores and websites that offer used RVs for sale. You can also find other users on multiple platforms that are ready to sell their old RVs for a reasonable price. Of course, you will have to test the RV first before making the purchase, but this will not be a challenging task after finding a trusted seller that can offer you a good price.
RVs are the best when it comes to taking vacations or traveling to natural campsites with your family. They provide you comfortable accommodation when you are visiting a place where you can't book a hotel room or find accommodation to stay for a few days and enjoy nature. They also provide a fantastic way of bonding with your family and spending time with them by doing something different and enjoying outdoor activities. If you manage to find a good deal for either purchasing or renting an RV, you will earn yourself a great chance of enjoying your holidays outdoors and spending more time with your family.