From 25 January, DBS/POSB customers will be able to obtain new and good-as-new notes for Chinese New Year (CNY) at more locations across Singapore. The bank will also open up more reservation slots for new notes exchange so customers can still access new notes services.
Branch walk-ins for new notes withdrawal and exchange services will be restricted to only customers aged 60 and above, and customers with disabilities. All other customers will need to secure a slot via DBS' online reservation system prior to visiting a branch for these services.
DBS/POSB will double the number of online reservation slots this CNY to accommodate more customers. Dedicated new notes collection hours for customers with reservation slots will also be extended to two hours per day, up from one hour per day.
The online reservation slots will be organised by two timing windows, with reservation periods commencing on 18 January for the first window and 24 January for the second. Collection of new notes will then begin on 25 January and 1 February respectively. To ensure as many customers as possible are able to access the service, each customer will have a maximum of one reservation slot.
Window #1
Reservation period: 18 – 23 January
Collection period: 25 – 29 January
Window #2
Reservation period: 24 January – 5 February
Collection period: 26 January – 10 February
Reservations must be made at least two days before collection date, e.g.: If you reserve a slot on 26 Jan, your earliest available collection date will be on 28 Jan.
Customers will be able to choose from denominations of SGD 2, SGD 10 and SGD 50 via the online reservation system, as well as their preferred date, timing and branch from which to collect their new and good-as-new CNY notes. To reserve a slot, visit here.
61 POSB new notes ATMs and self-service touchpoints
This CNY, 61 ATMs disbursing new and good-as-new notes will be available across 41 locations island-wide – up significantly from last year's 40 ATMs across 20 locations. This includes 40 POSB new notes pop-up ATMs, which have become a CNY mainstay since their introduction in 2015.
For the first time, DBS/POSB will also be converting 21 existing ATMs across select self-service branches to service customers' needs for CNY new notes. These 21 self-service touchpoints will be dedicated to disbursing new and good-as-new notes this CNY.
From 25 January to 11 February (CNY eve), all 61 POSB new notes pop-up ATMs and self-service touchpoints will be operational from 10 AM to 10 PM daily (10 AM to 1 PM on 11 February). Each customer is limited to three withdrawals throughout this period.
Customers will be able to withdraw new notes in sums of:
SGD 100 (SGD 2 x 50)
SGD 300 (SGD 10 x 30)
SGD 500 (SGD 50 x 10)
SGD 600 (SGD 10 x 20 + SGD 50 x 8).
To help customers avoid crowded areas, DBS/POSB has revamped its new notes ATM map locator to include guidance on estimated wait times at each location.
Please visit here to view the full list of POSB new notes pop-up ATMs and self-service touchpoints  
DBS/POSB CNY 2021 red packets
This year's red packet contains an inspirational quote and can be upcycled into a gift card. Starting 25 January, customers can obtain DBS/POSB red packets at DBS/POSB branches or POSB new notes pop-up ATMs.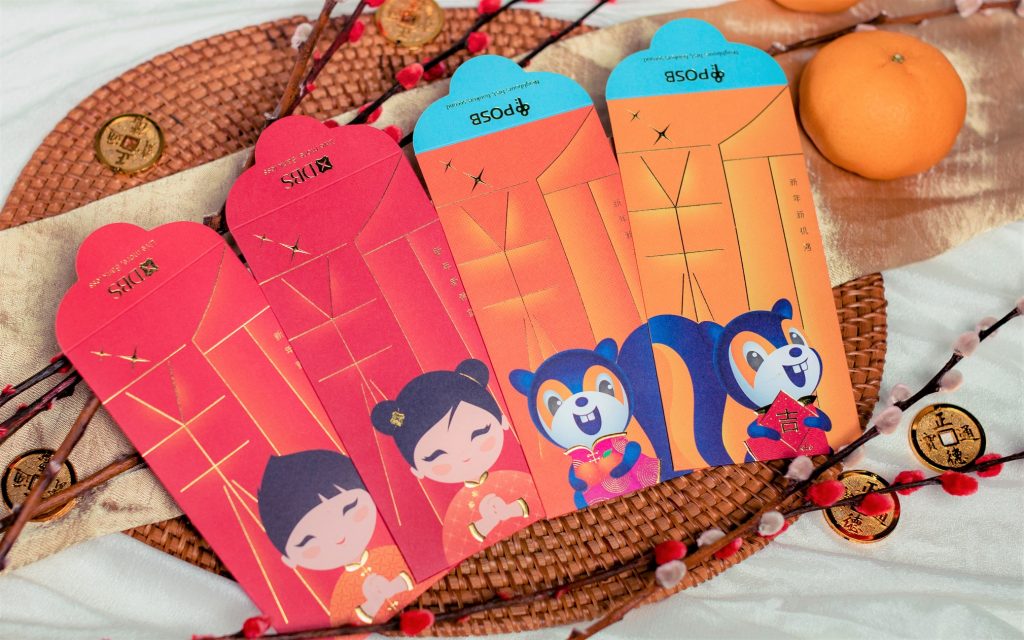 DBS QR Gift and DBS eGift
Customers can beat the queues for CNY new notes and enjoy contactless, hassle-free gifting with digital alternatives such as the DBS QR Gift and DBS eGift.
Hosted on DBS PayLah!, the DBS QR Gift and DBS eGift serve as safer, more convenient and sustainable alternatives to new notes. Customers can also avoid the hassle of queueing for new notes, freeing themselves up to prepare for the festivities.
To use a DBS QR Gift card, customers simply need to:
Ccan its QR code via DBS PayLah! to load their desired cash value
Gift it to a recipient for redemption via DBS PayLah! or PayNow.
DBS QR Gift cards can be collected for free at all DBS/POSB full-service branches and DBS Treasures Centres starting 11 January, and at POSB new notes pop-up ATMs starting 25 January.
DBS eGift, on the other hand, is a fully digital way to gift. Customers can send a virtual red packet from the safety and comfort of their homes by tapping on the 'eGift' icon in the DBS PayLah! app and indicating their preferred amount, along with their preferred message, photo, and animation.
For more details on DBS' digital gifting alternatives, visit here.
In line with DBS' commitment to sustainability, customers are encouraged to drop off their used red packets and DBS QR Gift cards at DBS red packet recycling bins, located at all DBS/POSB full-service branches.
The recycling bins are available all year round so customers can also recycle used packets and DBS QR Gift cards from other festive occasions such as Hari Raya and Deepavali, or special occasions such as weddings and birthdays.