Night Safari celebrated another successful breeding of the Malayan tapir, which is listed as endangered on the IUCN's (International Union for the Conservation of Nature) Red List of Threatened species.
The park's thirty-first Malayan tapir calf was born on 25 July this year and has been named Sutera (which means silk in Malay). The stripy and spotty female calf is also the fourth generation of Malayan tapirs to be born at the world's first nocturnal wildlife park.
The Malayan tapir, also known as the Asian tapir, is the largest of the five species of tapir, and the only one native to Asia. In the wild, these elusive rainforest dwellers are under threat from natural predators, including leopards and tigers, as well as hunting and deforestation due to farming and logging.
Sutera's mother, 15-year-old Karthi is an experienced mom, with four births to her credit. All her babies were sired by 22-year-old Ulu Kelang. This latest addition to the collection tipped the scales at 7.4kg at birth and has steadily progressed to a healthy 51kg in the past two months.
At birth, baby Malayan tapirs sport a distinctive black coat with a smattering of white spots and stripes, making them look like black and white watermelons. These markings enable them to blend well with the dappled forest floor in their native Southeast Asia. Over the first six months, this pattern will gradually transform to the unique black and white marking of adult tapirs.
Sutera is still bonding with mom at a back-of-house area and will only make her public debut when she is a little older and more confident of wider spaces. She used to follow mom around all the time until she discovered her rubber pool, which keepers used to introduce her to water. She has since graduated to the bigger communal pool and is often spotted playing in the water by herself while mom goes off to eat or exercise. Tapirs are water-loving creatures and adept swimmers. When pursued by predators in the wild, they will often escape and seek refuge in the nearest body of water.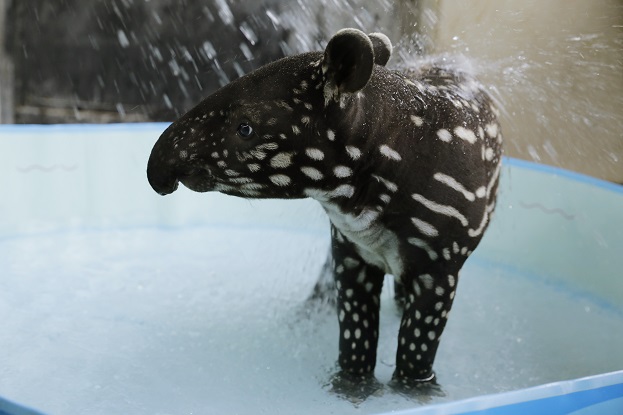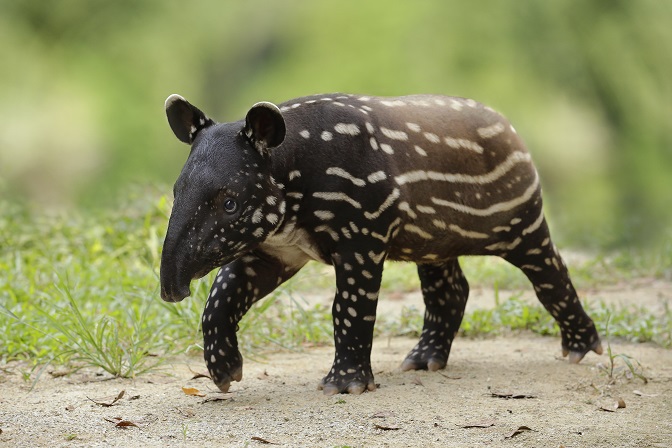 Her keepers also spend as much time as possible with her, giving her invigorating rubs on her belly, neck and thigh which not only promote the bonding process but also serves to start the process of conditioning her for medical examinations in the future.
Night Safari is home to two male and seven female tapirs, while another two female tapirs are housed in Singapore Zoo. The animals, cared for by Wildlife Reserves Singapore, are part of a regional conservation breeding programme (SEAZA Species Management Programme – SSMP).
Since 1991, a total of 14 tapirs from Night Safari and Singapore Zoo have been sent to other zoological institutions to boost the population under human care. Recipient countries include Australia, China, Denmark, Malaysia, Netherlands, Spain, the United Kingdom and the United States.