We are bringing you live updates from Munich, Germany, where Huawei held its Mate 30 Series Global Launch Event today to unveil its latest flagship smartphones.
Huawei Mate 30 Series Global Launch Event at Messe München
The series is aptly themed "Rethink Possibilities"—very fitting for Huawei and Huawei users, considering that the Mate 30 and Mate 30 Pro will no longer have access to Google Mobile Services and will be launching their own Huawei Mobile Services. But the Mate 30 and Mate 30 Pro have stepped up to the plate with numerous upgrades on Huawei's existing flagships and completely new features that we've never encountered before on smartphones.
In fact, with camera advancements that rival professional video cameras, intuitive AI sensibilities, and a side-touch interaction feature that replaces physical buttons, we think Huawei might actually have hit on some game-changing developments with the Mate 30 Series. Check out everything we're getting with the new phones below:
The Huawei revolution, from photography to videography
It feels like we've been thoroughly spoilt by Huawei and their Leica camera systems by now, but the Mate 30 Pro takes it further than even the show-stopping P30 Pro, which we first saw in March this year.
Three of the rear cameras from the P30 Pro have been retained for the Mate 30 Pro, namely the 40MP SuperSensing Camera (low-light), 8MP Telephoto Lens (zoom), and 3D Depth Sensing Camera (bokeh). The kicker is that last camera.
Building on the success of its SuperSensing Camera, Huawei has replaced the 20MP Ultra Wide Angle Lens on the P30 Pro with a 40MP Cine Camera on the Mate 30 Pro. It's the first smartphone camera to provide ISO 51200 Ultra Low-light Video, 7680fps Ultra Slow-motion Video, and 4K Ultra Wide-angle Time-lapse video.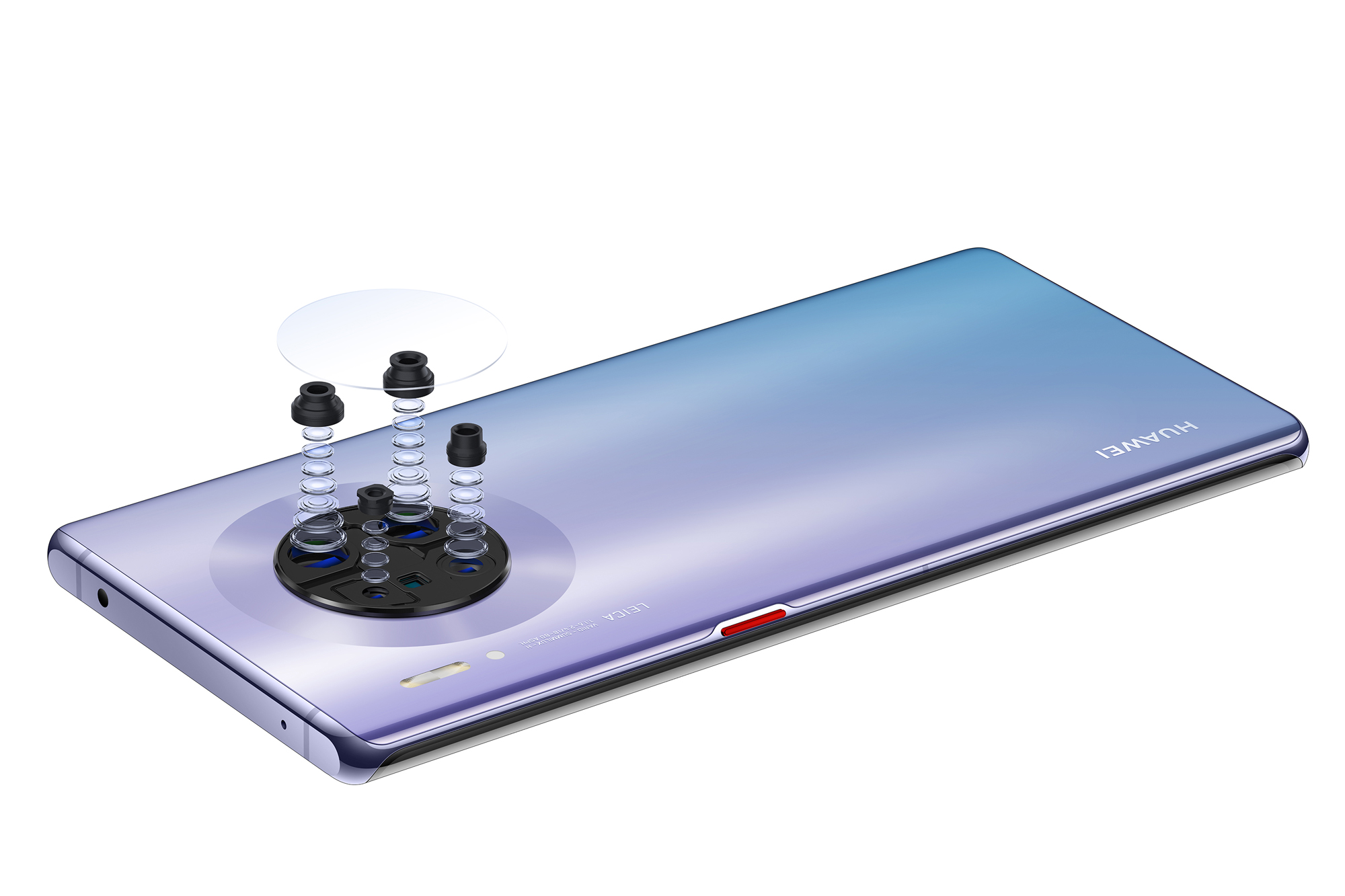 Mate 30 Pro with Leica Quad Camera System
That's a long jumble of specs, but here's what it means: Currently, we're able to capture handheld low-light or night photos in stunning clarity—thanks to that SuperSensing Camera—but we don't have the option to do that with videos. The Mate 30 Pro is promising us these results, along with the amazing photography we already know it's capable of, even in video form.
That's already quite a feat in itself, but what we were most amazed by is that the Mate 30 Pro will record your slow-motion videos at a mind-boggling 7680 frames per second. The slowest slow-motion video you can take on the P30 Pro, for comparison, records at 960fps. How crazy is that?
The Mate 30 won't be providing the same capabilites, but definitely holds its own, featuring the exact same triple camera set-up as the renowned P30 Lite: 40MP SuperSensing Camera, 16MP Ultra Wide Angle Lens, and 8MP Telephoto Lens.
For the selfie lovers, the Mate 30 uses a 24MP front camera like its Mate 20 predecessors, while the Mate 30 Pro follows in the footsteps of the P30 Series with a 32MP front camera. Both also deliver bokeh effects for selfies and portraits with their 3D Depth Sensing Camera.
Besting their own battery life and performance
Up from the Mate 20 Series and even the newer P30 Series, the Mate 30 and Mate 30 Pro now sport huge batteries of 4200mAh and 4500mAh respectively. Huawei has also upgraded its reverse wireless charging capabilities which were first introduced in the Mate 20 Series.
What's more, the Wireless Huawei SuperCharge is now available at 27W, another improvement from the previous 15W. The Wired Huawei SuperCharge remains as reliable as ever at 40W, and both wired and wireless in-car charging are now available.
Another big move is the use of the Kirin 990 5G to power the Mate 30 Series. A step up from the Kirin 980 SoC used in the P30 Series, the Kirin 990 is manufactured with a cutting-edge 7nm+ EUV process, with super-fast performance and high-power efficiency. It supports 2G/3G/4G network and 5G Non-StandAlone (NSA) and StandAlone (SA) modes, making the Mate 30 Series the world's first second-generation 5G smartphones.
With an innovative cooling system and new AI thermal management, the Mate 30 Series is also better primed than the previous Huawei smartphones to perceive environmental temperatures and identify surface hot spots. This data is used to personalise thermal management, meaning that you won't get those random shutdowns at low temperatures that other phones may be prone to.
Gorgeous design and display
Huawei continues to impress with their sleek and beautiful colourways for the Mate 30 Series, which will come in Black, Space Silver, Cosmic Purple, and Emerald Green. For the first time ever, the smartphones will also be available in vegan leather, in the Orange and Forest Green colours.
Huawei Mate 30 colours
The Mate 30 measures at 160.8mm x 76.1mm x 8.4mm (9.2mm for Vegan Leather versions), and the Mate 30 Pro slightly smaller at 158.1mm x 73.1mm x 8.8mm (9.5mm for Vegan Leather versions). Both are pretty light, just below 200g, and easy to hold in one hand.
Similar to the Mate 20 Series, the camera systems for both phones are housed in the centre rather than on the left like in the P20 and P30 phones. However, Huawei has gone for a ring design rather than the rounded square of the Mate 20 phones, which we personally feel makes a huge difference in the look of the phone.
Huawei Mate 30 in Emerald Green, a dual-focused skin with a gradient colour change
The metallic "halo" surrounding the camera array, which matches the phone colour, creates a much more natural and balanced aesthetic.
Both phones feature an OLED Display at 6.62in for the Mate 30 and 6.53in for the Mate 30 Pro. The space-maximising Huawei Horizon Display on the Mate 30 Pro, curving at 88—almost 90—degrees, gives you an immersive viewing experience from edge to edge.
Huawei Mate 30 Pro's Huawei Horizon Display
Huawei has also cut out the volume rocker on the side in favour of an extremely unique Side-touch Interaction feature which allows users to customise the positioning of virtual volume and camera shutter buttons.
Using the Huawei Mate 30 Pro's Innovative Side-touch Interaction for volume control — observe that it's on the left-hand side
All you have to do is double-tap either side of the Huawei Mate 30 Pro, and the volume controls will show up. More than simply enhancing customisation, it's perfect for left-handed users who often have to deal with products made for right-hander ease of use.
During one-handed use, you can also shift the virtual shutter button in the camera app from edge to edge.
Adjustable camera shutter button which can be shifted across the screen
With the Horizon Display, Side-touch Interaction, and Huawei Acoustic Display Technology, the Mate 30 Series presents one of the most integrated touchscreen designs out there right now. Both the Mate 30 and Mate 30 Pro are Splash, Water, and Dust Resistant, rated IP53 and IP68 respectively.
Futuristic user experience within and across devices
The Mate 30 and Mate 30 Pro will both come equipped with EMUI 10.0, which boasts a whole slew of improvements and new features—including the cross-device usability for both consumers and developers Huawei established in their Harmony operating system (OS), launched in August.
Instead of being limited to white, the Always-On-Display lock screen now comes with new colour options. Plus, EMUI 10.0 now has a Dark Mode option for those who can't stand bright screens. There's also the aforementioned side-touch interaction to customise virtual buttons that suit both right and left-handed users.
More interestingly, as teased at its Harmony OS launch, it will include HiCar smart travel for cross-device connectivity between the mobile device and a car's communication and entertainment system, as well as Multi-screen Collaboration where users can transfer data and control multiple screens across devices.
With this cross-device experience, Huawei has announced partnerships with Gimbal and Osmo Mobile 3 that will complement its products. There will also be added data security and privacy protection, including an advanced In-Screen Fingerprint sensor, which will unlock the phone faster than ever (within 0.5 seconds), and Huawei 3D Face Unlock.
Other features include privacy protection from app tracking and phone-to-cloud end-to-end encryption. EMUI 10.0 will feature the CC EAL5+ certification, the world's first commercialised and aviation-level of security and protection for its microkernel OS.
In addition to other features like 1080p video calls, the Mate 30 Series is introducing advanced AI components such as AI Auto-Rotate, which frees you from the irritation of auto-rotation when you lie down or change positions as the sensors follow your eye movements rather than your phone orientation.
There's also the AI gesture control, which allows you to interact with the screen and control compatible smart devices without touching them.
AI Gesture Control on the Huawei Mate 30 Pro
What to expect from Huawei
The Mate 30 Series surely seems like a promising launch, especially with the Mate 30 Pro's video capabilities and the developments in both contact and contactless interaction. But as we all know, the Chinese tech giant has been through a series of unfortunate events with the US government that have led to major American companies suspending business with them.
Richard Yu, CEO of Huawei Consumer Business Group, confirmed today that Huawei will not be able to pre-install Google Mobile Services (GMS) on the Mate 30 Series, and will be using Huawei Mobile Services (HMS) on the phones instead. It's not clear yet exactly how this will work, but Huawei appears to be undeterred. And with precautions like their own Harmony OS in place, they certainly seem well-placed to forge their own path.
Neither have they stopped any kind of production, as Yu announced that the Huawei Watch GT 2 range, FreeBuds 3, and Huawei Vision are all set to launch in the near future. More information on HMS will be out soon as well.
The Huawei Mate 30 Series will be available later this year at 799€ for the Mate 30, 1099€ for the Mate 30 Pro, and 1199€ for the Mate 30 Pro 5G. Fans can also go for the more luxurious Porsche Design Huawei Mate 30 RS, with a premium handcrafted leather back inspired by racing stripes, at 2095€.
Jan Becker, CEO of Porsche Design, and Richard Yu, CEO of Huawei Consumer Business Group, presenting the Porsche Design Huawei Mate30 RS collaboration
Exact release dates have yet to be confirmed. We'll be back with updates, so be sure to watch this space!
[Update] Huawei Mate 30 Pro vs Apple iPhone 11 Pro Comparision