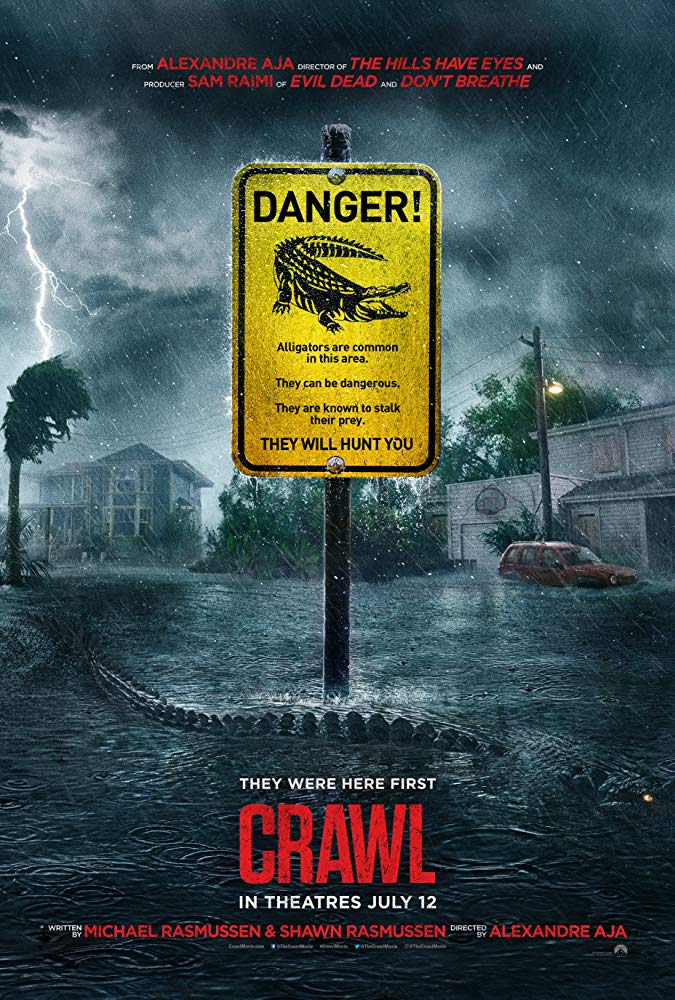 Crawl is the big summer creature feature
The trouble with record breaking blockbusters that top the all-time box office charts, like Marvel's Avengers: Endgame, is that they are so hard to follow. Which perhaps explains why the summer of 2019 has been rather flat when it comes to movie excitement. Instead of the usual flood of blockbusters and summer screamers, we have had a plethora of music-based movies, such as Yesterday and Blinded by the Light, alongside a raft of colourful, yet largely pointless, Disney live action remakes, such as Aladdin and The Lion King. Which makes the arrival of a true creature feature, in the shape of Crawl, a refreshing and welcome change.
Crawl comes to us from director Alexander Aja, maker of Piranha 3D, and producer Sam Rami, who brought us Evil Dead, so you know exactly what to expect. And even if you don't, then the trailer pretty much lays it all out for you anyway. This is not a film that will test your intellect or make you debate the subtle sub-text late into the night. This is a straightforward, no-strings-attached monster movie that knows exactly what it wants to be and doesn't waste any time on anything else.
The plot
The set-up is pretty simple. Hayley, played by Maze Runner's Teresa, Kaya Scodelario, defies all warnings and road blocks to travel into the path of a category five hurricane to rescue her father, played by fellow Maze Runner alumni, Barry Pepper. When she gets there, she finds him injured and unconscious in the basement. With the basement filling with water and at least two hungry alligators on the loose, Hayley and her father seem to have as much chance of surviving as Singapore has of hosting the Asian Games or Carlton have of winning the AFL Grand Final.
The next hour or so is dedicated to the battle between the trapped twosome and their reptilian predators, as they fight to escape both the gators and the ever-increasing storm. Cue heart-stopping swimming races, gut wrenching alligator attacks and lots and lots of teeth and water. It is no surprise who wins out in the end, but it is a rollercoaster ride from the flooded basement to the rooftop rescue.
Short and sweet
It may sound like damning with faint praise, but the best thing about Crawl is its crisply cut run time. At just 87 minutes it is as lean and fat free as the alpha predators that swim menacingly around our heroes. This economy means that the action gets going fast and keeps going right to the end, with no time wasted on feeble sub-plots or valuable lessons about life, and no cheesy epilogue where daddy and daughter sit nursing their wounds and thanking their lucky stars. Using the technique that any good screenwriting class teaches, it arrives late and leaves early, and it doesn't waste any of the time while it's there. (They also save the dog, which as screenwriting guru, Blake Snyder, tells you is the first rule of Hollywood).
Kaya Scodelario is more than a match for the agitated alligators (image by Gage Skidmore CC BY 2.0)
A committed cast
The other element that makes Crawl work is the total commitment of Kaya Scodelario. She is up for anything and keeps the action turned up to ten, while still finding time for a few tender moments with Dad. Rotten Tomatoes says that Crawl 'benefits greatly from a completely game Kaya Scodelario', giving it an 82% 'Fresh' rating as a result. On screen for almost every frame, Scodelario carries the film single-handedly, and it is to her credit that this spurious summer scare-fest feels even remotely credible.
Gators with bite
Credit must also go to the effects team here, who put together some remarkably realistic alligators on what these days is a shoestring budget. Crawl was made for just $13.5m, which to put it in context, was $36million less than the Dora the Explorer movie. Yet the gators are believably scary, agile and vicious, which means the jump scares are not diluted by a laugh at their rubber bodies. Roger Ebert describes them as having a 'gripping believability' and this is crucial to the film's success. By contrast, whoever thought it was a good idea to end this tense drama with Bill Hayley's cheery 'See ya later, alligator' over the titles, should be marched from the building by security with their personal effects in a cardboard box.
Alligators are fine in the swamps but bad news in your basement (image by Unknown CC0)
Nit picking
Despite everything that commends Crawl, it does have a few problems, not least of which is the 'hero survival' issue. Just like in a Bond film, where the bad guys are knocked out with a single punch while Bond takes beating after beating and still fights on, the amount of attacks, bites and savagery that Hayley and her father survive goes beyond mere suspension of disbelief. Hayley is bitten in the leg, has her arm down a gators throat and is spun underwater by her shoulder, yet still remains not only alive and upright, but also strong and mobile. What's more, despite some fairly realistic big-teeth puncture wounds, she never seems to lose any blood. Everyone else who is attacked is dragged under and disappears immediately in a pool of blood, never to be seen again. Of course, as Variety magazine acknowledges, 'it would be foolish to nitpick a movie like Crawl on the basis of plausibility', but even so.
So, does Crawl have bite?
What you get out of Crawl will depend on what you are expecting. This is first and foremost a creature feature, and it sticks firmly to that approach. If you are looking for examinations of man's motives and madness, like you get in Jaws, then you will be disappointed. Jaws may not be about the shark, but Crawl is most definitely about the alligators.
However, if you are looking for a fast, frightening, full-on thriller, in the grand tradition of the summer blockbuster, then you won't go far wrong with Crawl. As Empire magazine says, this is 'a monster movie that never pretends to be anything else – a mindless summer horror diversion'. And for all its flaws and improbabilities, it works well, delivering thrills, chills and swimming skills by the bucket load.