The Mid-Autumn Festival is coming up in a week's time and if you hunting for fun, unique mooncakes to enjoy with your family, friends or loved ones while admiring the full moon and playing with lanterns, here is a curated list from us.
Aroma Truffle's "World's Strongest Truffle Mooncakes" 
This slideshow requires JavaScript.
Truffles and durians have got to be among the most pungent food in the world and Aroma Truffle is offering both of them for their mooncake offerings. The local brand newly launched their truffle snowskin mooncakes this mid-autumn
festival with two varieties that are fully handmade in Singapore:
1. Premium Truffle Durian Snow Skin Mooncake
The mooncakes are filled with 100% rich and creamy Mao Shan Wang flesh and infused with black Italian truffles. This decadent treat is encased in bamboo charcoal snow skin and sprinkled with edible gold flakes.
2. Premium Truffle Chocolate Molten Snowskin Mooncake
At the core of this mooncake is a white chocolate ball filled with oozing truffle chocolate lava. This ball is then covered with chocolate flavoured lotus paste and crunchy macadamia nuts. This artisanal masterpiece is encased in truffle-infused white snowskin.
A box of four truffle mooncakes is priced at $88. You can choose from either of the following options for each box of mooncakes:
4 x Premium Truffle Durian Snow Skin Mooncake
4 x Premium Truffle Chocolate Molten Snowskin Mooncake
2 x Premium Truffle Durian Snow Skin Mooncake, 2 x Premium Truffle Chocolate Molten Snowskin Mooncake
The mooncakes can be purchased at Aroma Truffle's website and at selected venues during this period.
Kam's Roast Goose's Roast Duck Mooncake
This slideshow requires JavaScript.
Made with Kam's Roast Goose's Michelin-quality signature duck, these are available in two variants: Kam's Roast Red Bean Orange Peel Mooncake and Kam's Roast Assorted Nuts with Roast Duck Mooncake.
This unique mooncake is the first-ever roast duck mooncake to be launched in Singapore, with quality assured. Kam's Roast Goose, Hong Kong, has been a Michelin-starred restaurant since 2015. For the health-conscious, the mooncakes are free of preservatives, artificial flavouring and colouring.
They retail at S$68 for each box of four or S$18 for each piece and are available for pre-order at Kam's Roast's outlets at Pacific Plaza and Jewel Changi Airport.
Thye Moh Chan 泰茂栈's Handcrafted Flaky Mooncakes
This slideshow requires JavaScript.
Okay, this is not really new, but Thye Moh Chan's handcrafted flaky mooncakes are my family's perennial favourite as alternatives to the regular snowskin and baked mooncakes.
The brand is famous for their traditional Teochew baked pastries and their handcrafted flaky mooncakes follows the same recipes. Since 1943, the brand has served a loyal following that spans over three generations through creating traditional Teochew confectionary using time-honoured techniques
that have been passed down from veteran pastry chefs to younger successors in the business today.
Synonymous with the brand's signature tau sar piahs, each mooncake features smooth mung bean filling – painstakingly prepared after hours of soaking, steaming, grinding, filtering and temperature controlled cooking. Despite the surge in mooncake demand during the Mid-Autumn season, Thye Moh Chan continues to stay true to the brand's traditional handcrafting technique to create its signature six to seven layers of flaky-skinned Teochew pastry.
This Mid-Autumn, the brand presents a modern twist to its traditional mooncakes by incorporating honey, yuzu peel, melon seeds, condensed milk and milk powder to its signature sweet mung bean filling with new flavour Milky Yuzu 香奶柚子.
Other flaky mooncakes for the season include:
Yam with Salted Egg Yolk 芋泥蛋黄 ($38.80 for four)- 3 days shelf life
Salty Tau Sar with Salted Egg Yolk 咸豆沙蛋黄 ($27.80 for one large mooncake, $33.80 for four) – 14 days shelf life
Sweet Tau Sar with Melon Seeds 瓜子甜豆沙 ($27.80 for one large mooncake, $33.80 for four) – 14 days shelf life
Yuan Yang with Salted Egg Yolk 鸳鸯蛋黄 ($35.80 for four) – 14 days shelf life
Teochew Double Delight 潮州双拼 ($33.80 for four) – 14 days shelf life
Teochew Mooncake 潮州月饼 ($18.80 for one large mooncake) – 14 days shelf life
Mao Shan Wang Durian 猫山王榴梿
These handcrafted mooncakes have a limited shelf-life as each batch is made to order using only premium ingredients.
Guinness-Infused Snowskin Mooncakes
Good news for Guinness lovers who love to infuse beer in their mooncakes. The brand brought back their sell-out snowskin mooncakes for this year's mid-Autumn Festival. The limited-edition goodies are equal parts decadent and delicious and back by popular demand.
This slideshow requires JavaScript.
With its 150 year-rich history, Guinness is no stranger to coupling modern celebrations with traditional influence. Each mooncake is packed with the same great flavour that consumers remember and love from last year – a white coffee flavoured lotus paste, rich Guinness-infused chocolate ganache and a white chocolate infused shell.
This year, Guinness presented their mooncakes in a beautifully crafted 4-piece decorative keepsake box.
You can get your hands on a free limited-edition Guinness-infused snowskin mooncakes set with every purchase of three packs of Guinness Draught (4-can pack) via online retailers such as Redmart, FairPrice Online, Qoo10 and Shopee while stock last.
Bakerzin's boba-inspired Bobba Love Collection
If you like bubble tea, this is the mooncakes to try for this year – Bakerzin's boba-inspired Bobba Love Collection mooncakes!
The collection features the following four new flavours:
Pearl Latte Snowskin Mooncake – latte flavour mooncake with chewy white boba bits
Pearl Yuan Yang Snowskin Mooncake – made with Bakerzin's in-house blend of Arabica beans, relish in the rich coffee aroma and tea fragrance along with chewy white boba bits
Kanten Passion Fruit Mango Grains Snowskin Mooncake – made with all-natural passionfruit paste, sweet mango and kanten jelly
Kanten Matcha Red Bean Pomelo Snowskin Mooncake – infused with Japanese matcha powder, shredded pomelo and soft red beans with kanten jelly
This slideshow requires JavaScript.
The Bobba Love Collection mooncakes retails at S$70 per box of 8 pieces at Bakerzin and are limited to 1000 boxes.
The Marmalade Pantry's The Marmalade Mix Mooncake Gift Set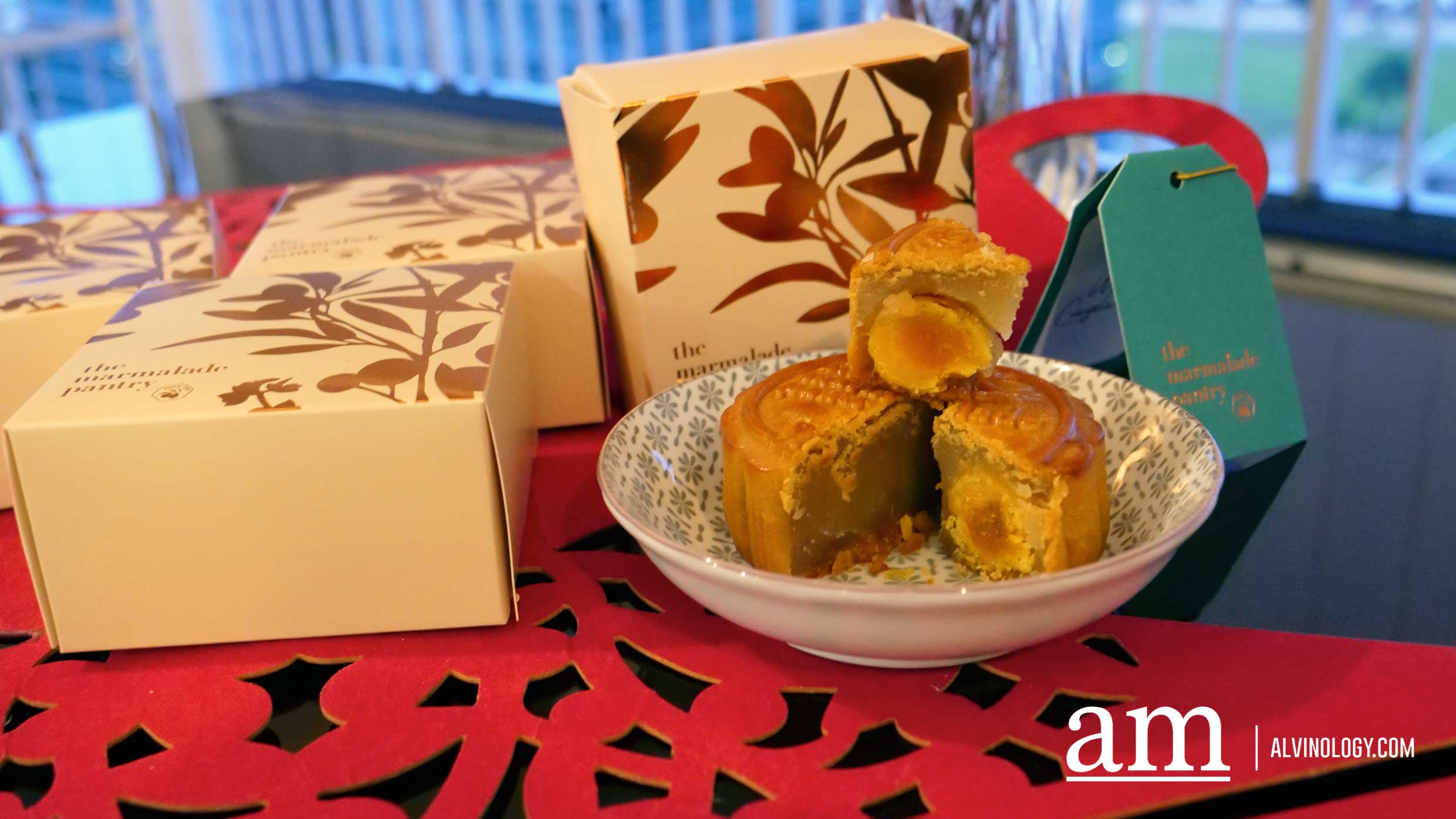 Technically, the mooncakes from The Marmalade Pantry are not exceptionally unique – it's the packaging which they come in that is interesting.
This slideshow requires JavaScript.
Home-grown bistro The Marmalade Pantry celebrates Mid-Autumn festivities with a mix of traditional favourites and modern low-sugar flavours. The mooncakes contain no pork or lard and are available in two gift sets: The Marmalade Mix (S$64 nett), with a piece of each of four new flavours and The Classic Collection (S$68 nett), with four pieces of the Double Yolk with White Lotus Paste Mooncakes.
The Double Yolk with White Lotus Paste Mooncake is a delectable treat with the blissful union of sweet white lotus paste and two savoury salted egg yolks while the Macadamia Nuts with White Lotus Paste Mooncake, adds a satisfying crunch to a classic delight as the creamy low sugar white lotus paste pairs smoothly with Macadamia Nuts.
For a more modern alternative, bite into the Jade Paste with Cempedak Mooncake for a tropical twist to traditional flavours and a low-sugar option. Alternatively, allow the Charcoal Baked Mooncake with Black Sesame and Melon Seeds draw you into guilt-free snacking as you savour the aromatic black sesame mixed with nutty melon seeds.
This year's mooncakes are encased within The Marmalade Pantry Bag, a classic ruby red bag made from PU leather, lined with luxurious red suede. The Marmalade Pantry's signature olive branches grace the bag in the form of gold prints on elegant cut-outs, making the bag an artistic statement to behold with its seethrough design.
The chic reusable bag, made from a single piece of material with no stitching involved, can double up as an everyday bag for the ladies and be stored flat when not in use.
The Marmalade Pantry's 2019 Mooncake Collection gift sets are available at all outlets, including The Marmalade Pantry Petite outlet at SBF Centre and online till 13 September 2019.