Sweep the clouds away with sunny days ahead with the world's first Sesame Street Run Tour making its stop in Singapore as part of its Southeast Asia tour following a successful run in the Philippines earlier this month. Celebrating its 50th anniversary, the Sesame Street Run will make its debut in Singapore on 17 November 2019 at Our Tampines Hub (OTH).
The 50th-anniversary celebrations don't just stop in Singapore. More joy will be spread across to other neighbouring countries such as Malaysia, Thailand and Indonesia when they host their respective Sesame Street Run events in 2020 next year.
Sesame Street Run Tour
Date: 17 November 2019, Sunday
Time: 7 AM – 12 PM
Venue: Our Tampines Hub
The Sesame Street Run has a five-kilometre family run that caters to all ages, from first-timers to experienced runners. Witness the star-studded line up of your favourite Sesame Street characters such as Bert and Ernie, Elmo, Cookie Monster, Grover and more. For families with younger children and grandparents in tow, the run will also have separate three and one-kilometre leisure walks.
Additionally, guests signing up will also get to experience fun activities and themed Sesame Street carnival games and quizzes as well as photo opportunities with their favourite Sesame Street characters.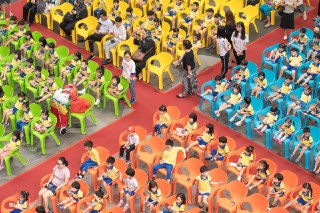 Sesame Street Run ticketing details
The 5-kilometre Sesame Street run offers attractive merchandise with different ticket categories that will have you spoilt for choice. With categories ranging from $42 to $126, each ticket category will come with a myriad of colourful items that will have you squealing with delight such as a dri-fit Sesame Street t-shirt, a Sunny Day's medal, a smart scarf, a pair of socks, a sweatband and more. An e-certificate will also be sent upon completion of the run.