Taiwan's famous fried chicken brand Monga is opening its first-ever outlet at Jurong East Mall in Singapore this September.
The Taiwanese fried chicken chain got its name from the Wanhua district of Taiwan, which is traditionally known as "Monga". The vibrant neighbourhood is Taipei's oldest district and also home to the bustling Snake Alley night market.
The brand is created by Nono, a well-known Taiwanese artist and comedian known for his charm and quick wit. Together with Mingdao Liu, king of Taiwanese Fried Chicken, they created Monga Fried Chicken.
Monga's distinction is defined by its trusted recipe and its extra-thick chicken fillets. Every piece is precisely sliced into a thick slice with a minimum of 2cm. This ensures that the chicken fillet remains firm and satisfyingly juicy even after being deep-fried. Monga uses honey instead of granulated sugar to marinate the chicken meat.
Monga prides itself for its 'Golden Ratio' of flour to meat born out of a lot of thought. Each fillet is coated with the optimum amount of flour before being double-fried to give it its characteristic crust-like crunch with no greasiness.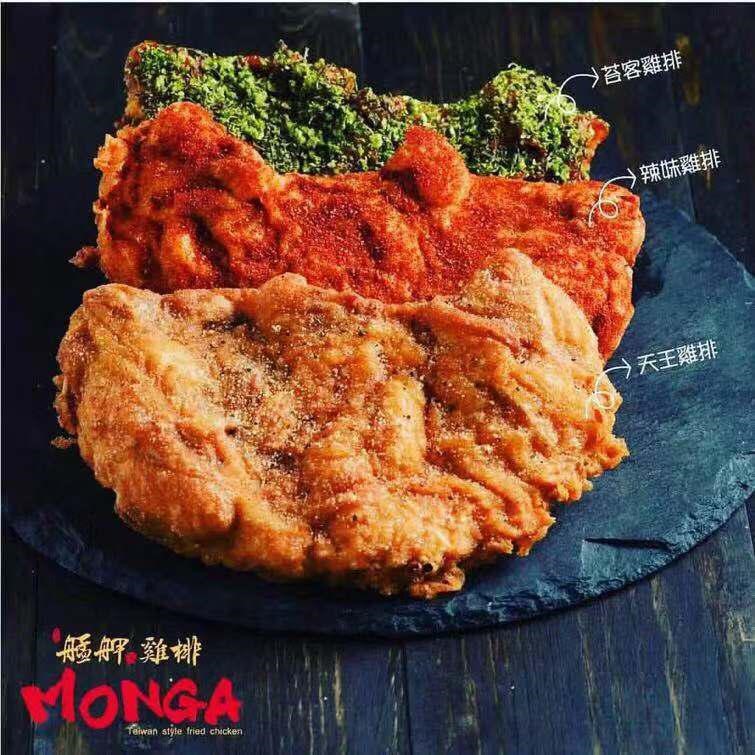 Expect three different flavours of fried chicken fillet in Singapore:
The King – dusted with original salt and pepper seasoning
Hot Chick – dusted with chilli paprika powder hand-made from Anaheim peppers
The Taiker – dusted with Japanese sauce and seaweed powder imported from Okinawa.
To complete the set with a drink and/or fries, choose from different combo upgrades available.
Nono's Monga Fried Chicken is located at 50 Jurong Gateway Road, #B1-K10, Jem, Singapore 608549 and will operate from 11:00 AM – 9:30 PM. Visit Nono's Monga Fried Chicken Facebook page for more info.