The Singapore Sports Hub welcomed more than 23,000 visitors at its third edition of the Sports Hub National Day Fiesta, in celebration of the nation's 54th birthday.
This year's event paid homage to Singapore heritage, through family-friendly sporting activities and festivities that showcased elements of Singaporean culture. From as early as 7:30 AM to 10 AM in the morning, a closed-door Bicentennial edition of the Red-X Challenge session was conducted at the OCBC Square for participants with special needs. From 10 AM onwards, the activity was opened to members of the public.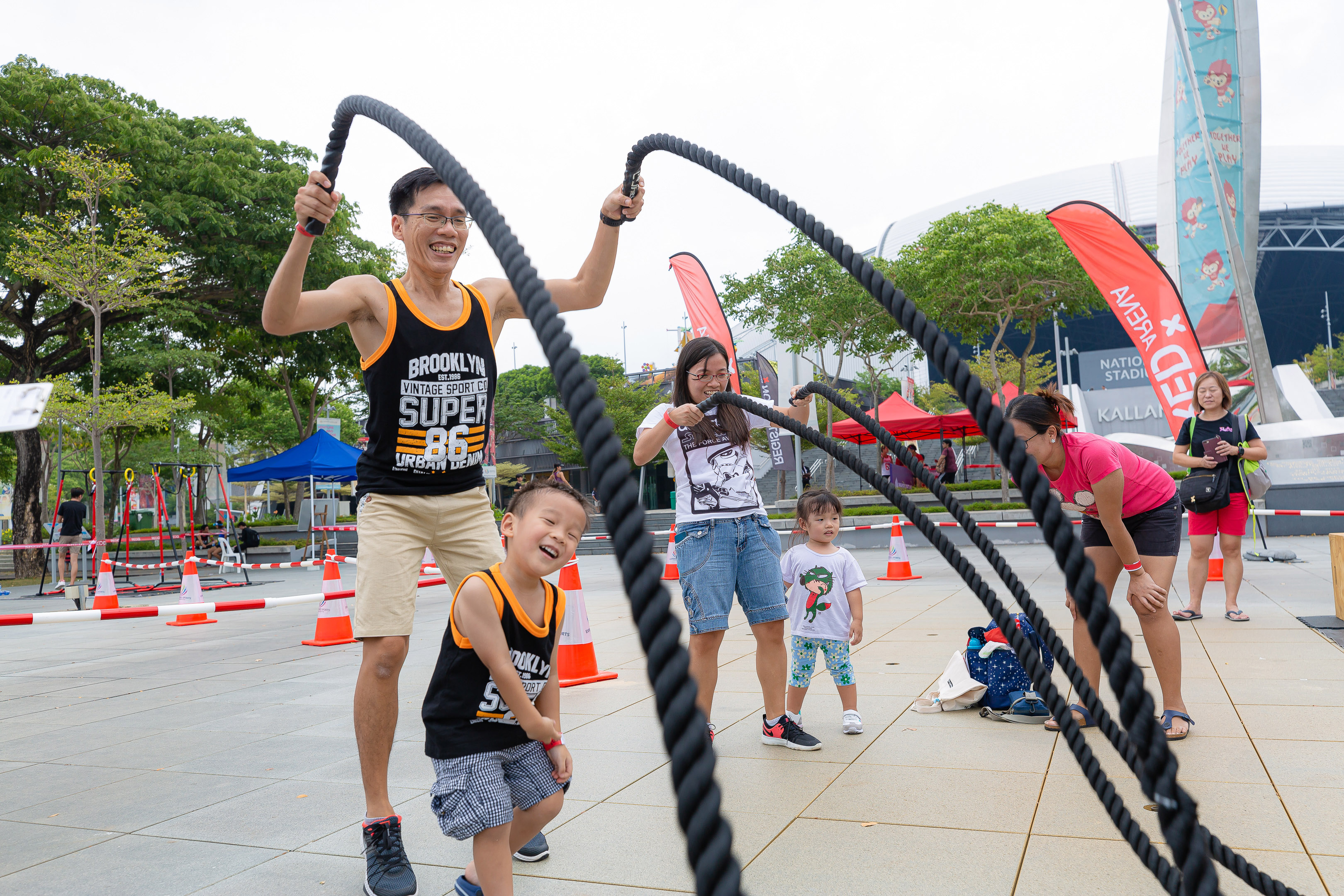 The momentum continued into the afternoon with synchronised fist-pumping and footwork during the Sports Hub Workout Lah!, a cardio-fusion dance programme.
Families streamed in by mid-day and children gravitated to the colourful, multi-station OHANA Games, an activity inspired by Singapore's history and makan culture, among others.
Throughout the day, visitors enjoyed a suite of family-friendly activities which included a number of stage performances and games, face painting, balloon sculpting, family bonding games, craft workshops, a local bazaar and free snacks.
In the evening, an air of patriotism filled the Singapore Sports Hub grounds as visitors sang along to the National Day songs while enjoying the dual-screen live telecast of the National Day Parade at the OCBC Square and along the Stadium Riverside Walk. Visitors also caught the dazzling fireworks from the Padang celebration along the waterfront.
A month of celebration at Singapore Sports Hub
For the rest of August, visitors to Singapore Sports Hub can enjoy three exclusive SG54 packages at a special price of $54:
1-hour Stingray rides for two, Kayak Orientation Programme for two;
or the 30-day Fitness Class Pass for one
Bring home the limited-edition Singapore Sports Hub Otter plushie with any of the SG54 packages or spend a minimum of $80 at any of Singapore Sports Hub's venues (except Kallang Wave Mall).
Visitors can also share their love for Singapore by penning down wishes on the giant 'Love SG' structure located outside Stadium MRT, Exit A. A total of 54 lucky participants will stand a chance to win a pair of Singapore Sports Hub event tickets of their choice, subject to availability.
Singapore Sports Hub is also offering complimentary 90-minute guided Sports, Arts and Heritage Trail tours throughout the month of August, for members of the public to discover Kallang's heritage.
For more information, please visit here.