From 27 September till 31 October 2019, Singapore's largest and award-winning scare event – Universal Studios Singapore's Halloween Horror Nights – will return for its ninth edition. Featuring all-new frights across 16 event nights, fans can experience five haunted houses, two scare zones and two killer shows.
Taking centre stage this year is Curse of the Naga, an original haunted house from the directors of blockbuster Thai horror films Shutter and 4bia. Fans of Asian horror can investigate the mysterious disappearances of teenagers and expect spine-chilling encounters with their darkest fears – from the Langsuir to the Toyol – in The Chalet Hauntings which will feature the most extensive collection of Southeast Asian ghosts in a single house.
Along with haunted houses themed after twisted clowns and creepy dolls, as well as a never-before-seen morbid death metal procession, Halloween Horror Nights 9 promises an even more immersive scare experience like no other.
Inaugural Collaboration with Regional Masters of Horrors behind Shutter and 4bia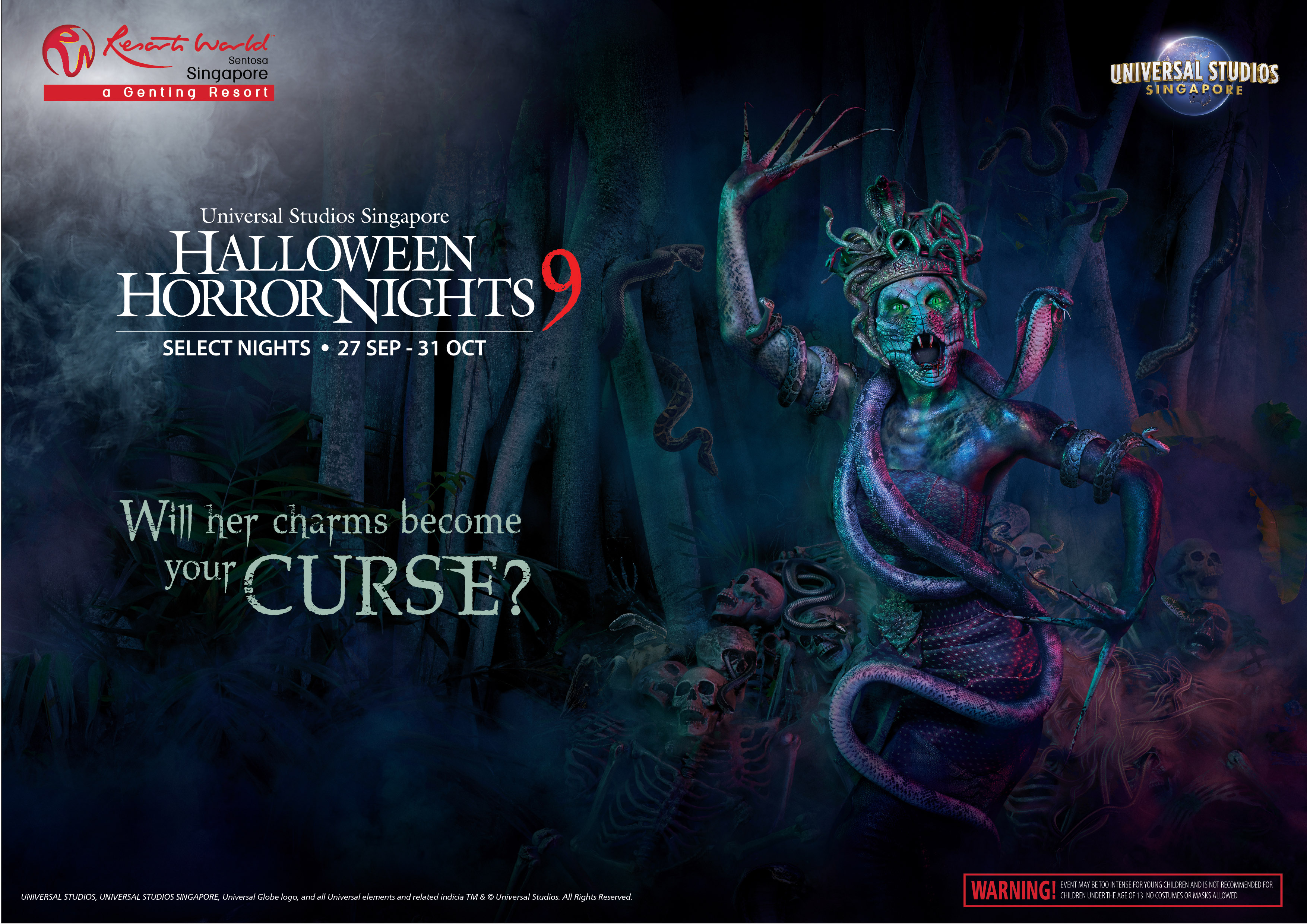 For the first time ever, Universal Studios Singapore embarks on a regional collaboration with two horror film directors in the creation of an original haunted house. Parkpoom Wongpoom and Gunn Purijitpanya, the brains behind blockbuster Thai horror films Shutter and 4bia, along with Universal Studios Singapore's creative teams, will bring to life Curse of the Naga.
Conceptualised since December last year, the haunted house will transport guests from the colourful streets of Bangkok to a lost village that is under the spell of the Naga, a snake spirit. Featuring elaborate landscape design, stunning special effects and original characters, this haunted house will raise the bar for fans of Asian horror.
The Chalet Hauntings Set to Resonate with Local Horror Fans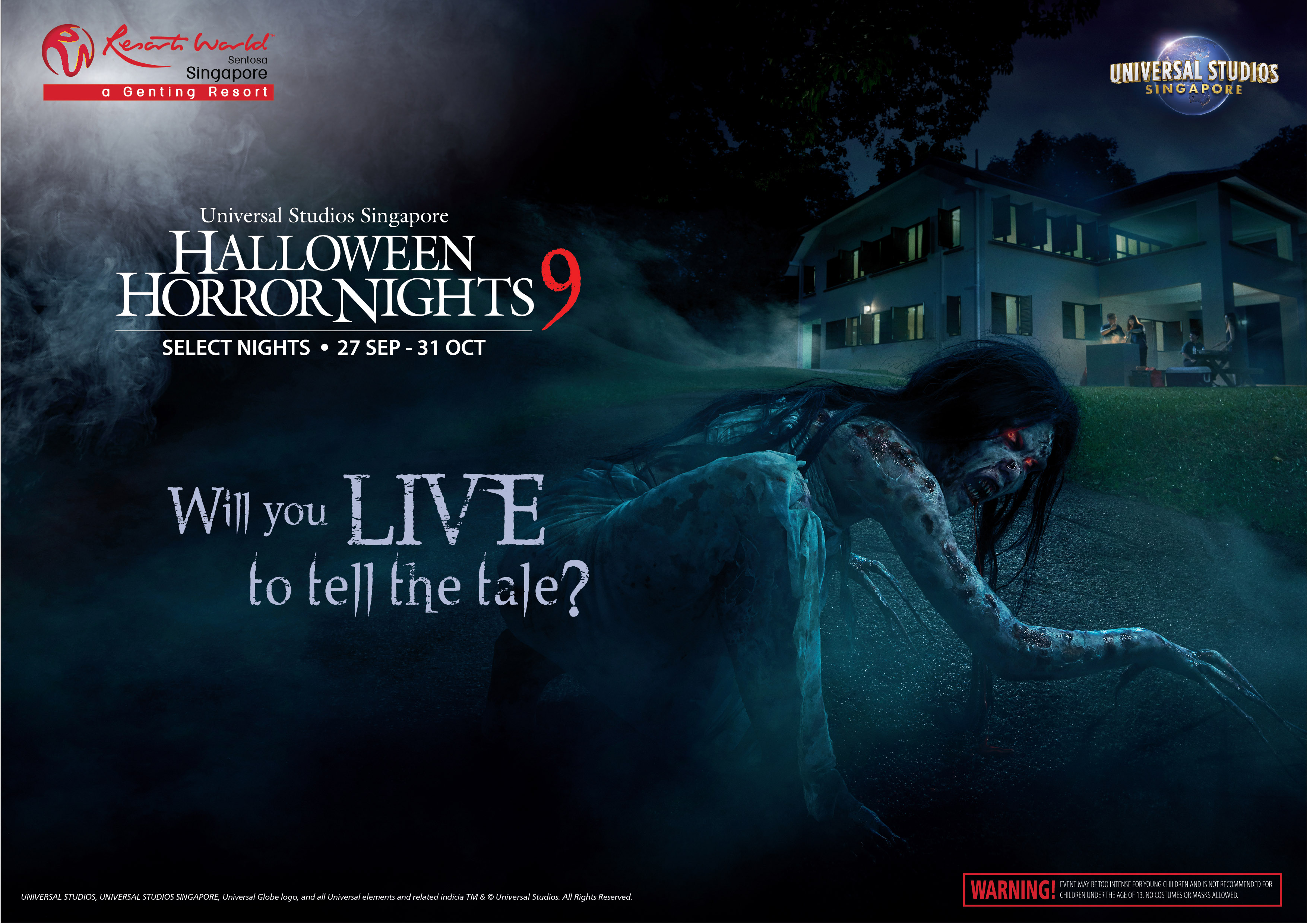 Adding on to the list of ever-popular Asian-inspired horrors is The Chalet Hauntings, brought to you by Official Partner Traveloka. Here, Singaporeans can relive one of the most commonly shared experiences of paranormal sightings in their teenage years. This house will feature the event's most extensive collection of Southeast Asian ghosts – from the mischievous Toyol to the bloodthirsty Langsuir – in a single house.
Not for the faint-hearted, The Chalet Hauntings plays off one's darkest fears with illusions that will trick the eyes and minds, raising fears and anxieties as guests unravel the mystery behind the disappearance of five teenagers.
Face Your Fears: Sinister Clowns, Eerie Dolls, and Confined Spaces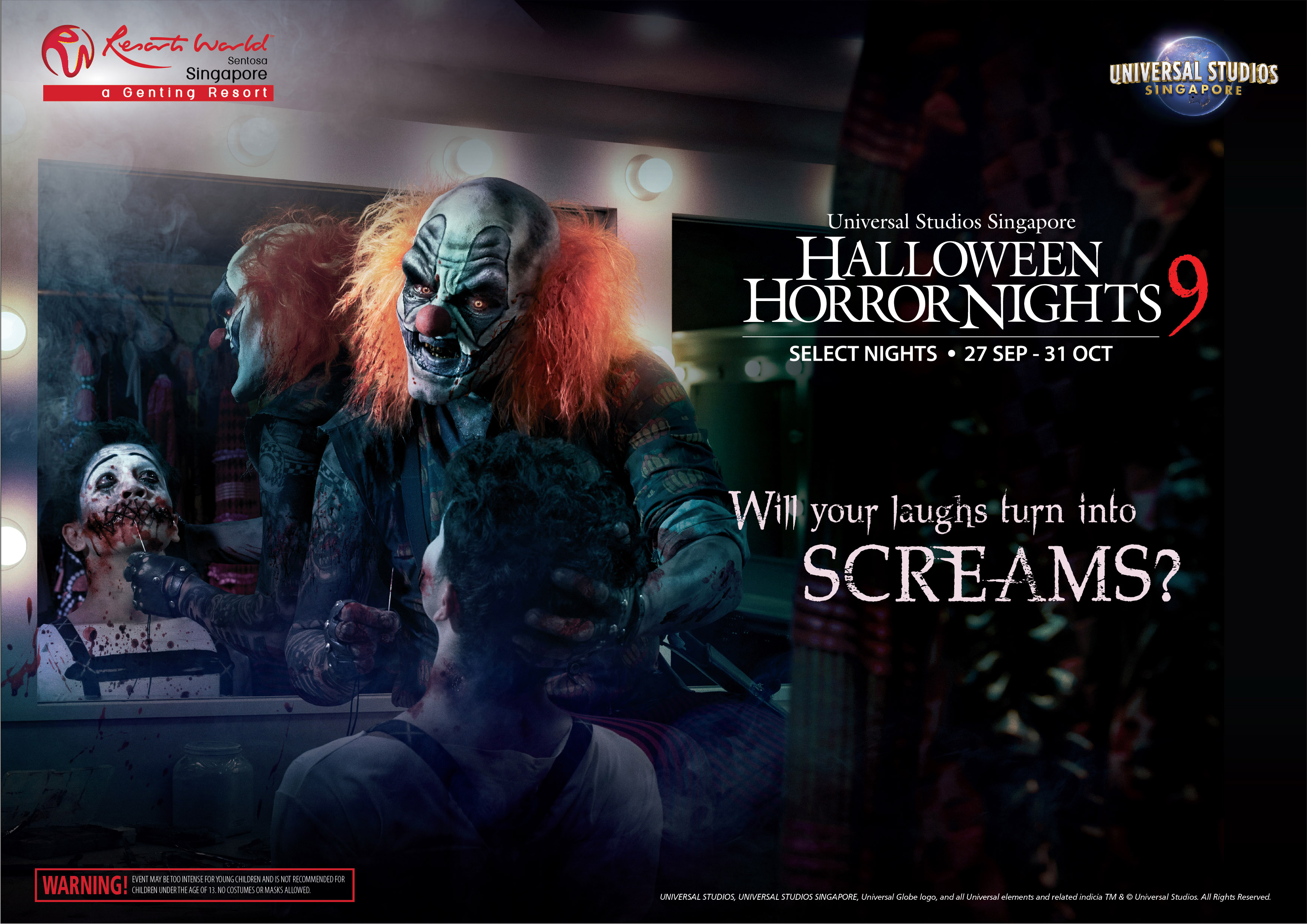 This year's event will bring to life three of the most common phobias of all time: clowns, dolls, and confined spaces. Join the circus of clowns as they wreak havoc and train the next generation of red-nosed killers at Twisted Clown University or step into Spirit Dolls, an abandoned village where the only inhabitants are silent dolls watching everyone's movement.
Those who dare can also manoeuvre through a dark, cramped and grimy prison in Hell Block 9, in the company of prisoners screaming in agony and fear as merciless wardens torture them and leave them for dead, guilty or otherwise.
Enjoy Two New Shows including a Never-Before-Seen Morbid Death Metal Procession
Those looking for a respite from the scares can head to Pantages Hollywood Theater where hosts Skin & Bones will present a repertoire of offbeat entertainment, quirky cast, along with terrifyingly funny acts in their live show. For a head-banging frenzy, join the mass of metalheads in Death Fest and rock out to the savage sounds of the Death Trap band.
On peak nights, Death Trap will lead a morbid metal procession around the park with specially designed floats, electrifying acts, and culminating in a hardcore music festival bursting with some of the most visually stunning pyrotechnics.
Beat the Queues and Purchase Original Tickets Online
Fans can purchase Universal Studios Singapore's Halloween Horror Nights 9 tickets online here. Guests can choose from 16 event nights (10 peak nights + 6 non-peak nights).
Early bird ticket sales will run from now till 1 September at S$65 (peak nights) and S$55 (non-peak nights). Regular tickets are available at S$70 for peak nights and S$60 for non-peak nights. Guests can also enjoy many of the theme park's exciting rides and attractions during event nights.
Mastercard and Thai Airways will be rolling out an exclusive promotion for fans who have their eyes set on attending the region's premier Halloween event. Purchase any Halloween Horror Nights 9 early bird ticket with Mastercard to stand a chance to win a Thai Airways Economy Class Return Air Ticket to Bangkok.