The F&B industry is increasingly becoming involved in matters of sustainability and waste management. Though there has been more interest among local brands to move into the area of sustainability, not many have taken a tangible and urgent step towards switching out existing practices for more sustainable options due to the operational and cost challenges, especially brands that fall in the fast-casual category which could make a measurable impact on the environment.
As an early mover in this space, 4FINGERS worked with TRIA to come up with a sustainable and creative solution that will delight end users. TRIA's proprietary designs challenge well-established packaging archetypes with new features, functional efficiencies and beautiful aesthetics.
The new packaging is Forest Stewardship Council (FSC) Certified, meaning that all production processes follow a set of best practices for forest management worldwide. The certification also covers compliance with relevant laws to uphold the rights of workers, communities and indigenous peoples.
Simply removing plastic straws is not a solution
The reduction of plastics has also been an important consideration in the new packaging – particularly in the drinking cups. Previously, the old stereotypical design of the plastic cover and straw totalled approximately 2.5 grams of plastic per cup. The new design cuts the number down by 10% while keeping ergonomics in mind.
Consumers simply push down on the lid to reveal a slit for drinking, while the rest of the design cleverly prevents soda and ice from spilling while drinking. With 4FINGERS' current usage of eight million straws per year, the new cup design translates into a reduction of 1.6 tons of plastics yearly. This new cup design is currently in its final stages of research and development before launching in all 4FINGER stores later this year.
Clever design tricks provide simple solutions to separate wet and dry food items, such as having compartmentalised boxes in the packaging for salads, and a divider in the burger box that separates the bottom bun from the rest of the ingredients to prevent the sauce from flowing to the bottom and getting absorbed by the bun. Other perks include squeeze-to-pop-open boxes and party packs that act as a carrier and become repurposed afterwards to transform into "plates".
Packaging for Salad / Rice Box
Signature Wing Box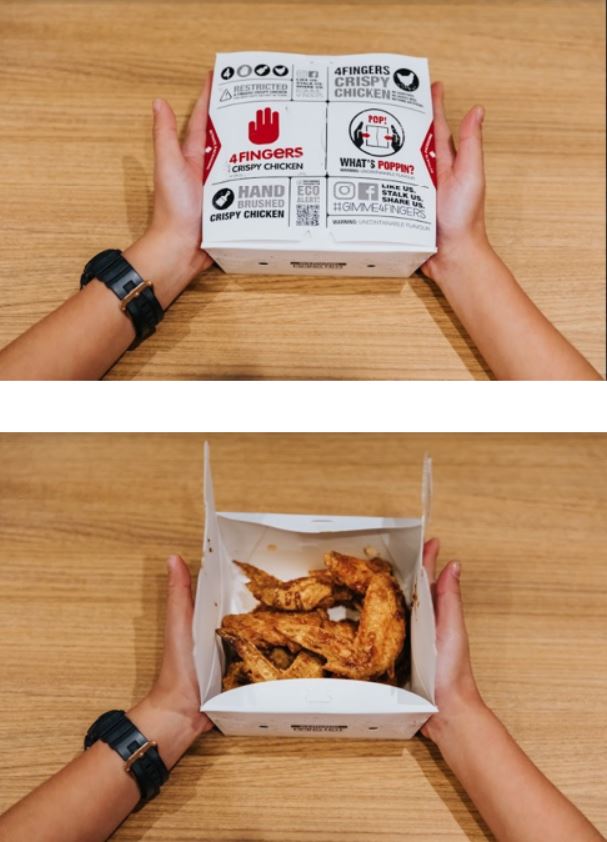 Burger Box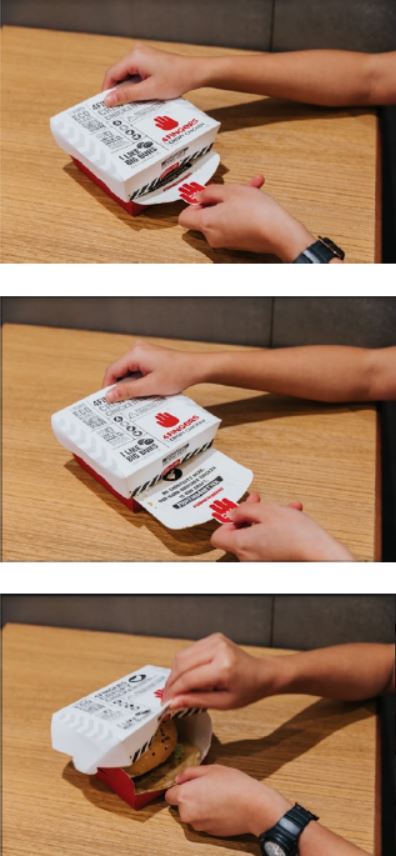 Party Pack
Fries Packet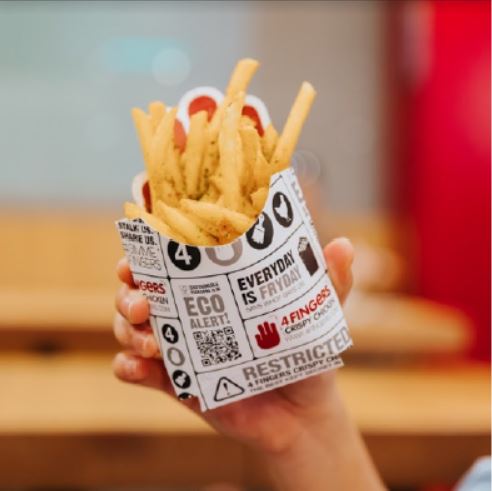 The new set of 4FINGERS packaging not only focuses on sustainability but also on the consumer. In particular, much thought has been put into ensuring that food makes it from the outlet to your home in the freshest state possible.