The Singapore River Festival is back for its fifth year bringing more food, fun and music events to the river! Look forward to four exciting events happening between August to September as we bring life to the river and put a local twist to one of Singapore's most popular tourist attraction.
Keep your eyes peeled as each event will be held at the different quays of the Singapore River – Boat Quay, Clarke Quay and Robertson Quay! Unlike past years, fully immerse yourself at each location and enjoy what each quay has to offer at this year's festival. From live music to delicious street food, there is something for everyone to enjoy.
Be sure to mark your calendars for the exciting plans that will take place this August to September!
Circular RAW Powered by Tiger at Boat Quay
Date and Time: 2 -3 August 2019 (6 PM – 10 PM)
Catch the NDP fireworks display from the Belly of the Carp as you relish in good food at the open-air dining area at Circular Road. Coupled with live band and music from the likes of popular local bands including HubbaBubbas and The Steve McQueens.
STREAM @ Clarke Quay 2019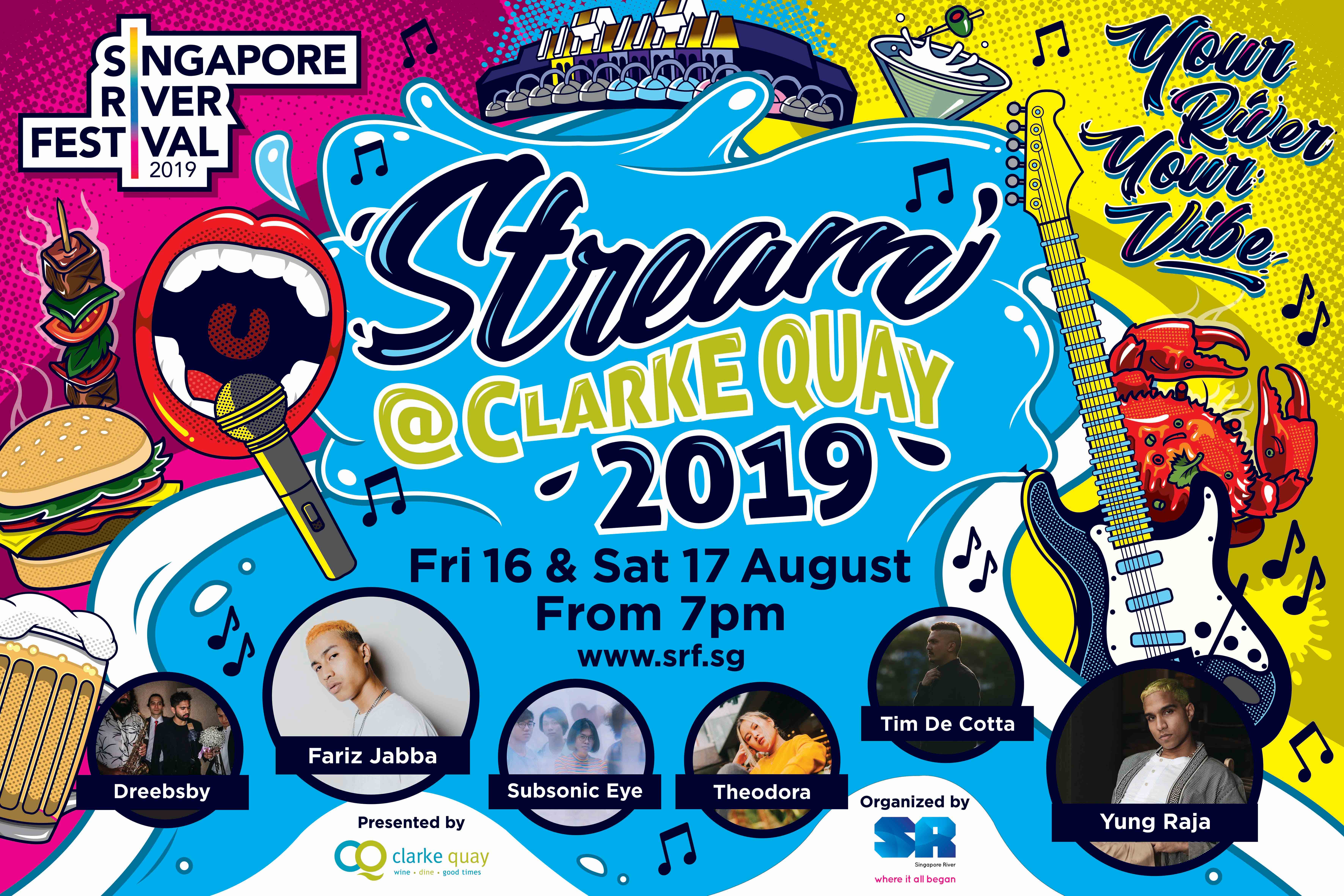 Date and Time: 16 – 17 August 2019 (7 PM – 12 AM)
Singapore River Festival introduces its first-ever music festival, STREAM @ Clarke Quay 2019. Showcasing popular homegrown local talents, featuring Yung Raja and Fariz Jabba, don't miss out on this free music festival that will only be around for two nights only.
16 August Line-up:
Tim De Cotta
Subsonic Eye
Yung Raja
17 August Line-up:
Theodora
Dreebsby
Fariz Jabba
Mid-Autumn Festival at Robertson Quay
Date and Time: 14 September 2019 (3 PM – 10 PM); 15 September 2019 (2 PM – 6 PM)
Join in on the festive fun with a lantern walkabout and a boat cruise down the Singapore River for a view of the full moon in all its glory.
Robertson Quay will also be organising fringe activities and for the adventurous, keep a lookout for the Human Claw Machine for a chance to grab exciting prizes.
For more information, please visit the Singapore River Festival website or its Facebook Event Page.