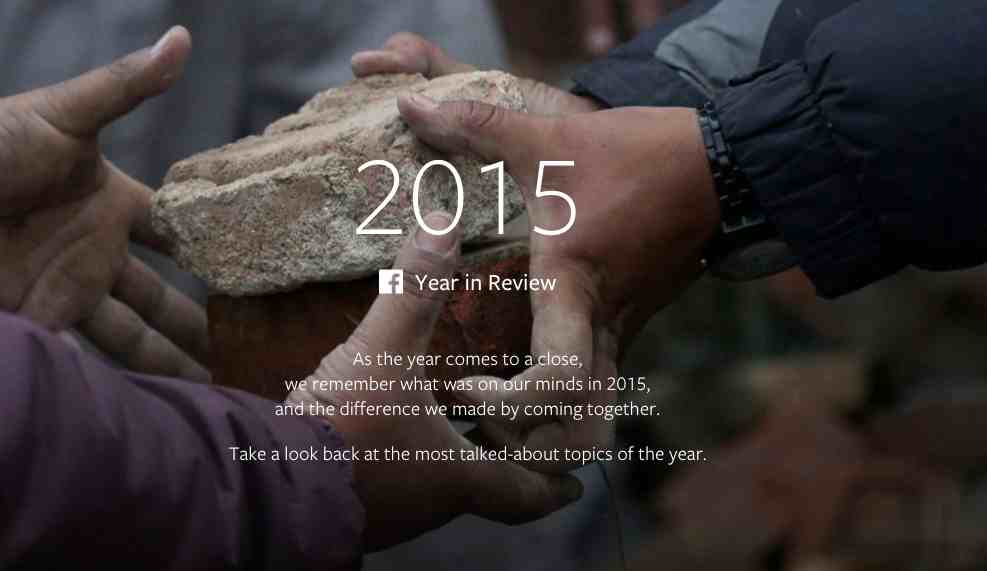 As the year comes to a close, it is also time to reflect on the moments in 2015 that moved us and inspired us to take action.
Social media giant, Facebook shared their lists of global highlights in 2015, seeking to paint a picture of what the world was talking about in 2015— from politics to sporting events to some of the toughest issues facing the world today – and also some of the milestones that occurred in Singapore. The full list can be seen here:yearinreview.fb.com
Some highlights from Facebook's 2015 lists include:
The US presidential election was the most talked-about topic globally on Facebook, with nearly a year to go to Election Day. The November 13 attacks in Paris, the Syrian civil war and refugee crisis, theNepal earthquakes and the Greek debt crisis followed.
Ed Sheeran topped the list of most talked-about entertainers, followed by Taylor Swift at #2, Kanye West at #3, Nicky Jam at #4, and Wiz Khalifa rounding out the top 5.
Game of Thrones ruled the small screen as the most talked-about TV show, while Star Wars: The Force Awakens led the list of most talked-about movies.
Floyd Mayweather, Jr. and Manny Pacquiao were the most talked-about athletes of the year following their highly watched fight in May.
Note the western skew, particularly towards America with the lists as 1/5 of the world's population lives in China where Facebook is banned, not to mention other large countries like Russia and Japan where it is not that popular.
Facebook: 2015 Year in Review Lists
Topics (Global)
US Presidential Election
November 13 Attacks in Paris
Syrian Civil War & Refugee Crisis
Nepal Earthquakes
Greek Debt Crisis
Marriage Equality
Fight Against ISIS
Charlie Hebdo Attack
Baltimore Protests
Charleston Shooting & Flag Debate
Places (Singapore)
Universal Studios Singapore
Gardens by the Bay
Marina Bay Sands
Singapore Botanic Gardens
Marina Bay Singapore
Sentosa Island
Resorts World at Sentosa
Singapore Zoo
Trick Eye Museum Singapore
S.E.A. Aquarium, Marine Life Park
Entertainers (Global)
Ed Sheeran
Taylor Swift
Kanye West
Nicky Jam
Wiz Khalifa
Drake
Pitbull
Caitlyn Jenner
The Weeknd
Shakira
TV Shows (Global)
Game of Thrones
The Walking Dead
The Daily Show

Saturday

Night Live
WWE Raw
The Simpsons
19 Kids and Counting
Grey's Anatomy
Last Week Tonight with John Oliver
Orange is the New Black
Movies (Global)
Star Wars: The Force Awakens
Furious 7
Jurassic World
Avengers: Age of Ultron
American Sniper
Straight Outta Compton
Fifty Shades of Grey
Mad Max: Fury Road
Magic Mike XXL
Pitch Perfect 2
Athletes (Global)
Floyd Mayweather, Jr.
Manny Pacquiao
Ronda Rousey
Lionel Messi
Cristiano Ronaldo
Tom Brady
Stephen Curry
LeBron James
Serena Williams
Carlos Tevez
Politicians (Global)
Barack Obama
Donald Trump
Dilma Rousseff
Hillary Clinton
Bernie Sanders
Luiz Inácio Lula da Silva
Recep Taytip Erdoğan
Muhammadu Buhari
Narendra Modi
Benjamin Netanyahu
New Games (Global)
FIFA 15
Fallout Shelter & Fallout 4
Call of Duty: Black Ops 3
Mortal Kombat X
Batman: Arkham Knight
The Witcher 3: Wild Hunt
Metal Gear Solid V: The Phantom Pain
Dying Light
Star Wars: Battlefront
Halo 5: Guardians
Methodology
All Year in Review lists (except Places) were measured by how frequently a topic was mentioned in Facebook posts made between January 1 and December 1, 2015. To put these lists together, Facebook posts were analyzed in an aggregated, anonymized way, and then ranked to create a snapshot of the year on Facebook.
The Top 20 Global Places and all country-specific Places lists are based on the number of Facebook check-ins at these locations over the course of 2015.